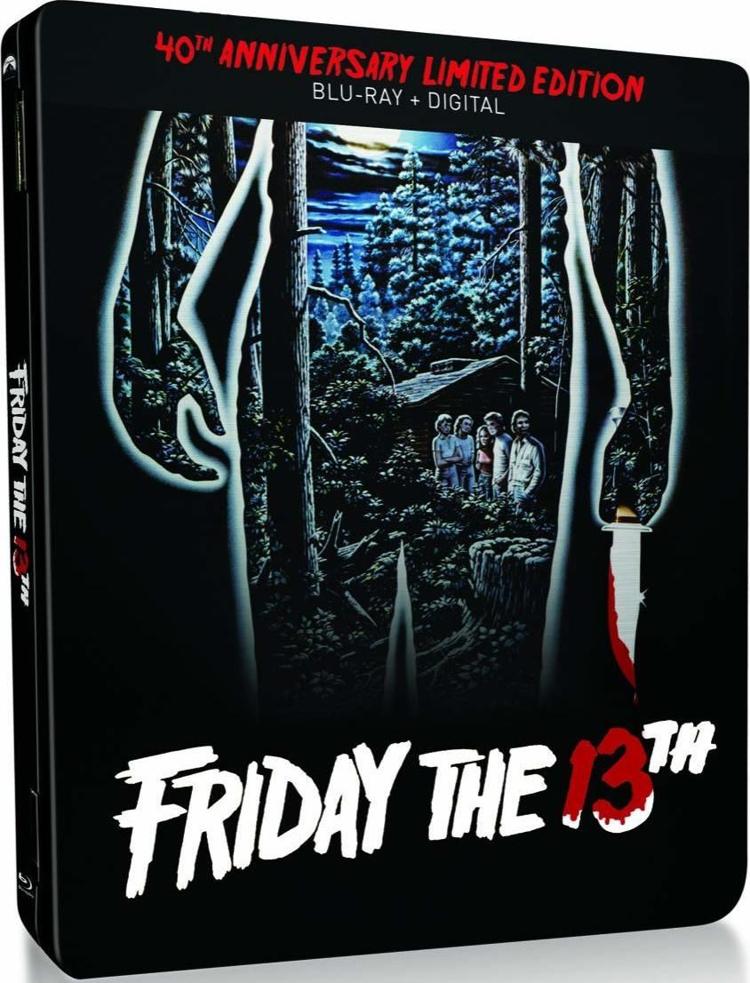 Has it really been 40 years since Jason Voorhees first popped out of Crystal Lake to claim the final girl and subsequently alter the way we look at the horror genre?
Available today on Blu-ray Steelbook and Digital HD.
As of last month, the initial entry in the franchise that brought down summer camp attendance and stained hockey masks forever has passed the four decade mark. Paramount Pictures is celebrating the 40th anniversary of Friday the 13th this year with a re-release in the form of a limited edition Blu-ray Steelbook, which had originally been set for an early May release. 
It's unfortunate that the disc inside of the steelbook packaging is the same one that's been available for over a decade — without any new restoration or bonus feature updates. However, what really earns it its points is the seamless reproduction of the original poster art. Before this steelbook, there was another (rather pathetic) metal casing that featured the machete-wielding Jason on the cover. Any true horror fan knows that Jason only appears as a kid in the original film, rendering the other Collector's Edition useless. 
This one, however, is the be-all, end-all packaging design that may only need a 4K disc update when that comes along. (Although, I am all for new bonus content.) If you haven't bothered to get the original film on disc and get tired of trying to catch it on its titular holiday on cable, take the plunge. 
Paramount delivers Friday the 13th in a single disc Blu-ray/Digital set. The digital copy offers only the R-rated version, while the disc format includes the unrated cut (featuring more blood, a slightly longer sex scene, and a re-edited finale). As far as the picture quality goes, the details impress with a nice film grain that fits for low-budget '80s horror. For some films, especially early horror like this, the impact is deepened by the soft edges and picture specs. 
Extras: The steelbook includes the same set of special features as before, including a fun audio commentary (with select filmmakers and talent), interviews, a cast reunion for the 30th anniversary, behind-the-scenes featurettes, a not-so-good short film, and a trailer.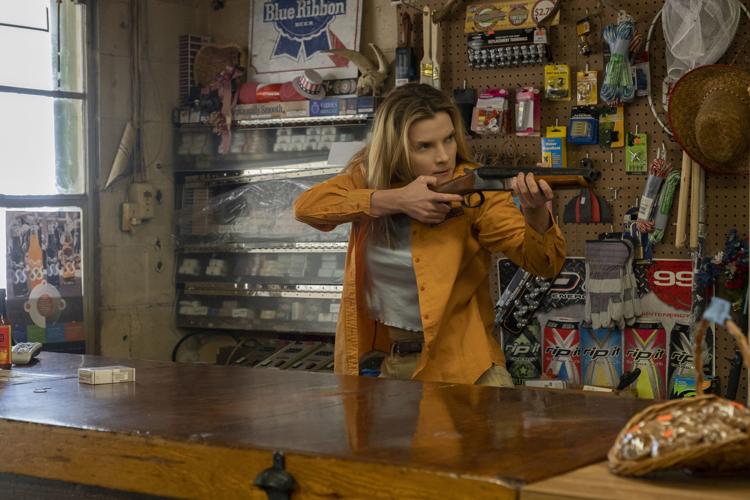 The Hunt (★★★) - With a multitude of unforeseen happenings, it almost seemed like this movie was never going to see the light of day. But after a brief theatrical engagement and early On-Demand release, we could finally see The Hunt for the violent romp that it is. 
Starring Hilary Swank, Ike Barinholtz and GLOW's Betty Gilpin (and her odd facial expressions), The Hunt involves people from all over being kidnapped and taken to an undisclosed location for some mysterious folk to hunt while loaded for bear. There are traps and tests along the way to spice up the firefight.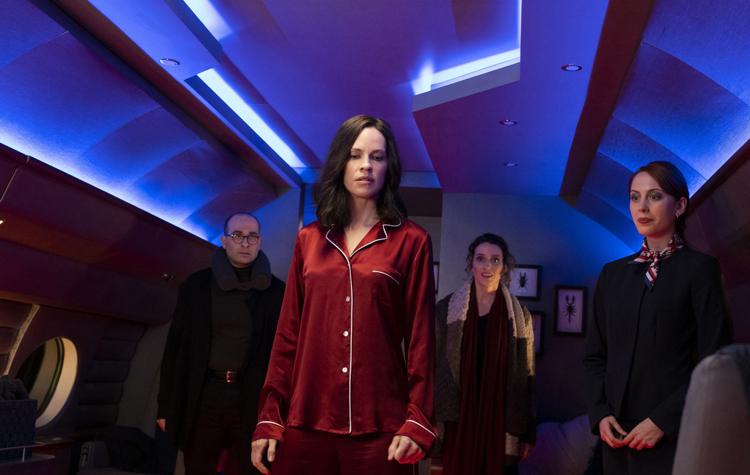 No one walks away without a target on their back, and that makes it the ultimate riot it is. It's very much that malicious kid on an elevator that likes to push all the buttons. So, if you can't handle exploding bodies and jabs at outrage culture and the red and blue, it might be wise to set up camp somewhere else. If, however, you have a twisted sense of humor, laugh and roll with its punches below the belt. 
Extras: Now available on Blu-ray, DVD and Digital HD through Universal Pictures Home Entertainment, the release includes a making-of featurette, a death scene breakdown, and a special that centers on who is the hunted and who is the hunter.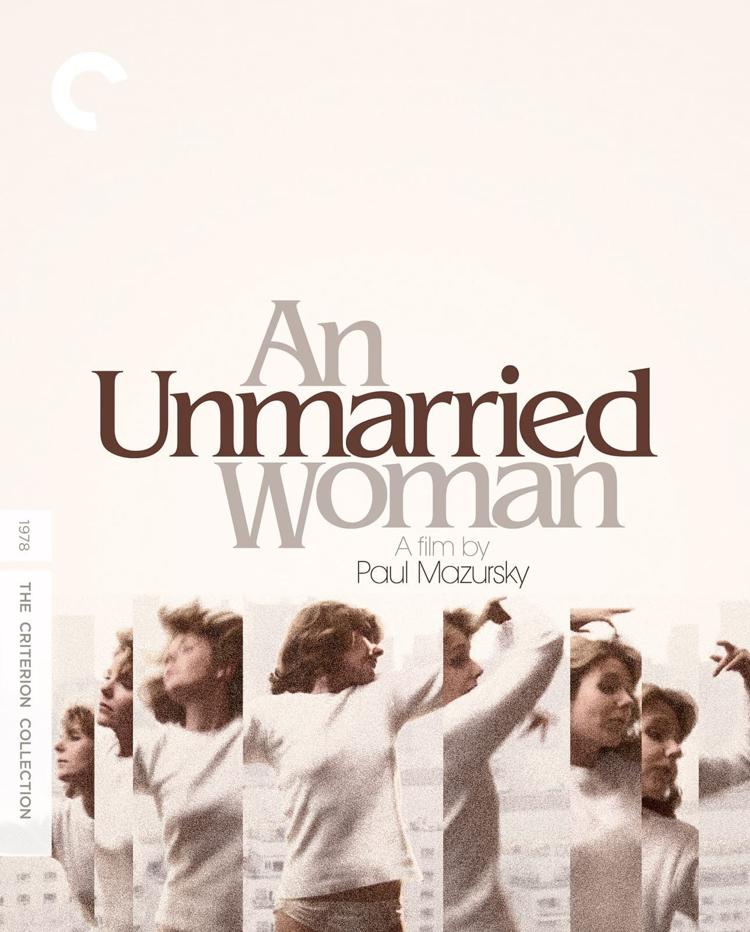 An Unmarried Woman (★★★★½) - Released in 1978, but entering the Criterion Collection with a new and beautiful 4K digital restoration, is Paul Mazursky's intellectually-stimulating film An Unmarried Woman. It's a small but intensely intimate indie drama about a Manhattan woman (a commanding Jill Clayburgh) who struggles to navigate her new identity and sexuality after her husband (Michael Murphy) of almost 20 years leaves her for a younger woman. 
The late Mazursky is slowly becoming one of my all-time favorite filmmakers. With each new film of his that I become acquainted with – such as Twilight Time's Blu-ray releases of 1969's Bob & Carol & Ted & Alice and 1976's Next Stop, Greenwich Village – I am completely floored by how his writing was so ahead of its time. Mazursky created fascinatingly complex characters who were smart. They made mistakes and challenged each other's thinking in ways that likely inspired filmmakers like Noah Baumbach and Richard Linklater. 
Mazursky blurred the movie screen with the outside world, and An Unmarried Woman is living proof. Right from the get-go, when a couple is running the streets of New York, the dialogue has you. Not only does it capture life's ups and downs with stinging relatability, but the film also takes risks. Clayburgh will discuss sex with her husband and then will break out in a several-minutes-long ballet dance in her apartment. Like real human behavior, you can't always predict it. 
Elevated by an excellent presentation, the Criterion release of An Unmarried Woman keeps you on your toes and makes you fall in love with its characters. 
Extras: Now available on Blu-ray through the Criterion Collection (visit criterion.com), the single-disc collector's edition includes a 2005 audio commentary (featuring Mazursky and Clayburgh); new interviews with actors Michael Murphy and Lisa Lucas (the latter of whom provides insight into Mazursky's subtle process for bringing out the best in his talent) and author Sam Wasson; a 1980 audio recording with Mazursky at the American Film Institute; a trailer; and a beautiful essay about the business of being a woman written by critic Angelica Jade Bastién (found in the booklet inside the packaging).
Warner Archive Releases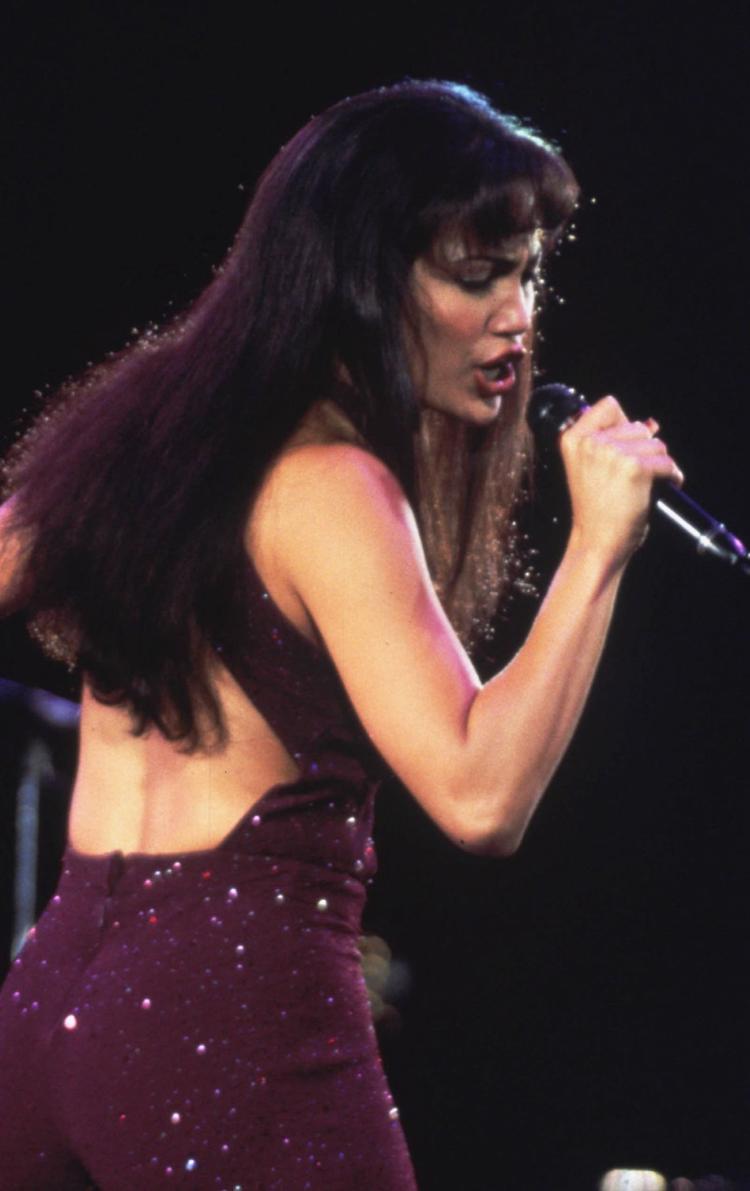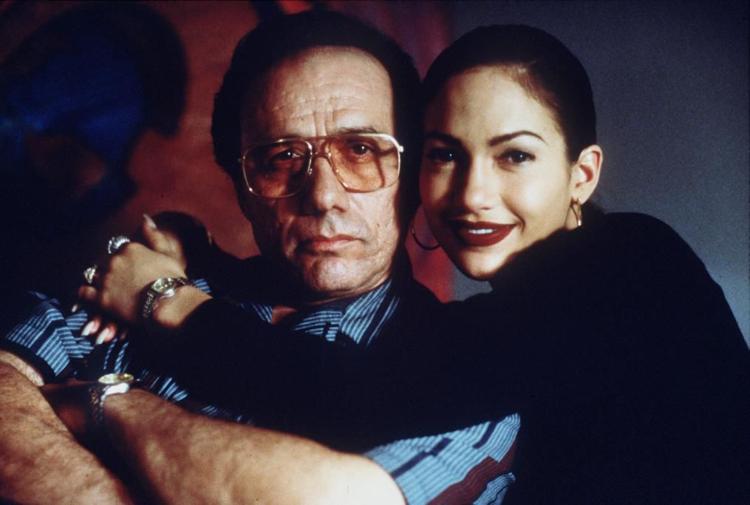 Selena (★★★½) - The 1997 biopic on the life and untimely death of Tejano superstar Selena Quintanilla-Pérez (portrayed by Jennifer Lopez) remains one of my fondest cinematic experiences. A lot of my family comes from South Texas, and the film perfectly illustrates the region and way of life. It also painted a stunning portrait of the joyous soul that was Selena, from the little girl singing in Mexican food restaurants to filling large stadiums. 
Although (admittedly) the film depiction checks all the boxes one would expect with a musical biopic, including many moments that come off as cheesy over 20 years later, there's just no denying how infectious JLo is in the film. She captures Selena's spirit with aplomb, and you can't look away. 
Extras: Now available on Blu-ray through the Warner Archive Collection (wbshop.com), the release includes the extended version of the film (about six minutes longer, with more flashback sequences); a documentary about Selena; a making-of from 10 years later; outtakes; and a theatrical trailer.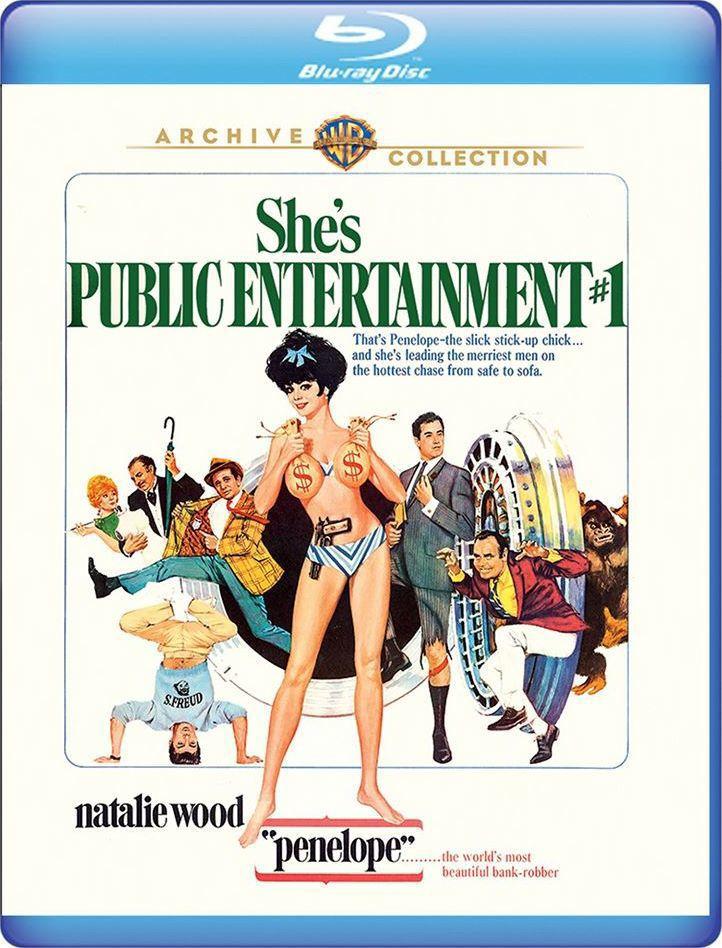 Penelope (★★★½) - Speaking of infectious talent, Natalie Wood radiates in the 1966 romantic comedy, Penelope. From the moment she steps on screen, Wood is tearing up the figurative dance floor as a woman who is trying to rekindle the passions of her banker husband (Ian Bannen). Wood's titular character does so by becoming a master of disguise and robbing her husband's bank. 
How this film irons out a somewhat-even tone without dipping too far left or right is impressive. While one could knock the movie today for being a movie about a loving wife jumping through hoops for her dishonest husband (you just want to shout at Penelope to leave him for better horizons), it's completely Wood who makes Penelope an absolute firecracker. 
Extras: Now available on Blu-ray through the Warner Archive Collection, the release includes an Edith Head featurette and a theatrical trailer.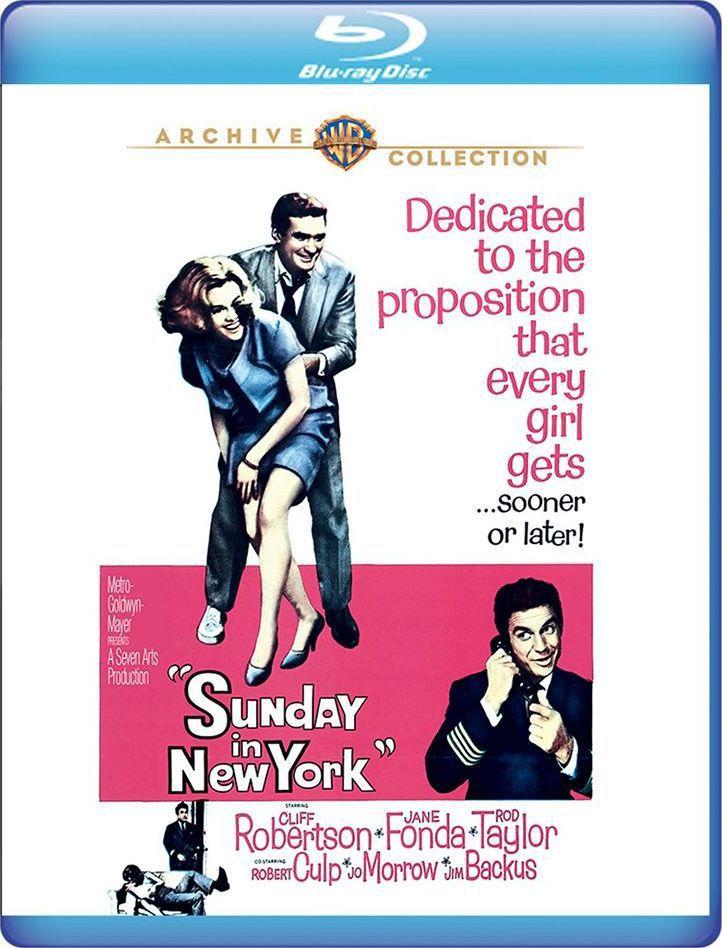 Sunday in New York (★★★★) - Rounding off the excellent retro collection this week is the funny 1963 screwball rom-com Sunday in New York. The story concerns a young woman (Jane Fonda) who leaves her hometown of Albany to visit her pilot brother (a very good Cliff Robertson) in the big city. During her stay, she meets a man (Rod Taylor) on a bus who threatens to derail her upcoming marriage. 
Don't worry. This isn't another infidelity drama to make you uncomfortable. There's a lot more going on that beefs up the plot with salivating flavors. Anchored by remarkable performances and chemistry, Sunday in New York is a lighthearted and entertaining movie that simply makes you smile.