Written and directed by the Six Feet Under creator and Oscar-winning screenwriter of American Beauty, Alan Ball's tender drama Uncle Frank premieres on Amazon Prime Video.
Loosely based on Ball's life growing up in the South in the 1970s, the film is led by Paul Bettany, who portrays Frank Bledsoe, a gay man reckoning with his conservative family. Following a family tragedy, Frank, his college-age niece (Sophia Lillis), and partner (Peter Macdissi) hit the road from New York to return home in rural South Carolina. It's an emotional journey about confronting past trauma and opening your eyes to new experiences and perspectives.
Starring alongside Bettany, Lillis, and Macdissi is an incredible ensemble of celebrated actors, including Judy Greer. Greer has carved out an impressive career, having worked on notable titles such as the rebooted Halloween films, Into the Dark: Good Boy, Arrested Development, and the FXX animated adult series Archer.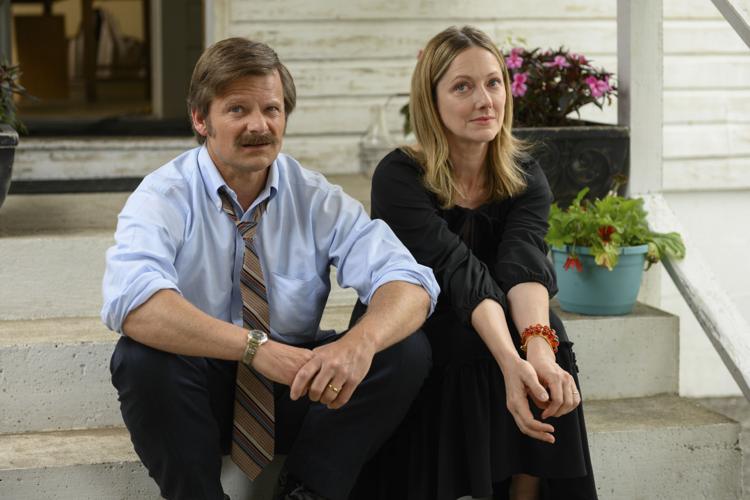 In Uncle Frank, Greer plays the title character's cheerful sister-in-law, Kitty. She's a caring mother to her daughter (Lillis) and sympathetic to her brother's plight. And while she may not always say the right things (or maybe they're hilariously suitable for audiences' funny bones), Kitty means well and has a good heart.
The Denton Record-Chronicle had the opportunity to ring up Ms. Greer to discuss her role in the coming-out drama, how she makes the most of each moment, and pieces of wisdom she's collected along the way.
Preston Barta: This has to be one of those projects in your filmography that you just can't help but smile because it truly is something you should be proud of.
Judy Greer: "Oh, thank you. I agree, 100 percent. And I felt that the second I read the script. I was like, my heart got a little bit bigger, and I just stuck with it. We all stuck with it. [Alan Ball] asked us all to be in this movie. And he was like, 'I'm going to find money, I promise. Stay with me.' And I knew he would. And I knew it. I just felt like some magic when I read it."
There's a lot of wisdom in this movie. For instance, I like that Beth has this moment that comes full circle about advice that changes your life. You've been in so many great movies and shows. What singular piece of wisdom from one of your films or shows would you say impacted your life the most?
"Oh, the most...There's something from all of them really. Man, I wish--I love this question, by the way. I wish I could give you the greatest answer. I guess I'm just really inspired. I'm just really inspired by just how hard people work. Everyone on set inspires me. I guess what I'm trying to say is when I love my job the most is when I feel like everyone is equal. And when our production assistants are treated the same way that we're treated. My husband always says at the end of the job to finish strong, because sometimes at the end of the job, you get homesick or tired or get confused and don't even know what you're doing anymore. There's all these different weird feelings and defense mechanisms for ending something."
"And I think that we're all this weird little group of people. When we treat everyone with fairness and respect and kindness, I get really inspired when I'm around that. I think I'm also responding a lot to what's going on in the world right now. It's an interesting time for it to come out: about acceptance, about respect, about being authentic, about understanding that we're different, and in a lot of ways the same. But I guess as far as like one specific moment that has inspired me or that I can remember, I don't know. There's just a million little things. It's the everyday things."
I think that's beautiful.
"I'm also feeling really tender about work right now because I haven't shot in so long. I dream every night that I'm on a set."
I can only imagine. Fortunately, we still have projects to look forward to that have you in them.
Was there anything from this film that inspired you, caused you to think about life differently, or gave you a little more pep in your step?
"Well, I was very humbled by being around all of these great actors, to be honest. When I was very young and starting out in my career, I realized how many wonderful people I worked with that I took for granted because I was a stupid kid who thought I knew everything. Like if I could go back in time and hang on every word that came out of Sigourney Weaver's mouth."
"This was one of those moments where I was very, very aware when [Ball] told me who's playing all these roles. I was like, 'I need to keep my mouth shut and my ears open and take advantage of this time with these people.' Casts like this come around, hopefully, once in a career, you know? So I would say that I went into this and came out of it really appreciating actors as artists, and I won't make the mistake of taking for granted any of those feature moments with great talent."
So, Peter Macdissi, that guy just seems like a ray of sunshine. Tell me his hugs are as amazing as they look in the film.
"He's the biggest sweetheart in the world. He's so lovely. He's such a peach. He's got joy that just exudes. It comes out of all of his pores and his eyeballs and earballs and everywhere. I love being around him."
I'm so happy to hear that. I just want to be that guy's friend. I think we could all use him right now.
Something that I've found really interesting, especially when you have a big cast like this, is that Alan Ball is very good at making you understand all of the characters. Even if they have small moments, there's these little things that he has people do that just inform so much about who they are. How do you approach a supporting role as compared to a leading role, like Good Boy?
"When you're playing a supporting role, you gotta take your moments when you can get them. It helps a lot to work with people like Steve Zahn, for example, because he and I just riffed all day long. Sometimes, those funny comments or ad-libs come out, and they're not really right, but they inform something for the next take, where you don't say it, but there's a feeling there. I mean, those are the little things that make a character. For example, when I go to the supermarket, the checkout person might say one comment to me about something I'm buying. It will tell me so much about that person's life, you know? And that's what life is."
"I'm just being a regular person. I'm playing a regular character, but there is, if you keep your eyes and ears open in your daily life, you'll pick up these little gems, these little pieces of gold from strangers. Not that we see a ton of strangers anymore, but you know what I mean?"
"Like the little comment about, 'Oh my gosh, are you making pizza tonight?' I don't know, there's just something in everything. Every detail is important. And so I don't really plan out things. I don't go into my day or my character thinking like, 'I'm going to make her like this.' But sometimes, just like time on set with the other actors, you learn things about yourself and learn something by watching the other actors react to you. And I think acting is observing. I just get lucky sometimes. But sometimes these little moments I find, the film editor keeps in the movie."
Right! Well, I have so many more questions that I would love to ask you, but please tell me that Halloween Kills is going to be awesome.
"Dude. Dude! I mean, [director] David Gordon Green called me one day. He was like, Dude. The movie's so good!' He does not talk like that. I was so excited. I haven't seen it yet, though, but I trust him because he's his own harshest critic."
Uncle Frank is now available to stream on Amazon Prime Video. The film is rated R, and 95 minutes.