Judas and the Black Messiah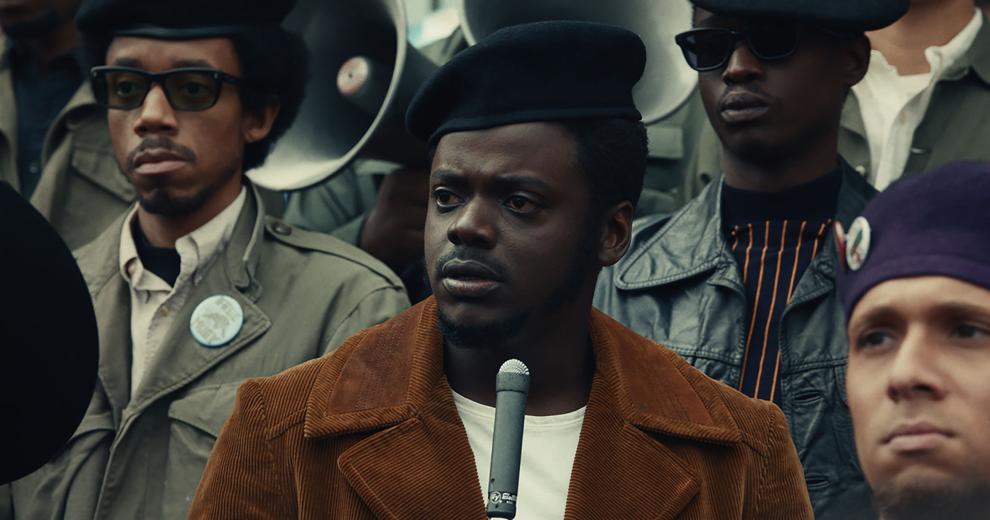 Watching Shaka King's thrilling and beautifully tender portrait of the life and legacy of Deputy Chairman Fred Hampton (and the FBI informant who turned on him), Judas and the Black Messiah, I was hit with such tremendous force that I was left in tears for some time afterward. It was the fiery devastation of human life being ignored, witnessing the racial injustices a community fought so hard against, and the fears that come with being a parent who wants nothing more than their child to thrive in this world. King's film transcends beyond its familiar narrative beats to offer an electric depiction of history with powerful performances and stinging contemporary relevance.
Set in 1960s Chicago, Judas and the Black Messiah (one of the best film titles ever) opens with introductions of two men—one loses his life, the other his soul. The latter isn't Fred Hampton (a towering Daniel Kaluuya), but rather Hampton's own security chief, Bill O'Neal (LaKeith Stanfield), a car thief-turned-FBI informant.
O'Neal poses as an agent and storms into a bar in a trench coat and a fedora, flashing a fake badge around to the patrons in an early scene. The confident ploy nearly scores him a fancy car until the police catch him. The FBI's Roy Mitchell (Jesse Plemons) asks O'Neal why he didn't use a gun or a knife, to which he replies: "A badge is scarier than a gun."
'Judas" brings history to the present with eloquence, ferosity
Thus sets off an unflinching course of events. Rather than serve a five-year prison sentence, O'Neal decides to cooperate with the federal officers by infiltrating Hampton's Illinois Black Panther Party.
O'Neal's internal war is one of the driving forces within the film, as well as Hampton's plight to take on racial injustice with his own brand of freedom fighting. There's a lot of knowledge to collect from the film about life, unity, and the human condition. Take, for instance, one scene with Hampton schooling his party about the difference between war and politics—both involve combat, but only one contains bloodshed. But perhaps the most impactful moment comes when Deborah Johnson (an outstanding Dominique Fishback), Hampton's fiancée and intellectual equal, shares a poem about motherhood and how life should be more than a ceaseless battle when it comes to social justice.
Judas and the Black Messiah is a film very much about sacrifice and never giving up. All hope seems lost when the police set fire to the Black Panther's headquarters. But watching a community come together to rebuild is one of the most emotional experiences I've had during a movie. The punctuation to the moment arrives when Hampton states, "Anywhere there's people, there's power."
Impressive performances surround King's production. As Roy Mitchell, Plemons is a perfectly comfortable messenger doing J. Edgar Hoover's bidding. While Mitchell represents a dark chapter of history, King highlights the character's conflict with remarkable detail. It's no more visible than a sequence when Hoover (an unrecognizable Martin Sheen) asks Mitchell how he'd respond if his daughter brought home a black man. The tension is enough to grind your teeth down to your gums. The film's conclusion, when King let's history unfold in all its rawness and potency, may require a few reminders to breathe.
As devastating as Judas and the Black Messiah is to endure, the truth it shares holds such power. King - and how his performers play out the scenes - give audiences a lot to wrestle with and reflect on. One steady shot of silence from a character, when a horrific act is happening in the background, shows incredible and admirable strength. It's an unforgettable film that deserves your attention more than anything else available at this time.
Now playing in theaters and streaming on HBO Max.