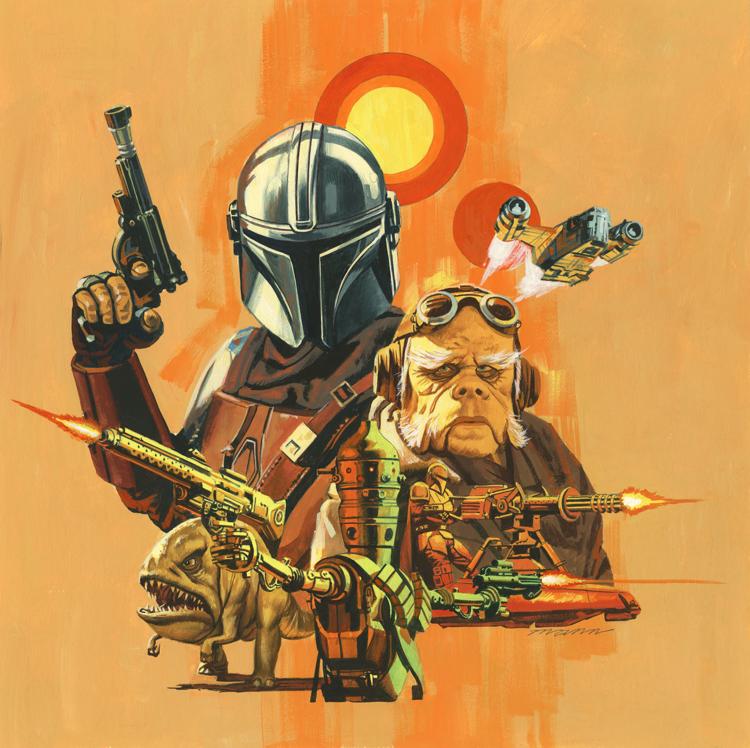 With a premier record label like Mondo, you really have to be on top of it. Among other items like posters, Tiki mugs, and collectible toys, the Austin-based enterprise releases high-quality vinyl soundtracks of movies, television series, and video games. These premium products often sell out faster than lightspeed — and for a good reason, too.
Mondo's records contain more than your favorite entertainment's soundtracks and musical scores. They are true works of art that amass exceptional packaging, original illustrations, and cleverly worded text splashed across the gatefold and liner notes.
One such piece of shelf jewelry is Mondo's immaculate vinyl box set for Ludwig Göransson's Season One score of The Mandalorian. This limited edition 8xLP is pressed on 180-gram vinyl. Each chapter of the eight-episode soundtrack is housed in a two-inch-thick heavyweight sleeve, made to appear like the intergalactic bounty hunter's Beskar armor. It comes complete with a rough-edged print (as if Pedro Pascal's character had seen some combat) and a raised, monochrome Mudhorn signet at its center. (Rub your fingers over it to feel the unique texture.)
Mo Shafeek, Mondo Creative Director of Music, said in a recent interview with the Denton Record-Chronicle that the process of creating this particular set was a "surreal experience."
Mondo Records releases collection of gorgeous vinyl records of 'The Mandalorian:Season One;
"It was one of those situations where you ask something sort of jokingly, and then you end up getting it," Shafeek revealed about Mondo's partnership with Walt Disney Records. "We've done a lot of projects with Disney and have worked with [Göransson] a couple of times before (Black Panther and Creed). But at the height of Mandalorian fever, we asked [Disney], 'Hey, what if we did all eight episodes in a box set?' And they were like, 'You can do that?'"
After a promising meeting with Walt Disney Records, the soundtrack department at Mondo - including Shafeek, Spencer Hickman (Creative Director), and Shannon Smith (Production Manager) - reached out to people they had previously worked with to see who could bring their vision for The Mandalorian vinyl to life. Shafeek noted that the artistic process is a bit like "throwing darts at a dartboard" and that it's up to them to figure out what to do with the opportunity because they "only have one at-bat with it."
This led to Mondo teaming up with one of their favorite collaborators, artist Paul Mann, who they had worked with on the vinyl releases of Ghostbusters and Buffy the Vampire Slayer.
"We were obsessed with [Mann after we discovered him a couple of years ago]," Shafeek said. "[Mann] is a champ, and he's incredibly professional and fast. He has this very old school, classic, noir, pulp novelization look. So, we didn't even have to have a large conversation about it. We were like, 'Well, Paul's got to do The Mandalorian.'"
For nearly as long as Star Wars has been captivating audiences, Mann has been an active illustrator and professional artist. His timeless composition and proven technique has made him a top-tier artist within the industry. Mann credits great illustrators from the 1960s and '70s like Robert McGinnis and Frank McCarthy for his style. (Both artists partnered on creating the iconic movie poster for 1969's On Her Majesty's Secret Service.)
"Of course, McCarthy and McGinnis came to mind as I designed and thought through the color schemes [for The Mandalorian]," Mann said. "I think several of the series' episodes do have a distinct color pallet, whether they're in the desert on Tatooine or a lush forest of another world. They all seem to have a tone that is on purpose. The composition really comes down to dynamic poses, lighting, and finding good scrap from the episodes that play off each other."
Over the years, Mann developed an eye for noticing details that would ultimately catch people's attention. His careful application of color enhances the individual characteristics of each personality in the frame. Additionally, the expressive, abstract backgrounds create a dynamic and mysterious atmosphere around the characters featured in each episode. For example, Mann's depiction of "Chapter 4: Sanctuary" surrounds its characters with a purple hue that exudes darkness, fear, and rage — whereas "Chapter 3: The Sin's" blue background radiates a sense of calm (further evidenced by Carl Weathers' confident demeanor).
Mann credits Göransson's score for influencing many of his creative choices, such as the color schemes and image consistencies.
"The score definitely helps to set the tone. The Mandalorian is very much a Western," Mann acknowledged. "[Pascal's character] is a loner/outcast who is just trying to make a living in a dangerous profession. [Göransson's] main title score captures this in a great way, so right off the bat, you know what you're in for. There's a distinct tone throughout the show that carries from episode to episode. You have to get excited at the start of each chapter when you hear those notes."
Shafeek added that it wasn't until he listened to the soundtracks week to week that he became invested in what "weird genre, pastiche-y things [Göransson] was doing with each episode." Göransson not only used traditional orchestral instrumentation to fashion a new, distinct sound for Star Wars, but he also used synth and a drum machine.
"There's this video of [Göransson] layering instrumentation. It's so amazing," Shafeek exclaimed. "He's such an inventive instrumentalist who treats each episode like the show does, which is like it's a whole new approach. That's the perk of doing an episode of the week, like a monster of the week, where you say, 'Oh, cool. Where are we going this time? An ice planet? A refugee planet? Oh, a fisher village where everyone's an Ackbar?' It's as if Göransson has already written 16 different soundtrack albums, all in the span of two years with this series. I can't wait to see what he does next!"
In the four hours of music Göransson penned for The Mandalorian's first season, it's quite clear he's an artist with a strong musical vision. Mondo matches that voice of artistry with an equally as impressive product that makes a perfect home for Göransson's complete collection. Shafeek and Co. continue to push their creativity, proving once again that with Mondo, this is the way.
Unfortunately, The Mandalorian vinyl box set is currently sold out on mondoshop.com. They were limited to only 3,500 units. However, make sure to sign up for Mondo's email alerts (via The Drop) to receive advance notice on everything coming down the pike. Considering Mondo assembled and packaged deluxe editions of both The Mandalorian and The Avengers in the same year, you can expect many more great releases on the horizon.