What is Halloween without some scary movies to watch? 
There are obviously the classics to consume each season. I know I'm ready to hit play on my annual watches of the original Halloween, It Follows and A Nightmare on Elm Street 3. But I also leave room for titles that I haven't seen before because, who knows, you just may find a new favorite (like I did a few years ago with From Beyond the Grave).
Instead of scrolling aimlessly through all the streaming platforms, I tend to turn to boutique home distribution labels like Arrow Video, Vinegar Syndrome, Blue Underground, Synapse Films and Shout Factory. It's the closest that it gets to the thrill of going to the video store and making a selection based on the work that went into the packaging, the cover art illustration and all the taglines and written content. I would browse the horror section and be stopped by an image such as a woman holding her mouth open to reveal a small skull inside (Peter Jackson's Dead Alive) or a monster claw sticking out of a baby carriage (It's Alive). It's all a psychological and emotional response. "Ooh, I don't know what this is about, but this look has put the hook in me like Candyman."
These major labels understand what appeals to horror fans. They put a lot of care and attention to what they create, from the packaging, restorations and exciting booklets they toss in. The movies may not always be winners - and they know this - but taking a risk is part of fun. A lot of joy can come out of putting something on like Vinegar Syndrome's Auntie Lee's Meat Pies, which is every bit as ridiculous as it sounds. But hey, the cover featuring a young woman holding a fork with an eyeball on it while a whole mess of flesh is spilled out from a pie catches, well, your eye. So, all right. Let's see where the journey takes us.
For some guidance this Halloween weekend, here's a slew of horror-tastic Blu-ray and 4K Ultra HD discs to soak up.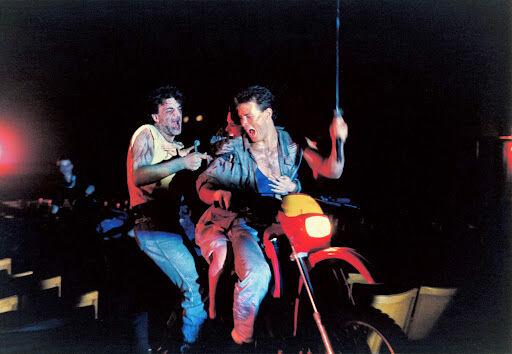 Demons 1 & 2 (4K Special Limited Edition)
Now, I favor movies where things go bump in the night. But I also love a good slice of '80s horror cheddar. I'm talking about something with laughable dialogue and acting but damn-good practical effects and makeup — and that's the splatter classics Demons and Demons 2, produced by horror maestro Dario Argento and directed by Lamberto Bava. 
1985's Demons and 1986's Demons 2 are about as silly as it gets. Both include scenarios where people are stuck in a location (a moviehouse and a luxury high-rise apartment), evil reveals itself and starts to mutate the unfortunate into horrible creatures hell-bent on eating flesh and creating chaos. (They behave like zombies, but they have a punched-up look that appears more demonic, such as sharp fangs, long black fingernails and green goo foaming from their mouths. Evil Dead-like.)
The first film has a more stinging spirit, gore effects and assortment of characters (the pimp for the win). I mean, it has a scene where a dude rides a motorcycle in a movie theater, mowing down demons with a katana. If that doesn't excite you, I don't know what will.
The second entry would have been better if it had picked up where the last one left off, but instead, it's essentially a remake of the first one. There are still some killer-good sequences, though (an eight-year-old demon chasing after a woman in her apartment springs to mind).
Aesthetics/Restoration: You can prepare for Synapse Films' Demons collection to give your 4K entertainment system a good power display. It's a very sharp 4K restoration from the original 35mm camera negative. Of course, some parts are grainy. But it's all, for the most part, pretty seamlessly balanced out. Nothing is jarring enough to mark it in red. 
The packaging isn't super bulky either — if you're looking for something that has a nice, tight fit on your shelf but still pops. It includes a cardboard slipcover with a fancy illustration that embodies the appeal of the films (featuring lots of characters and memorable images). The icing on the cake is what's tucked inside the casing when you pop it open. Fans will immediately recognize the movie ticket from the first Demons and the party invitation from Demons 2. Throw a fold-out poster and a Synapse Films product catalog in the mix, and you're set.
Act fast! Only 6,000 units were made. It's out of stock on MVDShop.com, but it's still available on SynapseFilms.com. Maybe check Movie Trading Co. in town, too (which you can apply to everything in this round-up.)
Not rated, 89 min. (Demons) and 91 min. (Demons 2).
Summer of 84 (4K Limited Edition Slipcase)
Out of all the films featured in this round-up, Gunpowder & Sky and Vinegar Syndrome's Summer of 84 is the one to pick up above all. Not only is Summer of 84 a wicked cool, but the limited edition rigid slipcase and slipcover set (designed by Earl Kess & Sam Lee Turner) is a stunner. It comes with a foldable milk carton insert, too? Goodness.  
Released in 2018, Summer of 84 is a Rear Window mystery for the Stranger Things and It-loving era. It's got the shady neighbor, the kids on bicycles with their Goonies-level banter and a serial killer snatching up kids in a small town. It's a compelling mystery and an enjoyable hangout movie. But what's most surprising is how realistic it is. Aside from the absent parents (hey, we're not all taking vacations and going on dates when scary stuff is happening), this movie isn't afraid to be cold. It has a haunting ending that's stayed with me for the past three years. Just for that refreshing impact, it's worth it.
Aesthetics/Restoration: When Vinegar Syndrome goes all out, especially with their partner labels (take a peek at Terror Vision's release of WNUF Halloween Special), they have it down to a science. As visible with Summer of 84, the layers of the packaging, the texture of the art, the A/V quality and special features (new interviews!) are all top-notch. These home distributors don't miss a beat. They gift genre fans with all the tricks and treats. 
Only 1,000 units are left in the 3,000 stock. So, order this bad boy through VinegarSyndrome.com! 
Ticks (4K Limited Edition Slipcase)
The rad look factor carries over from Summer to 84 to 1993's Ticks, starring Seth Green, French Prince's Alfonso Ribeiro and Clint Howard. It features many of the same qualities in terms of being a juicy piece of eye candy. It may not be as exceptional of a film as Summer of 84, but it has enough to allow Ticks to attach itself to you. 
The movie is about a handful of misfits who are forced to attend a camp at a wildlife preserve. They settle in and begin to notice all these nasty bug nests around. Things go south, people don't believe or trust each other and the blood starts to flow. 
Similar to Demons, the drama and acting would have Tommy Wiseau fans crack a smile. But it's the gore effects that give it staying power. These titular bugs burst through body parts and slowly tear you apart. One scene of someone having their head split open to see a giant tick birth itself out of the corpse is something that will follow you into your dreams. It's messy and stupid, but it's a blast with the right crowd.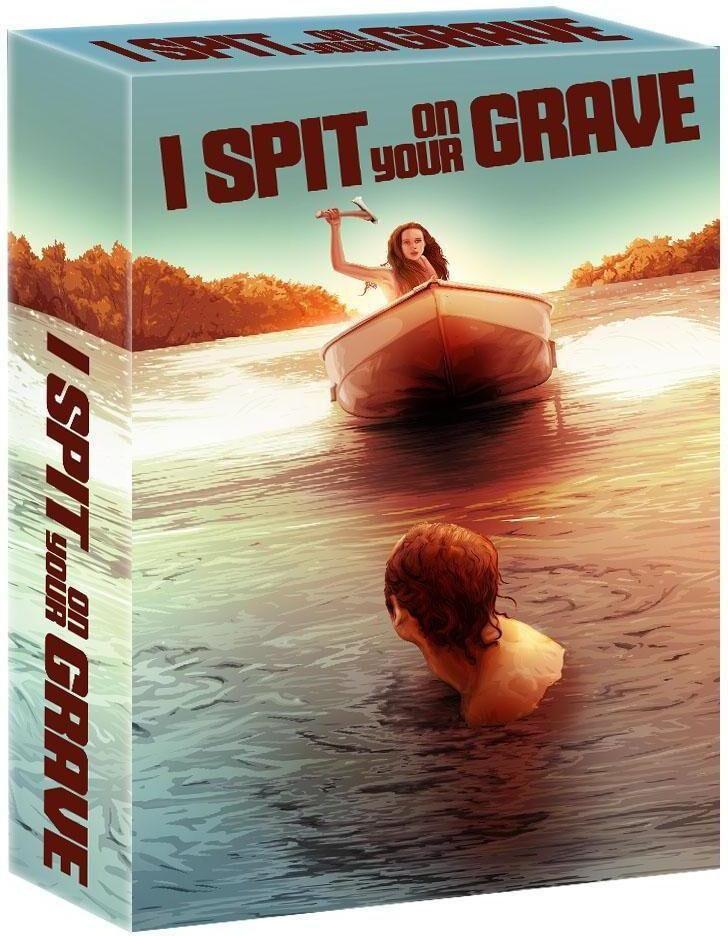 I Spit on Your Grave (4K Limited Edition)
The original 1978 uncut version of I Spit on Your Grave is not for the faint of heart. It's one of the most uncomfortable viewings you'll come across. This film doesn't have demons chowing down on people or kids solving a mystery. No, it's a young woman (Camille Keaton) facing the most disgusting and horrible event imaginable by a group of men. While there's the eventual enactment of vengeance upon the guilty parties, it'll test your patience and stomach to get there. It's no delight, but when this young woman gets her moment, she makes it count. The final kill in the movie produces one of the biggest whoas, that's for sure. After that, all I got to say is, "You go, girl."
Aesthetics/Restoration: I Spit on Your Grave is for the avid horror collectors. This new special edition comes with a 4K scan of the original camera negative, and it looks just as slick as Vinegar Syndrome's. If it weren't for the soft focus, you might think it was released just a few years ago. The colors are well balanced with its natural palette. The screams will echo in your ears for some time, making the impact all the more terrifying. 
However, the best thing about this release is the bonus features. This is a horror filmmaking master class. The Ronin Flix's release includes a super insightful feature-length documentary Growing up with I Spit on Your Grave (about 103 minutes), two audio commentaries (the Joe Bob Briggs one is a standout), deleted scenes, interviews, and home movies (including director Meir Zarchi and Keaton's wedding). It invites you into the experience of the film on a deeper level. As a result, the next time you watch it, you'll have a stronger appreciation for the material. 
The item is still in stock at RoninFlix.com. A thicker collector's edition is also available for purchase.