Q: Since COVID has venues closed, I thought I'd teach myself how to shoot videos of songs to post. My videos look homemade in a bad way. I have a newish iPhone, but I still don't like the way it looks. And should I be learning how to use microphones? A few of the videos I shot seemed to pick up sounds from the outside. How can a singer-songwriter learn how to shoot video of themselves to keep the music streaming? And how can I make it sound better?
I am super excited about this question. Our primary focus at DentonRadio.com for the last few years has been livestreaming video, and we are always researching affordable ways to stream quality videos.
Before we get nerdy with the tech stuff, I want to say that the best and most effective online performances are livestreams where the artist interacts with their audience. Engaging with your audience and putting on an interactive show make the livestream much more enjoyable than the quality of the video. Especially today, shows are best when they are social.
For those that feel they have a good report with their audience established and would like to ramp up production, I would like to share some of the tech we have used at DentonRadio.com. There will never be a shortage of tech to buy, and I do not know your budget, so here are a series of suggestions for different budgets: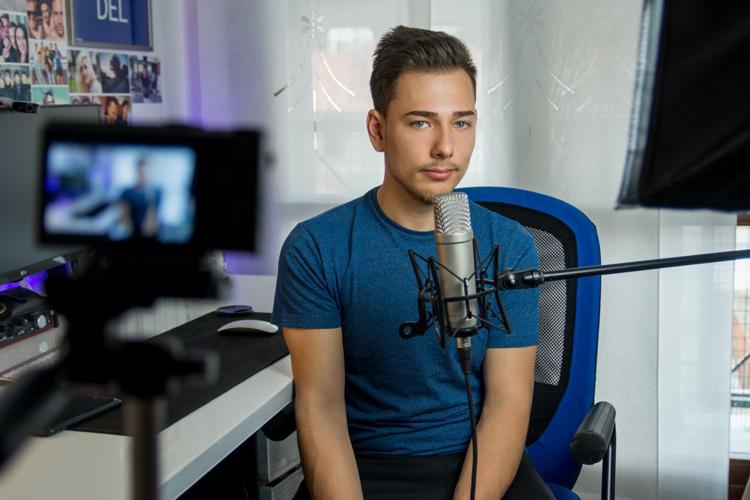 Most of today's smartphones are a fantastic place to start. The audio and video they capture can be impressive, and a few easy tips and can move your videos to the next level.
Stabilize the phone with a stand or mount so the video does not move or shake, and can be placed at exactly the angle you would like. A cellphone mount can be as affordable as $15.
Lighting can make a huge difference for your video. Make sure you are in a well-lit space to cut down on graininess in the video. Also, make sure you have plenty of light in front of you, rather than behind, so you are not backlit. Playing while facing a window can be very helpful.
Choose a room that is well designed for capturing audio. A small room with a lot of fabric; carpeting, couches, heavy curtains, cuts down on echo and room noise. Keep the phone as close to you as possible to eliminate additional room noise.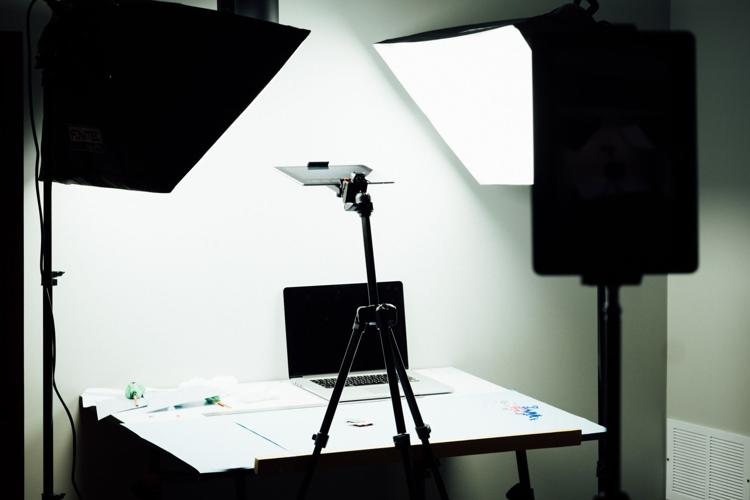 One of my favorite cameras, which provides a HUGE bang for the buck, is a Mevo. A Mevo camera takes a very wide shot of a room and then can break that shot into multiple angles. It syncs to your smartphone, so you can stream directly to social media, and because you have multiple cameras angles, it appears that you have several cameras in the room. With that one camera, you can create the look of a multicamera production. A Mevo camera can also choose between your camera angles independently, so your video will change angles without you controlling it. So, you can run your multicamera broadcast without a camera operator.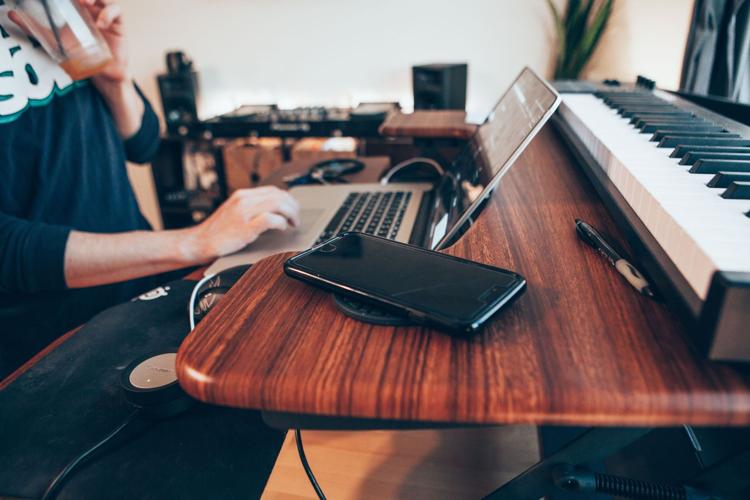 When you start introducing microphones into your broadcasts, the more tech you add, the more potential to create audio interference. Microphones, sound boards, amps and the type of electrical wiring in your walls all have the potential to create buzzing, ringing, fuzz and other possible issues. So, I suggest artists keep it simple when miking their instruments and vocals.
I always suggest the Shure X2U XLR-to-USB Signal Adapter as a good interface to connect mics and sound systems to a computer or camera. If you do not have a sound system you like to use to mic yourself, I would also suggest the Shure BLX288/PG58 H9 dual channel mic system. Along with two boom stands and an XLR splitter (two female to one male XLR), you can mic your vocals and a guitar or other instrument for very clean sound.
$$$$
Again, I do not think that video quality is the key to a successful livestream, but for those who would like, there is a fantastic livestreaming studio software from Vimeo called Livestream Studio that I love using! To get the most out of this software, you will need high-quality cameras and audio, but for my fellow video nerds who have all of the video and sound equipment already but need something else to take the show live, Livestream may be that final key. Additionally, Vimeo recently drastically reduced the price of Livestream Studio, so now may be the time.
I hope you find these tips helpful. As we are all adjusting to the "new normal," online performances are becoming more and more important. I look forward to seeing more and more performances from Denton artists online!
Featured artist: Zeke Forever
Zeke Forever is a Denton R&B-pop artist. Zeke brings endless energy from the stage, putting on incredible live shows, but what is most impressive about Zeke is his beats. Zeke makes upbeat, intricate, next-level beats that any audience can enjoy. If you see Zeke Forever on a lineup, do not miss that show!