Rated PG-13, 123 minutes.
Streaming now on Netflix.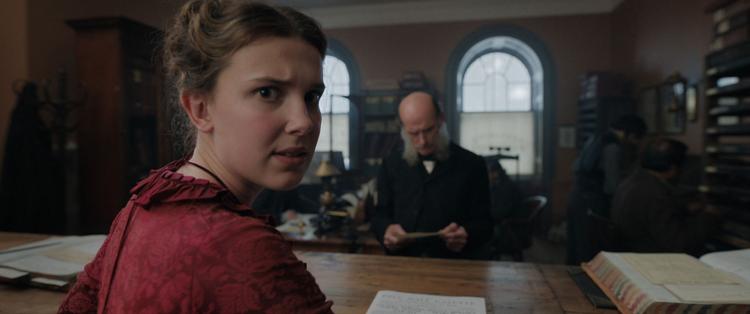 Mere seconds into the Netflix family film Enola Holmes, you can already feel your spirits start to lift. Strumming strings fill the air, cozy country views are easy on the eyes, and a fourth-wall-breaking introduction amounts to one giant smile that doesn't fade until the end credits appear.
Stranger Things' Millie Bobby Brown turns in her best performance to date in yet another high-profile Netflix project. She's Enola Holmes, the 16-year-old sister to the famous Sherlock Holmes (a fantastic Henry Cavill) who's every bit as clever (if not more so) as her big brother.
Based on Nancy Springer's book series set in 19th century England, the film sees Enola searching for her suddenly-missing mother (Helena Bonham Carter). Soon after, Enola's brothers, Sherlock and Mycroft (Sam Claflin and a glorious mustache), arrive home to take over the legwork and send Enola away to a finishing school for "proper young ladies."
Enola Holmes - Fresh take on a beloved classic
Along the way to find her mother in London, Enola becomes entangled in another mystery involving a young runaway Lord (charmer Louis Partridge). From there, fun is afoot in this refreshing approach to the detective series.
Directed by Killing Eve and Fleabag's Harry Bradbeer, the filmmaker brings over that same sense of kinetic energy and spunk. Not only by having his title character add amusing anecdotes throughout her journey, but also because of the film's snappy pace and creative graphics. Style is what Enola Holmes is all about, and it has it in spades. Try not to be impressed by Bradbeer's framing of Enola as she outwits and outsmart those around her, especially when she questions the role of women in society and how they should dress.
Filled with compelling adventures and enjoyable twists and performances, Enola Holmes is the movie we need right now — and one of the year's very best. Here's to hoping there are more tales on the way.