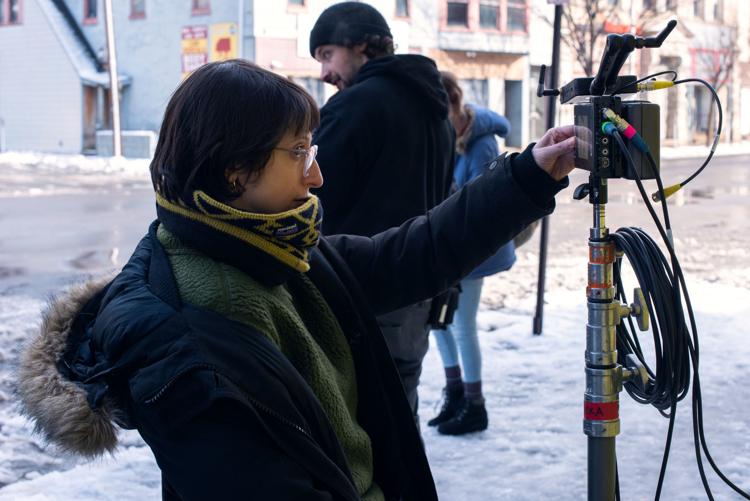 Going on emotional journeys is not only necessary for the characters in a film, but also for the writers who pen them. Indeed, there are the questions of what a writing process should look like: Should one be working in a well-decorated office, or firmly planted on a couch with a laptop resting on the knees? Regardless of where the scribe ultimately creates the art, one aspect of the process is the same for everyone: the emotional roller coaster we all experience as the curtain rises and falls for a film. 
For writer-director Eliza Hittman (Beach Rats), she believes the characters' odyssey should reflect the filmmaker's in some form. Although Hittman's new drama, Never Rarely Sometimes Always, is not material directly lifted from her life, it's a collection of moments she has either witnessed or immersed herself into to find her protagonist's journey. Through Hittman's specificity as a storyteller, viewers can gather that the narrative elements portrayed in her films are, primarily, insights the writer wants to know versus what she knows already. That curiosity remains intact and keeps audiences fixed on the hero's trek. 
Never Rarely Sometimes Always follows 17-year-old Autumn (outstanding newcomer Sidney Flanigan), who is dealing with an unintended pregnancy. However, because of the Pennsylvania consent laws, she is forced to travel to New York with her cousin, Skylar (Talia Ryder of the upcoming West Side Story remake), to find an abortion clinic. The two young women spend the next 48 hours navigating a crisis they've never experienced in a city they've never been to. 
Hittman's quietly devastating but profound film is a raw and honest depiction of the scary and sometimes dangerous realities of reproductive health care. It's anchored by some of the year's most sincere and emotionally riveting performances. 
Initially, the film was going to be set in Ireland after its filmmaker read a newspaper article in 2012 about the death of Savita Halappanavar, who tragically died from an infection after her country denied her an abortion during a miscarriage. The story sent Hittman down an educational path that led to Anne Rossiter's 2009 book Ireland's Hidden Diaspora: The Abortion Trail and the Making of a London-Irish Underground, 1980-2000.
In a recent interview with Hittman to promote this film's weekend digital release, she mentioned Rossiter's story had her thinking about the journey women took across the Irish Sea, to London and back in a day, to receive feticide services. 
"I had read about this network of women who help each other on this journey. How much persistence it must take to get through an experience like that, and the shame and secrecy that follows it, compelled me to explore it through my own fictional creation," Hittman said. 
While seeking financial support, Hittman encountered many complications of her own. It seemed as though no one wanted to risk backing an internationally-produced movie about the subject. The process caused Hittman to consider the possibility of setting the story stateside, which eventually led to the film that was made. 
"I knew I could capture a similar journey [here in America] because women travel more than 50 miles (and out of state) to get abortions," Hittman said. " I met with social workers, abortion providers and nurses. I took an immersive approach to the project. At the time, I was swimming in information and perspectives, and I had to remind myself that it was not a documentary." 
To prepare for the writing process, the Brooklyn filmmaker traveled to the Keystone State, landing in a small coal-mining town. It was there that she visited a local pregnancy care center and put herself in Autumn's shoes, looking for areas her written character would go and work while facing the odds. 
"I need to see something to write it," Hittman said. "I had to pick a place, a real place, where the story begins to get to know the character, where they're from and their world and to be able to do the world-building. Where I ended up seemed so far from my world, but in reality, it's only two hours away from where I live. You feel so set back in time. It represented to me what a lot of small towns are like in America – about the industry, cut off, and very little transportation." 
Hittman walked everywhere she could to find creative inspiration. This included locating the town's bus station to ride to New York and visualize Autumn's voyage. Along the way, Hittman learned valuable lessons about how scarce and perilous the system is for women.  
"It was so moving to be given access to these vital and intimate spaces, and the people who work in them. I think the harder decisions [about what information to include in the screenplay] came with what to include from the clinics," Hittman said. "Unfortunately, I can't show every bit of the experience. I had to be selective and subjective about what to show." 
There were many threads in the story for Hittman to handle, so focusing on one, as tempting as it was, wasn't an option. Never Rarely required balancing the journey at hand, the central friendship between the cousins, and the private procedural experience Autumn is going through. It was a careful harmonious act of assembling the themes and characters and keeping from falling into docudrama territory. 
"There's a beautiful quote by the filmmaker Andrei Tarkovsky, and he said: 'Realism is striving for truth, and truth is always beautiful.' That was something I thought about a lot when making this film," Hittman said. "I come from a theater background where you are in a black box, looking for conceptual ways to explore reality. When I switched over to filmmaking, I realized that you could get so much closer to the truth." 
To find the authenticity within the story, Hittman relied on her internal compass. During the scripting phase, sometimes the story would edge over into extremism or conventional structure, but then she would check back in to dial everything back to a reasonable ground. Scenes such as exploring the ambient misogyny and every-day sexism these women face could have wielded a heavy hand. But to maintain a grip on the organic flow, Hittman relied on subtle notes to paint a larger picture. 
In one of the film's most disturbing but powerfully articulated sequences, Autumn's family is watching television together. What appears to be a comfortable mood suddenly falls into the darker shades when Autumn's stepfather (Ryan Eggold) scratches inappropriate areas of the family dog. The camera draws in on Autumn's face in a fashion that suggests the pathetically dependent man could be responsible for her pregnancy – a detail that remains ambiguous throughout. 
"As a filmmaker, you're always collecting moments that happen in real life. My father-in-law always rolls around on the floor with our family dog. The dog rolls over and spreads its legs, and my father-in-law will make inappropriate comments," Hittman said, in a joking manner. "I just wrote that into the story, but it was stolen from real life. But, of course, in the context of the film, it's much darker and more provocative." 
Never Rarely Sometimes Always, in some ways, is a classic hero's journey. The tears will surface, and your gut will sting from its empathetic qualities, but as any story's hero knows, achieving the goal is ultimately worth the struggle. 
Focus Features has made the film available today to rent on all digital platforms. Watch it and walk away with big rewards.