Lidia Bastianich knows more than a thing or two about cooking.
At age 71, Bastianich has built a reputation for fine Italian cooking, a series of cookbooks and the handful of restaurants she owns and co-owns across the country.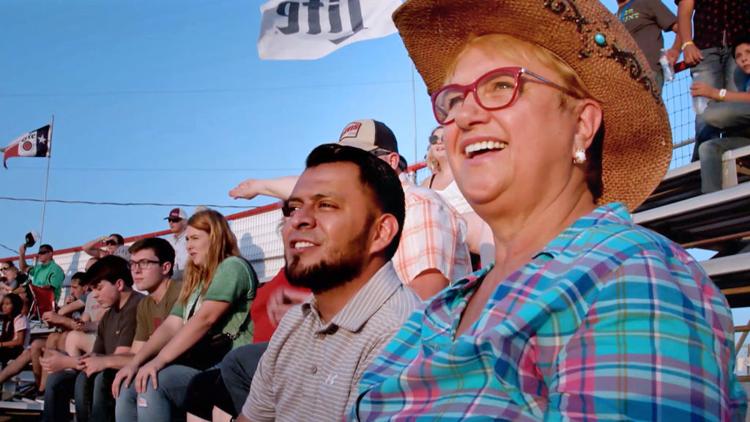 But the chef — an Italian-Croatian transplant to the U.S. — confessed she had a little trouble when she tried her hand at making tamales in the kitchen of Denton's Milpa Kitchen & Cantina. Co-owner Jorge Landeros and his sister, Cecilia, looked on with a knowing twinkle in their eyes as Bastianich tried to smooth the fresh masa, a traditional Mexican corn flour dough, across the stout ridges of a corn husk.
The Landeros appear in the seventh installment of Bastianich's series of public television specials, Lidia Celebrates America. Bastianich isn't too proud to admit she wasn't the quickest study when it came to making her first tamale.
The flavorful, humble tamale is a staple of Mexican and Central American tables on Christmas Eve. But for its simple, robust taste, Bastianich found tamales take serious work.
"It's very hard," Bastianich said. "It seems so simple, but even the masa takes work, yes? You have the corn meal, adding the liquid. It's getting the feel of making the dough, and then making the sauce that goes inside. I tell you, I thought 'I can do this.' But it was hard."
Denton is among six communities Bastianich explores in the seventh installment of Lidia Celebrates America. She returns to the town where she went to high school, Sunbury, Pennsylvania, where she gets re-acquainted with Pennsylvania Dutch dishes such as succotash and shoo-fly pie. In Sunbury, an afternoon baking a pizza in an outdoor brick oven reminds Bastianich of her childhood in Istria, Croatia.
She learns to make gumbo in Natchitoches, Louisiana, and samples a ceremonial dish of pork and greens whipped up by a Hmong family in Wausau, Wisconsin.
She delves below thick sheets of ice to catch the fish — freshwater eelpout — favored by the Scandinavians who settled in Walker, Minnesota.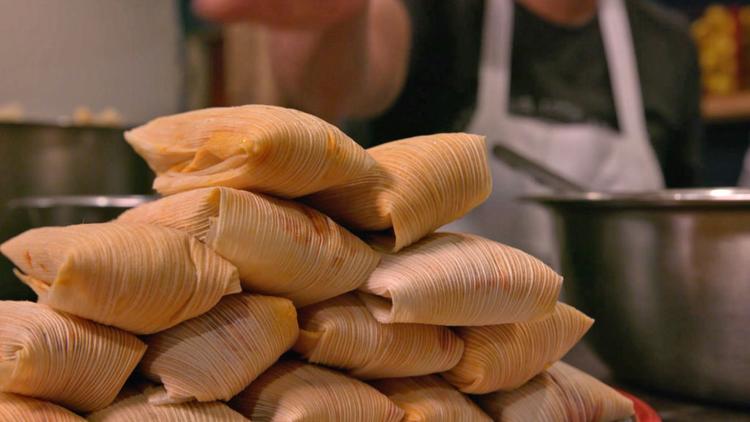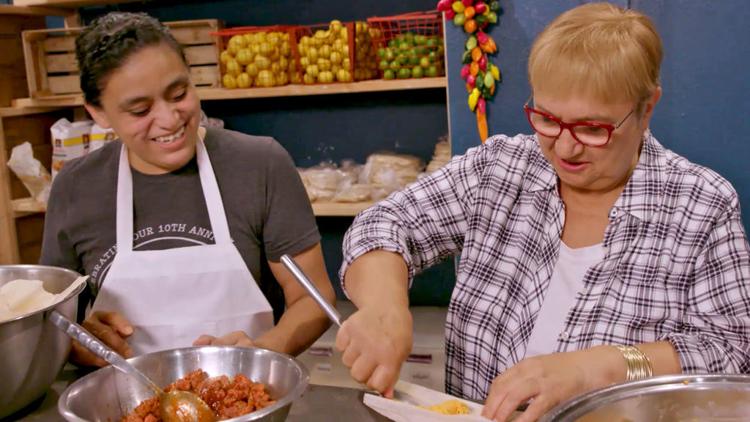 Bastianich said her yearly travels to small towns remind her immigrant communities — some of them old and others new — shape the way communities eat and live together.
"I am an immigrant and, I am forever interested in learning more about America," she said. "You hear people say it all the time, but America is made of immigrants. Through this process, I was given a wonderful opportunity to visit people as they live and cook in these small communities, and to really look at the culture of America. Making these specials, it's a way to say thank you."
Lidia Celebrates America isn't a cooking show, even though the recipes are available on the series' website. It's more of a travelogue, following Bastianich from place to place, kitchen to kitchen, where she talks with people and rolls up her sleeves to cook, braise, simmer and bake.
Jorge Landeros, the general manger of Milpa Kitchen & Cantina, said his family opened the popular local restaurant in 2008. The Landeros family immigrated to the United States when he was a child. The menu at the restaurant, which celebrated 10 years in operation with a major remodel, is rooted in the flavors and ingredients of Zacatecas, north-central Mexico where the Landeroses are from.
"It's a family business partnership with my brothers," Landeros said. "We're five guys, and we still operate in the business every day."
Landeros said the brothers figured out their strengths as they ran the business. Jorge Landeros took on the general management of the business, while his brothers ended up behind the bar — perfecting the restaurant's photogenic cocktails — in the kitchen making the dishes, completing catered orders and organizing the menu and launching a street food concept through a new food truck.
"I think at the beginning you have dreams to accomplish stuff," Landeros said. "You don't know what's goes into it or how hard it will be. Our family, we've come through those times."
Landeros said he and his brothers made the usual mistakes when they got started and overcame them by paying attention to customers and holding one another to high standards.
"Now that we messed it all up like you do, we're still here. We can only go up. It's competitive, but once you understand what everything means, if you work hard you can make it," Landeros said.
Landeros said the Chamber of Commerce contacted them about participating in Lidia Celebrates America and connected the Denton restaurant to the producers. When they got word the show would be visiting Denton, Landeros said they had to coordinate schedules and get ready to cook for cameras.
"We're always trying to get our name out there," he said. "Plus we sell a ton of tamales over the holidays; we're really proud of this recipe. I think last year we did, I think, 1,200 dozen. It's a Christmas thing, and this is when it really ramps up."
Landeros said Bastianich is right about tamales being tougher to make than they might seem.
"For sure, it's labor intensive," Landeros said. "I think it takes practice. When you first try it, yeah it's hard. Lidia said it's all about the process. That's 100 percent true. And yeah, we'll have a group of people lined up making them together."
Tamales start with the cornmeal flour. After its spread on the cornhusk, the filling is added. Milpa makes cheese jalapeno tamales and chicken tamales. The meat is minced into a smooth texture, and the sauce — a chile guajillo based red sauce — gives it a spicy, earthy kick.
Bastianich said she wanted to focus on immigrants in this special to remind people the country is itself a sort of common table with room for all of its people to partake.
"This is what makes America great," Bastianich said. "We are able to celebrate that. We are able, through food, to celebrate our culture. No other country is like that. It's only here that you can become part of the country, but still celebrate the place you come from."
At the end of the special, Bastianich thanks her hosts by making a meal for them. She often reflects the dishes they've served her through her Italian and Italian-American dishes.
"Food is positive," Bastianich said. "Food keeps us alive. When you offer someone food you are offering them a [good] life. That is what food is about."
Lidia Celebrates America airs at 8 p.m. Tuesday on KERA.