If you've ever seen a David Lynch film — Twin Peaks, Mulholland Drive or Blue Velvet — you may have noticed they aren't easily digested. Like Nicolas Winding Refn or Yorgos Lanthimos' movies, Lynch's work exists in its own reality. His films are artfully made endurance tests.
Wild at Heart is challenging, melodramatic and excessively weird. In other words, it's a David Lynch movie.
During one of my favorite episodes of Siskel and Ebert, late film critic Roger Ebert called Lynch a talented filmmaker whose material often puts its stars in humiliating corners without much payoff. In his Blue Velvet analysis, Ebert said Lynch seemingly humiliates his actors and follows up a shocking scene with out-of-place comedy. Siskel, on the other hand, admired Lynch's mesmerizing imagery and compared his feelings to Psycho.
Lynch's movies seem to divide people, especially Wild at Heart. The film — about young lovers Sailor Ripley (Nicolas Cage) and Lula Fortune (Laura Dern) on the run from some people who were hired by Lula's mom (Diane Ladd) to kill Sailor — definitely has a lot of disturbing moments between all its scenes of trippy visuals and soap opera-like acting. There's even a scene where Willem Dafoe sexually assaults Dern's character, and it gets right under your skin.
However, like Siskel's feelings toward Lynch, I often find myself astonished by Lynch's sheer audacity to go places. Tonally, Wild at Heart is all over the map, especially when you consider how it opens (with Cage breaking in someone's skull) to later talking about how his snakeskin jacket is a symbol of his independence and singing Elvis tunes. But there's just something about the movie that stays in your head.
Extras: Shout Select's release (available through shoutfactory.com/shop) includes a hour's worth of deleted scenes, a making-of documentary, a new interview with novelist Barry Gifford (who wrote the book the film is based on), extended interviews, a featurette that features Lynch discussing the DVD process, original press kit material, a special that focuses on Lynch, and reversible cover art with a slip cover.
■
Ash vs. Evil Dead: Season 3 (★★★★) Ash vs. Evil Dead recaptured the charm and sheer fun of the original Evil Dead films and opened up the universe in a way that was exciting. The character dynamics, the creature effects and, of course, groovy Bruce Campbell as Ash Williams all made this series one of the most entertaining shows in recent years.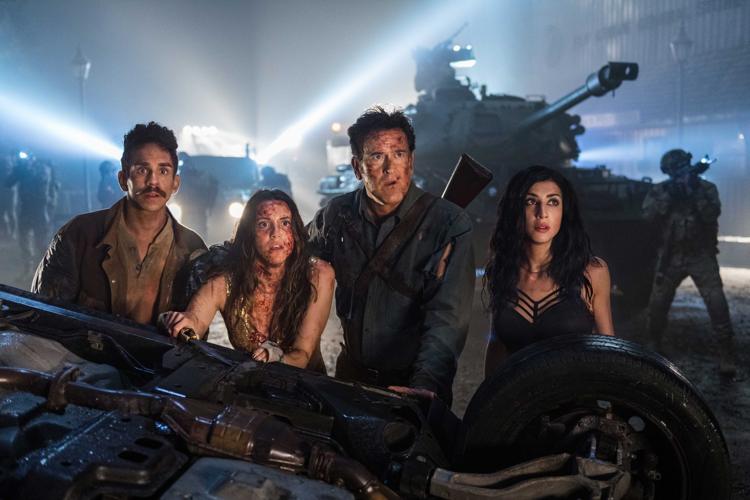 Season 3 challenges its heroes like never before (Ash's father-daughter relationship being a takeaway) and the story only got better as it went on. And as shameful as it that this season is the show's last (it ends on an upsetting cliffhanger, too), I'm sure glad the show even happened.
Not rated, about 278 minutes.
Extras: A behind-the-scenes featurette, a season overview and audio commentaries.
■
Brainscan (★★★ 1/2) This 1994 sci-fi horror film follows Michael (Edward Furlong of Terminator 2), your stereotypical misunderstood '90s movie teen. He's into the latest gadgets, video games, horror movies and heavy metal. He lost his mom when he was young, and his dad is never around. He's emotionally scarred and has to drown out all his dark thoughts somehow.
This leads us to the titular interactive game that hypnotizes Michael and causes him to experience horrifying murders through the eyes of a killer. What you'd think would be a traumatizing game for Michael is actually a lifesaver. It boosts his confidence and fills in that missing piece he's been searching for.
However, the murders in the game begin to match some murders that are happening outside it. So, there's that whole question of what's real and what's not. And then we meet the face of the game, Trickster (T. Ryder Smith), who looks like a Prince-influenced demon. He pops out of the game to help. Or does he?
There are a lot of ideas and special effects in Brainscan that are a bit dated, but the movie is the perfect amount of twisted and fun. So, if you're into eccentric '90s movies — and there are a lot of them — play Brainscan.
Rated R, 96 minutes.
Extras: The Scream Factory release (available through shoutfactory.com/shop) includes a new audio commentary, a slew of interviews with the talent and filmmakers, a deleted scene, behind-the-scenes footage, trailers, TV spots and an image gallery.
■
The Unborn (★★★ 1/2) 1991's The Unborn is a body horror movie that seems like it was made in the same test tube as the It's Alive trilogy. Starring Brooke Adams and James Karen, the film is about infertile mothers who undergo a fertilization program that, to their surprise, turns their fetuses into evil creatures that look like baby Voldemorts or Freddy Kruegers — it's terrifying.
If you are about to have a baby, I wouldn't recommend watching The Unborn. It's a supernatural extension of the horrific thoughts we have sometimes during pregnancy. However, if you like body horror movies (and there are some really unsettling sequences), you'll enjoy this. It's exactly the kind of midnight horror movie you'd expect.
Rated R, 83 minutes.
Extras: The Scream Factory release includes a trailer and a new audio commentary with director Rodman Flender and fellow filmmaker Adam Simon.
■
The House of Tomorrow (★★★ 1/2) This story is familiar but remains heartwarming and joyous. It follows Sebastian, a 16-year-old (Asa Butterfield) who has spent most of his life with his Nana (Ellen Burstyn) in this futuristic dome of a house. The house is essentially an environment that teaches the world to be a better place. However, it doesn't allow the freedom to rock out and live.
So, when our lead character meets the punk-obsessed Jared (Alex Wolff), Sebastian has found a new means to live by forming a band and taking interest in Jared's sister Meredith (Maude Apatow, daughter of comedy filmmaker Judd Apatow).
The House of Tomorrow pulls from the same story thread as 20th Century Women and Blast From the Past. It's simply about breaking away from expectations and finding a sense of identity. As structured as our lives can become, it's nice to have a movie like this nudge you and say, "Hey, go have some fun."
Not rated, 85 minutes.
Extras: The Shout Factory release includes an audio commentary with the cast and crew, a conversation between director Peter Livolsi and Ellen Burstyn, and the NYC premiere Q&A.
■
Also available this week: Black Water; Bleeding Steel; Deadpool 2; Deep Rising (1998); First Reformed; God's Not Dead: A Light in Darkness; Gotham: Season 4; Heaven Can Wait (1943): Criterion Collection; Show Dogs and Walking Dead: Season 8.