Rated R (or not rated), about 8 hours.
Available Tuesday on Blu-ray through Scream Factory.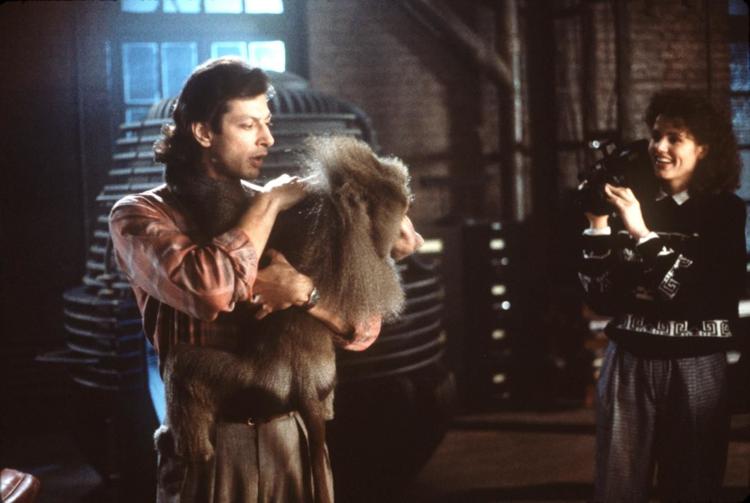 Like they did with the Amityville Horror franchise and Critters series, Scream Factory has assembled all the Fly movies for a spectacular collector's set. The collection includes The Fly (1958), Return of the Fly (1959), Curse of the Fly (1965), The Fly (1986) and The Fly II (1989). So store away your swatter and bring out your wallet.
The Fly films are not for everyone, especially the 1986 remake with Jeff Goldblum and Geena Davis. I showed that film to my wife, and I was confident she was going to file for divorce the next day. It's disturbing and gross to watch your protagonist become your antagonist as he slowly morphs into a human-sized fly. Not only does the decaying body of Goldblum's mad scientist character make you cringe, but he also slowly mimics a fly's movement and vomits up an acidic substance that could bring up your lunch.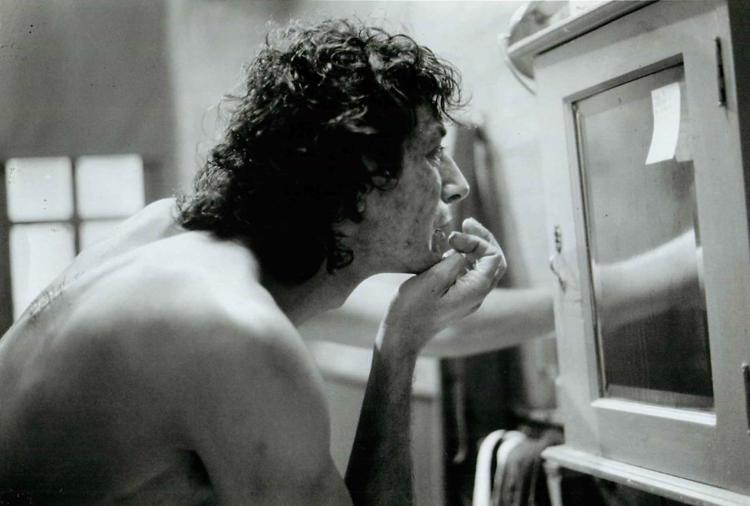 Fortunately, there are other Fly movies out there. If you favor material that is more hardcore and tragic, David Cronenberg's reimagining is for you. Its 1989 sequel, starring Eric Stolz as the son of Goldblum's character, is not far off from making you feel uneasy. Although the story is terrible, there are some images of an inside-out dog that is the stuff of nightmares.
The original three films go down much smoother. None are quite as satisfying as Cronenberg's take, however. It feels like Edgar Allan Poe and Stuart Gordon (Re-Animator) miraculously teamed up and did a crossover of Beauty and the Beast and The Hunchback of Notre Dame. There's more emotion involved, too. As glorious as it is to watch Vincent Price own the room and see the visual effects of the 1950s and '60s, Cronenberg really pushed the story to some exciting areas. How they achieved particular shots — such as Goldblum walking on walls and making an old person scream "help me!" in the original — is insanity.
Extras: The Scream Factory release (available for preorder through shoutfactory.com/shop) includes a magnificent cardboard box that holds your five movies. It has an original design by gifted illustrator Graham Humphreys that features snapshots from all the films, like Goldblum, Price and various fly-creatures. Each film has its own case and disc cover art, too. This isn't a package that features five discs in one case. Every film gets its place to shine.
I could write a thousand words listing all the special features, but I will highlight some of the best ones. Each film comes with its own unique features, such as commentaries, trailers, featurettes, interviews and making-of documentaries. Some material is newly commissioned by Shout Factory, while others are collected from previous releases.
The newer Fly movies contain the most materials. Most of the filmmakers and talents are still around. So they were able to get some quality artists and filmmakers to speak about making the films.
Mel Brooks, who produced the remake, talks about not liking the original film because the central scientist was too unbelievable for his liking, with his Southern accent and the film's inability to conjure up any scares. He responded to the idea of the remake of doing the movie as a metamorphosis.
Fellow producer Stuart Cornfeld is perhaps the most honest. He doesn't hold back one bit talking about production troubles between the remake films and the vibe on set. He also eloquently speaks about the remake functioning as a metaphor for AIDS and the marginalization of the disease.
There are other new interviews with the casting director, the cinematographer and the musical composer. But the single greatest supplemental material is a feature-length making-of. It thoroughly details every step in creating the film. There's a hilarious part where the filmmakers talk about some monkey business. Another key aspect is when they show the magic of Goldblum walking on the walls in the film. They used a rotating room, and Goldblum had to master the movement to make it look like he's climbing up and down the walls. It's a filmmaking class, really.
Once Upon a Time … in Hollywood (★★★★★) Quentin Tarantino has carved out an exceptional career for himself by sticking to this philosophy of storytelling. While his films include a lot of talking and big moments (most of which conclude with exploitative violence), it's the in-between scenes that feature character observations and reflections that make his movies dance like they're at Jack Rabbit Slims. Tarantino manufactures stories that flow organically, comment on social norms and celebrate cinema's crowning achievements.
In many ways, Tarantino's ninth (and maybe final film), Once Upon a Time … in Hollywood, pays tribute to groundbreaking movies from the late 1960s (such as Bob & Carol & Ted & Alice, The Wild Bunch and The Graduate) and Tarantino's own filmography. You will find breadcrumbs that lead to any of his previous works. The pace of the narrative resembles the gentle nature of Jackie Brown and Death Proof, but it has flashes of the pizzazz and energy of the Kill Bill films and Inglourious Basterds. Once Upon a Time is about an actor (Leonardo DiCaprio) and his stuntman (a career-best Brad Pitt) and how they navigate the transitional period of 1969 Hollywood.
There's a lot to unpack with this nearly three-hour film. While it seems like so little happens, so much exists between the lines. Compared to other Tarantino works that tend to stitch together extended talking sequences, Once Upon a Time dials it back. A good portion of the running time is devoted to characters driving around town, listening to the Mamas and the Papas and Neil Diamond. Robert Richardson's lucid cinematography pulls at our nostalgic hearts as his camera sweeps down Sunset Boulevard to highlight images of classic signage and theater marquees. Tarantino wants you to feel like you're living in the period. It feels authentic enough that I wouldn't put it past Tarantino if he owned a flux capacitor and gunned it to '69.
Extras: The standard Blu-ray includes over 20 minutes of additional scenes, from more stuff with Charles Manson and great moments with Pitt's character. Supposedly there will be a Netflix miniseries cut of this film like Tarantino did for The Hateful Eight. I'm all for that. This world is great, and more time spent in it is a luxury.
There are also five exclusive behind-the-scenes pieces, including Tarantino's love letter to Hollywood, the look of the film with the movie's cinematographer, a talk about the cars of 1969, and explorations of the production and costume designs.
It: Chapter Two (★★★) When I reviewed It: Chapter Two during its theatrical run, I wrote about how it doubled up on scares and heart but suffered from poor story structuring and a lack of energy. After watching it again on 4K disc, it lost more value for me. I recognize more issues with its story and, frankly, just don't find it to be a worthy sequel. These sad saps aren't as compelling as the youthful play that is on display in its 2017 first chapter. Things happen without much rhyme or reason.
That said, there are some good things about it. Bill Hader's performance as the adult Richie is a highlight. Some of the images look incredible in 4K, especially the opening sequence and a scene involving Hader running around a park. There are some unique color choices painted on the screen, and they pop in 4K.
Although I have to admit, some moments don't benefit from the ultra HD quality. Any place where they use computer-generated effects, it looks even cheaper. That's one element that I loathe about these two films. Some of the computer graphics look terrible and are not scary.
Extras: The best thing about this release (other than is spookily designed cover art) are all the special features. There are documentaries about the making of both chapters. It includes great interviews with the cast and crew as well as many behind-the-scenes moments. It's impressive to watch actor Bill Skarsgard shape Pennywise into the scary clown that he is. You can view everyone's characters come to life from their auditions to building a legit bond during production. It's clear everyone had a great time making these films, and it shows in these documentaries and the behind-the-scenes featurettes.
Additionally, there's an audio commentary with director Andy Muschietti. But it's a bit dry and not as deep as I had hoped.
Hustlers (★★★½) I was late for this film. It got lots of hype. Some of my favorite writers are putting it on their top-of-the-year lists. It's a hugely entertaining film that is much better than it might let on.
One of my friends called it "Scorsese in stilettos," and that's not far off. It does feel like Martin Scorsese's fingerprints are on this. However, I would say the tired framing device holds it back from being exceptional. Jennifer Lopez and Constance Wu kick butt as a pair of strippers who hustle the dirty boys of Wall Street. There's a pace to the film that keeps you locked in.
In 4K, as you would expect in a movie that uses lots of lights and colors to highlight the world of entertainment, Hustlers is sharp. Camera movements and the fashion in which the lights illuminate the sets make it a must in 4K if you have the equipment. Plus, with its Dolby Atmos soundtrack, its club beats are immersive. So, if you love the movie, as you should, the 4K release makes for a solid stocking stuffer.
Extras: Unfortunately, the only bonus feature is a commentary with director Lorene Scafaria. However, her feature-length talk covers the gamut in fascinating detail. She dishes about working with the cast and crew, shooting in real strip clubs, and much more.
Also available this week on Blu-ray and DVD: The Anne Bancroft Collection (1952-1987, a Shout Select release); The Cotton Club Encore (1984); Freaks (2018); Old Joy (2006, a Criterion Collection release); and Until the End of the World (1991, a Criterion Collection release).