Every so often, there's a movie that completely gets high school. It'll showcase how awkward it is to talk to crushes, how stressful it is to go through the college application process, and how arduous it is to push through the everyday anxieties and social pressures.
Available Tuesday on Blu-ray, DVD, and now available on Digital HD.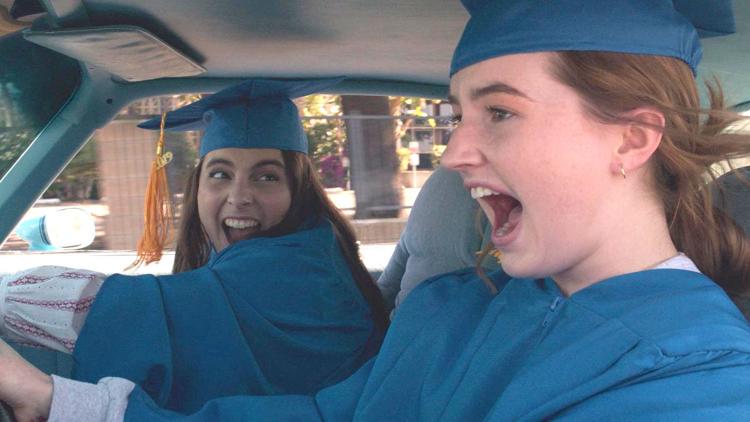 That's how Booksmart, directed by actor Olivia Wilde in a pitch-perfect feature debut, makes its mark. It has the classic, one-day-of-high-jinks premise and an ensemble of hilarious talent who will have you saying, "(insert character name) acts just like (somebody you knew in high school)!" It's wickedly funny and heartfelt, and it's one of the absolute best films of 2019.
The story concerns two high school academic superstars and best friends, Amy (Kaitlyn Dever of Last Man Standing) and Molly (Beanie Feldstein of Lady Bird), who become aware on the eve of their graduation that they didn't live it up enough. They've been so preoccupied with getting good grades and making their resumes look impressive that they didn't take any time to cut loose. This thought comes flooding in when they realize some of their classmates got into schools like Harvard, Yale and Stanford without hitting the books 24/7. As a result, they plan to cram four years of missed opportunities into one night of living large.
What makes Booksmart such a treasure is how much its breaks through teen archetypes. Similar to The Breakfast Club, it presents characters you recognize — such as the know-it-all, the brainless lover boy, the slacker, the class clown and the overly dramatic theater kid — and roots them in genuine human problems. Everyone is dealing with something. They aren't characters created just to get cheap laughs. As much as scene-stealers Skyler Gisondo (Santa Clarita Diet) and Billie Lourd (from American Horror Story, and daughter of the late Carrie Fisher) had me in stitches, their characters have a pulse and a reason for acting larger than life.
Booksmart casts a wide net of glory. It hits at the facts of life, but it also leaves room to have fun — and lots of it. Nobody is trying to pull off some grand scheme or retrieve a crystal egg from some gangsters. (Risky Business is a wild movie.) Its heroes are kids who have thoughtful conversations with one another and embark on a healing journey into adulthood. You will love it from cover to cover.
Extras: The Blu-ray combo pack includes a wonderful audio commentary with director Wilde, deleted scenes, a gallery, and three fun featurettes ("Booksmart: The Next 'Best High School Comedy,'" "Pliés and Jazz Hands: The Dance Fantasy" and "Dressing Booksmart").
Ma (★★★) I love most of what Blumhouse puts out. Yes, of course, they take a gamble on a few unique premises, and they don't pan out. Fortunately, Tate Taylor's excursion into full-on horror territory is a happy outing. (I'm not really a fan of his trashy The Girl on the Train adaptation or his already outdated The Help — despite its best intentions.) Ma incorporates, for the most part, fully fleshed-out characters. Even the titular character, played with devilish delight by Oscar winner Octavia Spencer, has more to her role than a mere sinister agenda. It doesn't take a "Minny's Special Pie" to make you sweat. It's all in her eyes.
Ma is about high schoolers (chiefly Diana Silvers, who is also in Booksmart) looking for a low-key place to raise Cain and drink without the possibility of red and blue lights showing up. By a bridge a little outside of town, they meet Ma, aka Sue Ann (Spencer). She adopts those nurturing skills and buys them alcohol and allows the teens to party in her basement.
All is well until Sue begins to cross the line and invade the students' spaces. She creepily stalks them on social media. (I guess none of these kids is smart enough to set their Facebook to private?) She provides them with gifts and even steals from them, taking items like necklaces and precious earrings. But she continues to push it to the limit, and it leads to some messed-up conclusions.
Taylor's movie is still a little on the trashy side, but it at least has multidimensional characters. You care about these teenagers' well-being, and you are curious to find out what drives Ma to bring about such terror. The film might unfold in a way that you could predict, but the images that Taylor throws your way make Ma one of a kind. I had a great time. It's a pleasant way to spend an evening getting spooked.
Extras: The Blu-ray combo release from Universal Pictures includes some fantastic deleted scenes. Similar to Halloween (2018), also a Universal release, the deleted scenes provide more depth and should have been left in. It also has an alternate ending that fits in well with traditional horror films. Rounding it off are two featurettes. One centers on the casting of Spencer, while the other is a sit-down with all the cast and crew.
The Wind: Demons of the Prairie (★★★) Horror movies have long shown us what we fear. The best ones deliver a one-two punch, serving terror and also highlighting the anxieties that are below the surface of our cultural norms. Many of those horrors have broken beyond the barriers in recent years. These fears, sustained by fake news and a web littered with conspiracy theories, have formed our modern political climate to a level never thought possible. And it's films like Jordan Peele's Get Out and Us that have held up a mirror to our society and given us a glimpse of what has been boiling in the cultural pot for some time.
Emma Tammi's feature directorial debut The Wind (now with the puzzling subtitle Demons of the Prairie on disc) also breathes this very air. It's a supernatural horror film set in the late 1800s about a plainswoman named Lizzy Macklin (a sensational Caitlin Gerard) who lives with her husband (Ashley Zukerman) in an isolated cabin. Lizzy's husband is gone for weeks at a time, leaving Lizzy to battle against prairie madness and the results of a failed pregnancy. It explores the other side of the coin in Western films where husbands go off to fight in wars or carry out frontier missions. It's rare to see a movie that shows the virtual wars mothers and wives fight in the places they call home. It's a scary sight, and Tammi expertly delves into these terrors like slipping into a warm bloodbath.
Also available this week on Blu-ray and DVD: Cold Blood; Into the Ashes; Mary Magdalene (2018); Men in Black: International and True Detective: Season 3.