As the demand for physical media continues to wane in the digital age, there are still home distribution companies that are sinking their teeth into collectors' hearts by going the extra mile. This week's disc releases are all big catches, so let's reel them in.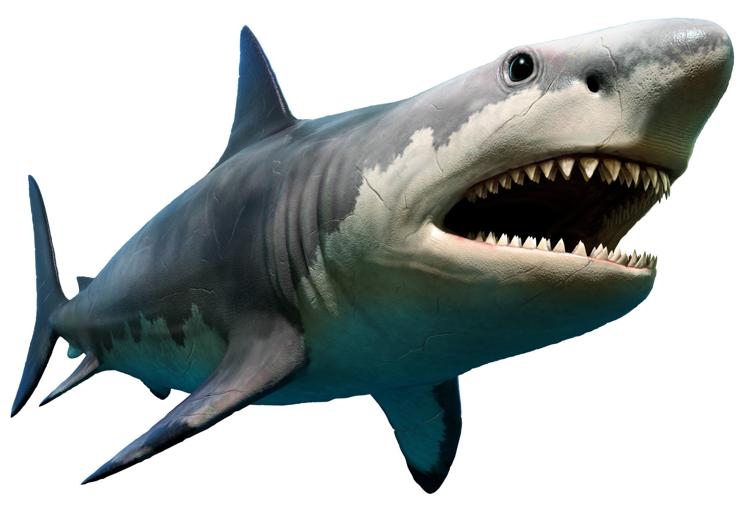 Available Tuesday on Blu-ray. Now available on Digital HD.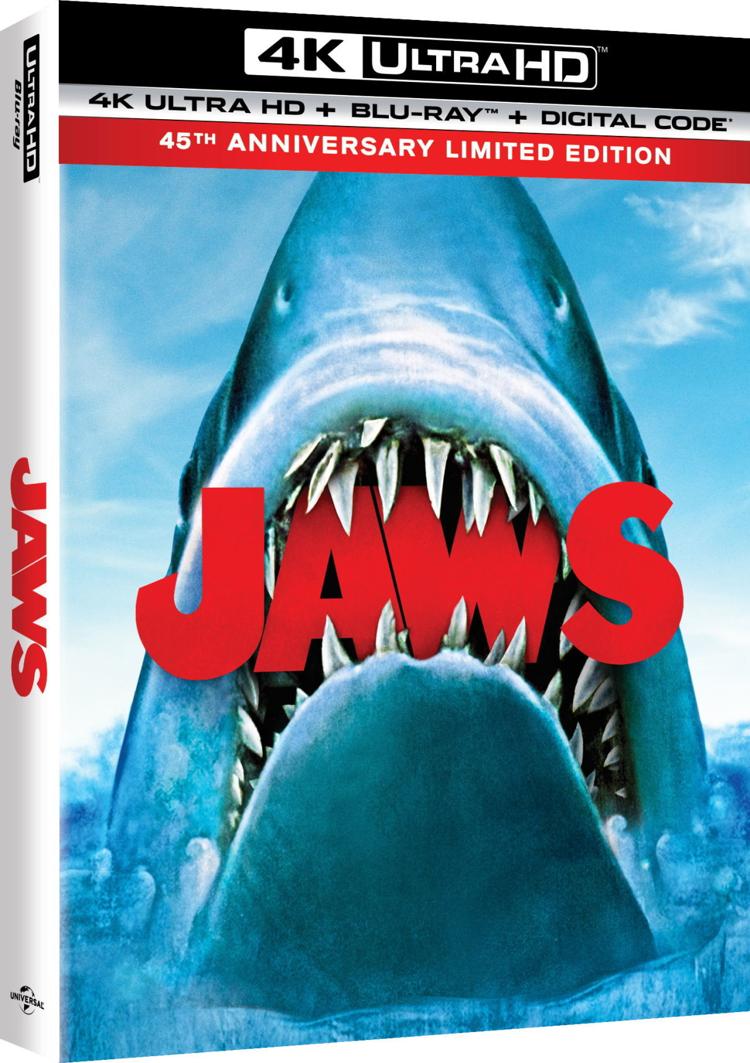 What more can I add that hasn't already been said about Steven Speilberg's timeless classic Jaws? Not only did it scare me away from swimming in my pool alone (as a grown man), but inspired so many filmmakers to take their eyes off movie monsters to instead focus on the tension and characters. Would we care as much about the outcome of the narrative if it weren't for the camaraderie among Roy Schieder, Robert Shaw and Richard Dreyfuss? I think not. There's an admirable patience to Spielberg's grand sea adventure that will see it scaring people out of the water for what seems like forever. It's untouchable. 
To celebrate it's 45 years of fear and existence, Universal Picture Home Entertainment has assembled the ultimate collector's edition. It comes back with hours of special features, a sharper-than-a-Great-White's-teeth picture quality in 4K, and a lenticular packaging that includes a 44-page booklet, complete with introductions, rare photos, storyboards and more from the archives.
On the 4K video/audio: If you really want to know how great this new treatment looks, there's an excellent bonus feature that details the restoration process. The filmmakers and restorers show you a side-by-side comparison between the restored version and the original camera look. Watching these artists go frame-by-frame and eliminate any film scratches and blown-out colors is something that should be shown in film classes to get students sucked further into movie magic.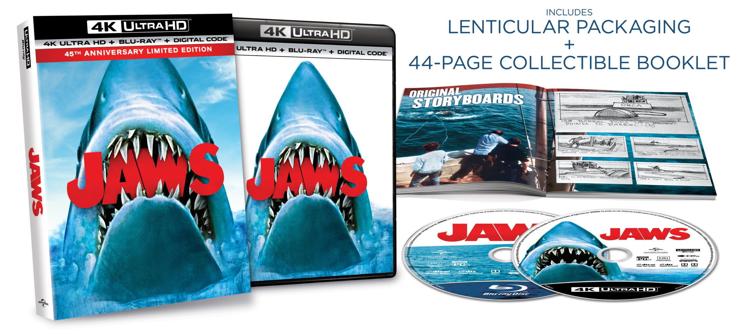 Save for a more vintage color palette (which is very gray, with pops of bright colors like Alex Kintner's yellow raft), the details are in abundance. The scenes underwater, especially, are simply gorgeous. You can see everything from the minerals to fish guts in unmatched clarity. 
And you better believe the audio is a blast worth waking the neighbors up over. Whether it's John Williams' iconic theme or the screams of a victim, your fear will be amplified to a level that makes you feel as though you are in the water, counting your blessings before your demise. 
Extras: The limited-edition Combo Pack doesn't come with any new features that weren't included in the previous 2012 Blu-ray release. But honestly, for how much is on the disc, featuring documentaries from 1995 and 2012 that dive into the film's legacy and production experience, I don't think there would be more to say about the film. If you haven't seen any of these specials, then this is all the more reason to pick it up. 
In addition to the making-of and retrospective documentaries, there are deleted scenes and outtakes, set photos and footage, storyboards, a marketing featurette, and an original theatrical trailer.
The Invisible Man (★★★★) - Serving as a cinematic defibrillator to Universal Classic Monsters, Blumhouse Productions inherited Universal's Invisible Man, based on the 1933 dark-humored classic. Under the control of writer-director Leigh Whannell (Upgrade), the R-rated interpretation shifts the material in a new, compelling direction. It's a retooling that turns up the creeps and is as much about toxic masculinity as invisibility. Whannell has a clear vision, and he executes it with terror-filled grace while also unveiling another superhuman Elisabeth Moss performance. 
The Invisible Man centers on Moss' Cecilia Kass after her recent escape from an abusive relationship. Once she learns her ex (The Haunting of Hill House's Oliver Jackson Cohen) committed suicide and left her a handsome fortune, she believes he's invisibly stalking her from beyond the grave. 
Whannell's take adopts feelings from many other works and shapes them into his own Frankenstein monster of horror. The ghostly presence of its title character tiptoes into a Paranormal Activity arena. With the film's use of wide shots and long takes, viewers are forced to observe the frame's contents and drink up the intoxicating fear that is conjured up. Kitchen knives float, and bed sheets fall to the floor, making sleep and being alone anytime soon appear impossible for both the characters and the viewer. 
Although The Invisible Man may suffer from a few poorly tuned logistical instruments, it drums up a surprising horror beat. As long as Universal keeps from putting too much money into these properties and focuses on character and themes, we're on the right path compared to Tom Cruise's 2017 limp Mummy outing. 
On the 4K video/audio: The 2160p/Dolby Vision presentation shows its value best during the film's darkly lit sequences. The black levels are so incredibly deep and detailed (and with no digital noise or grain) that it's one of the better-looking films to enter 4K systems. To test it, pop in the Blu-ray to compare the difference. There's way more remarkable depth on the 4K disc. Additionally, the brighter scenes (like the main house and the mental facility) radiate with clarity. Skin tones look lifelike and display an unfathomable amount of detail, especially in the face and hair. Although, because the image is sharper, you might be able to detect more of the computer-generated moments. However, they are so distracting that it takes away from the overall impact. 
The audio is equipped with a forceful Dolby Atmos presentation. From the opening, you can feel the difference as the film omits a dramatic score to have your ears home in on the ocean waves (you can sense them rolling by). This extends to scenes with the Invisible Man, where sequences turn down the score to focus on the atmosphere. It's enjoyable and terrifyingly immersive.
Extras: Now available on 4K Ultra HD through Universal Pictures Home Entertainment, the release includes:
Nine deleted scenes (about 13 minutes in total) that were reasonably cut out of an already length movie. However, there are a few moments that better develop the relationship that Cecilia has with her sister (Harriet Dyer). 
Four behind-the-scenes featurettes that range from three to 11 minutes. These focus on the unique qualities brought forward by the actors for their character portrayals and what attracted them to the part. The other areas delve into the director's journey and the lasting power of the film's terror. 
The most informative feature is, without a doubt, Whannell's feature-length audio commentary. As one would imagine with a commentary, the filmmaker details the writing and production process – often throwing in funny facts, such as Cecilia's sister is never named in the film, but many critics called her Alice, for some reason.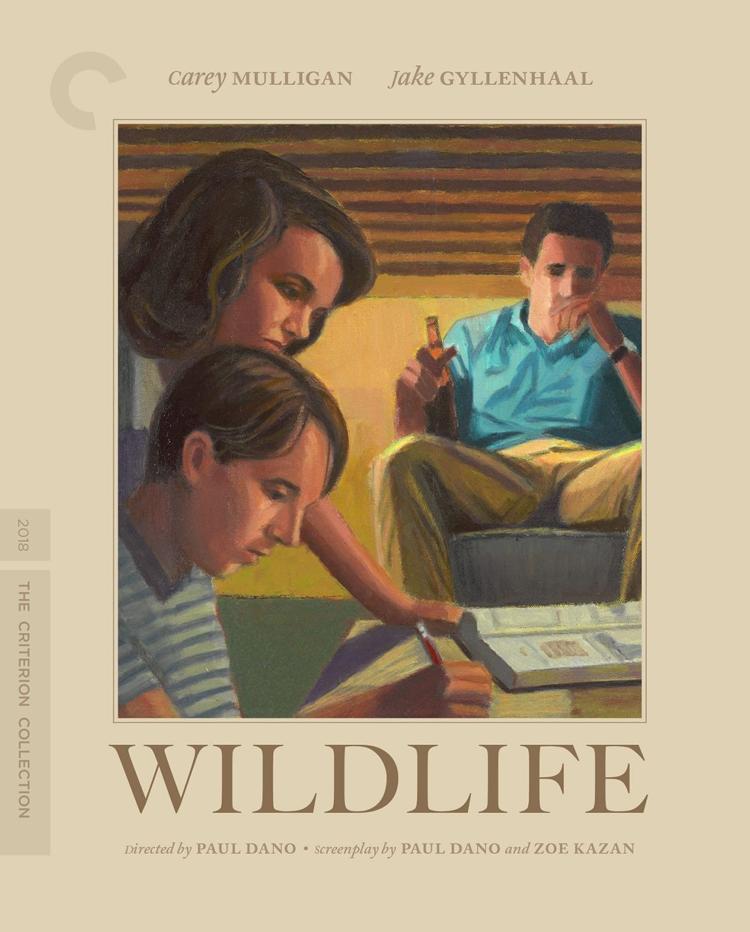 Wildlife (★★★★) - Released in 2018, but entering the Criterion Collection with a new and beautiful 2K digital master, is Paul Dano's profound directorial debut, Wildlife. It's a small but intimate indie drama about family – commanded by top-tier performances from Jake Gyllenhaal, Carey Mulligan and The Visit's Ed Oxenbould. The film dips into material that seems well-traveled on paper, but Dano thoroughly explores a fear that we may have all had as children. 
Based on Richard Ford's novel of the same name, Wildlife follows a teen boy (Oxenbould) who watches his parents' relationship disintegrate before his eyes. His parents, played by Gyllenhaal and Mulligan (whose performances should have knocked at the Academy Awards' door), are trying to find purpose in their mid-30s, just like their son is at age 15. 
Wildlife goes to show that humans are always under construction, no matter how much it looks we have it figured out. The metaphorical meaning of the film and the symbolism of a wildfire (the family lives near the Canadian border, and Gyllenhaal's character fights the seasonal blazes) brings a lot of food for thought to the table. 
Dano, who has generated many sparks as an actor in works like There Will Be Blood and Escape From Delamora), steps into writing and directing like a seasoned pro. It feels more polished and better rendered than most actors who become directors. (This is also shown in how he talks about the film in Criterion's special features.) It's a human story about a child fighting to put the fires of his parents' relationship out and to keep them together. It's moving and tender. 
Rated PG-13, 105 minutes. 
Extras: Now available on Blu-ray through the Criterion Collection (visit criterion.com), the single-disc collector's edition includes a striking cover design that is made to look like a classic family portrait (which feeds into the final moments of the film) and a booklet that features an essay by critic Mark Harris. 
Supplemental material includes new interviews with Dano, screenwriter Zoe Kazan, actors Mulligan and Gyllenhaal, cinematographer Diego Garcia, production designer Akin McKenzie, and costume designer Amanda Ford. There's also a conversation about the film's post-production process with Dano, editor Matthew Hannam, and composer David Lang. Rounding it off is a talk between Dano and Ford about the source material.
As much as I wish the film came with a feature commentary, the interviews are so packed with fascinating tidbits that it might as well be the illustrated version of a commentary. Highlights were hearing about Kazan restructuring Dano's first draft, Garcia's eye for creating dazzling imagery, and the post-production talk about reshaping the story.