Thanksgiving is on the way, but not everyone has plans for the holiday. For those folks, a number of community meals are planned in Denton.
For the folks who want to outsource the culinary portion of Thanksgiving, several local restaurants can supply your holiday dinner.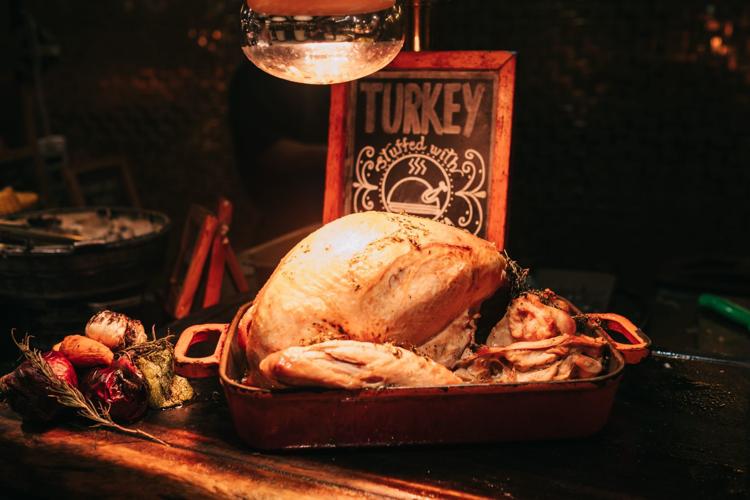 COMMUNITY MEALS
Thanksgiving Dinner at First Baptist Church of Denton
5 to 7 p.m. Sunday at the church, 1100 Malone St.
The local church holds its annual dinner this Sunday for church members and those who want some community in their Thanksgiving celebration.
The Village Church Denton's Thanksgiving Community Banquet
11 a.m. to 2 p.m. Nov. 28 at Calhoun Middle School, 709 W. Congress St.
The local church whips up a free traditional, home-cooked Thanksgiving meal for anyone in town who wants to enjoy the turkey, mashed potatoes and sides with other folks. The church is also still looking for families and individuals who want to help with the 33rd annual event. To register to volunteer, visit thevillagedenton.church/event/thanksgiving.
Mr. Chopsticks' Thanksgiving meals for the needy
Nov. 28 at the restaurant, 1633 Scripture St.
Last year, the popular local restaurant gave free food to people in need on Thanksgiving Day, and will do the same this year. In a Facebook post, the restaurant said the meals are for the needy or for people who have no place to celebrate the season. We're not sure if the plan is to serve traditional American fare, or to dish out delicious Asian food on Thanksgiving — last year the staff dished out fried rice.
RESTAURANT MEALS
Thanksgiving at Hannah's
11 a.m. to 6 p.m. Nov. 28 at 111 W. Mulberry St.
The upscale casual fine dining spot will serve traditional Thanksgiving fare, plus some special dishes the chef will whip up in the ambitious local kitchen. Hannah's is sure to have the perfect wine or cocktail to pair with whatever patrons order. For reservations, call 940-566-1110. $89 for adults, $30 for children 10 and under.
Thanksgiving with the Chestnut Tree
107 W. Hickory St. Order by Monday, and pick up orders from 10 a.m. to 5 p.m. Wednesday.
Choose between grazing boards —an assortment of meats, cheeses and vegetables (the downtown restaurant can throw vegetarian boards together) to keep your guests snacking before the big show. The Chestnut Tree is also selling roasted turkey, turkey breast dinner and all the usual sides — and some unusual ones, such as creamed Brussels sprouts, and roasted mushrooms with balsamic, garlic and thyme.
If you want a sweet finish, the Chestnut Tree has a smorgasbord of desserts, too.
Thanksgiving meals from the Classic Cafe
504 N. Oak St. in Roanoke. Order by Saturday by calling 817-430-8185, and pick up orders on Wednesday.
Order your Thanksgiving meal ahead of time from the Roanoke restaurant. Herb roasted turkey or country ham are the main players, with classic dressing and Mississippi green beans. The Classic Cafe takes a walk on the gourmet side with new and sweet mashed potatoes with smoked gouda cheese and the jalapeno cranberry sauce. And as with any Thanksgiving feast, you get rolls and pie — pumpkin or pecan. $30 per person. For more information, visit theclassiccafe.com/thanksgiving-dinner.
Vegan Thanksgiving with Spiral Diner
608 E. Hickory St., Suite 100. Order and view the holiday menu at order.spiraldiner.com. Select time, date and Denton location for pickup at the online checkout. For more information, call 940-514-0101.
Vegans want to give thanks, too. Spiral Diner has everything vegans need to celebrate with all the flavorful fixings. You can order plant-based roasts, including Tofurky glazed ham and Tofurky roast, and all the sides — cranberry pecan stuffing, mashed potatoes, collard greens, macaroni and cheese, coconut sweet potatoes and gravy. Holiday pies and desserts are available, too.