We're all supposed to be wearing masks when we leave our homes.
But they don't always fit well, and if you wear glasses, your breath fogs them up.
And how do you keep a mask sanitary?
University of North Texas adjunct professor Nga "Angie" Vu, who teaches in the fashion design program, decided to put her skills to the test. She's created a cooling, wicking mask made of antimicrobial fabric.
"Because of my background in sustainable design, I thought the mask would be a good project to work on for me," Vu said. "And I'm from Vietnam, where people wear fabric masks to shield them from the sun and all kinds of dust."
Vu, who teaches pattern-making and construction sewing at UNT, started researching a pattern in January, as she was reading about COVID-19 devastating Wuhan, China. She knew what was required for a mask that would limit micro-particles from speaking, breathing, coughing or sneezing: three layers of fabric, in a mask that fits around the face and the chin.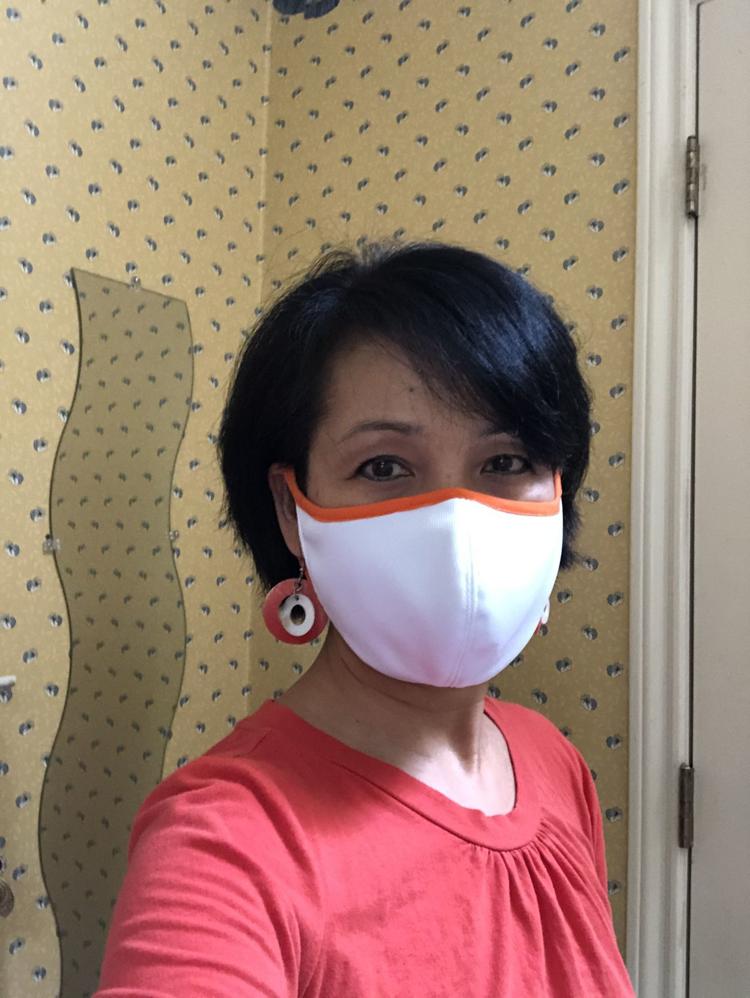 "The mask needs to fit loose over the face, so I worked on it and made a mask that fits around the chin, but is loose on the face. I also worked to make it go under the eyes better," Vu said. "With a lot of masks, they are straight, and gathered, and so they sometimes don't fit under your eyes."
She devised two masks: L for long, designed to fit people with larger heads; S for short, to fit people with smaller heads. She also innovated. The masks have adjustable straps — like a bra — so you can shorten or lengthen the straps to fit your ears. The masks are white or light blue with navy, gray, pink or orange trim and straps.
Vu worked with Wazoodle Fabrics in Pennsylvania to choose a high-performance, wicking cotton-polyester blend.
"They are an eco-friendly company, which is important to me in my work to create sustainable fashion, and they make antimicrobial fabric," Vu said. "I also wanted to work with them because they're an American company."
Vu said she's hoping to work with other UNT departments to create a surgical mask. She plans to continue testing features for the masks to make them as comfortable and durable as possible. Because UNT is a Tier 1 Research University, Vu said she hopes to involve other faculty and possibly students in the venture.
"I think masks are here to stay for a while," Vu said. "I wanted to make something people could wear all day. A mask has so many uses apart from the virus. People who have allergies can wear them, or use them while doing yard work. I want to make something you can hang in your closet and use again and again."
The masks sell for $15 at Vu's website, SUFASO.com (short for Sustainable Fashion Solutions). 
Organizations and groups who need donated masks can request a donation through the website.