Dave Meder thought a downtown wine bar could use a baby grand piano, but he understood when the co-owners couldn't surrender more floor space.
Then Steve's Wine Bar moved from its Hickory Street location to Industrial Street. The new space was close enough that you could chuck a wine bottle from the original doorway to the new one. But the move put the wine bar into a much bigger space.
Meder, who's been on the University of North Texas piano faculty for two years, saw his chance. He brought up his idea for a baby grand piano to Steve Severance, who co-owns the bar with his wife, Karen.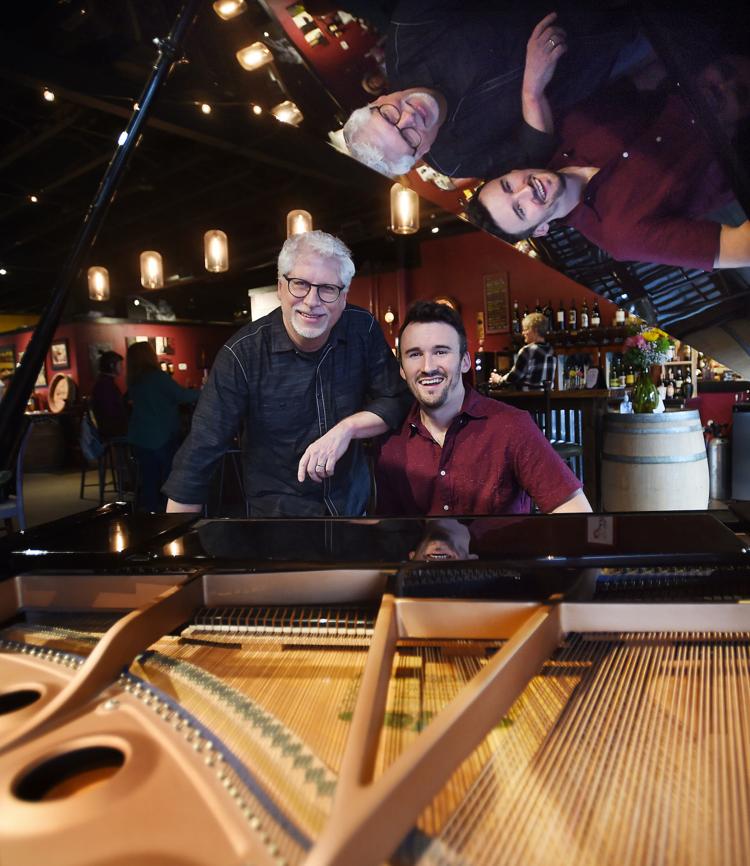 "Dave wasn't the only pianist who brought up getting a piano in here," said Steve Severance, who describes himself as a jazz lover with training in the trumpet. "Other people mentioned it. I'm a jazz guy, and we got an electric piano at home to encourage me to work on music myself. Well, that never happened — I pretty much spent most of my time on the bar — so that piano ended up in the other location."
Meder said a grand piano — like the Kawai baby grand he found for the Industrial Street bar — are staples of established jazz joints in big cities around the country.
"If you look at the great jazz clubs in Chicago, LA or New York City, they all have a grand piano," Meder said. "It's an acoustic sound that you get from the instrument. In the '70s and '80s, when fusion jazz really got popular, you heard more electric piano."
Meder has played electric pianos, and he appreciates what they can do. But he prefers the acoustic piano, and has a few in his UNT studio office. He teaches undergraduates, graduates and is shepherding three doctoral students through their programs. Most of his students are studying performance, but Meder took over the track for students who study teaching the piano this year.
"Electric pianos, no matter how expensive, no matter how tricked-out they are, have limitations that you don't have with an acoustic," Meder said. "When you pay electric piano in a bar, and people start talking and things get loud, you just push that volume slider and get louder."
Meder played the new piano with his trio last week, and said when the voices around him bumped up a notch, he did something non-musicians might find surprising. He hit the soft pedal, and gave the keys something of a feather-light touch.
"It's counterintuitive, but I played softer and people got quieter, too," Meder said. "The acoustic piano has a dynamic range you don't get with an electric."
The biggest challenge in getting the baby grand was finding one, Meder said. He hunted Craigslist.
"I actually went to check the pianos out. I wasn't going to bring in something I'd never played, and I played seven or eight pianos," he said. "Unfortunately, what I found were old pianos — antiques. They hadn't been maintained. On one of them, the felt [on the hammers] was yellowing."
Meder found a worthy piano when a colleague tipped him off about a possibility in Flower Mound: a Kawai grand piano, built in the 1990s, and cared for by a couple whose children studied and practiced before leaving home about 10 years ago.
"I asked several UNT faculty members if they would invest in the local scene and pledge some funding to it," Meder said. "Five or six faculty members pledged support in this. I think they agreed to do it because it's not just an opportunity for Steve to grow his business, but it's an opportunity to grow the scene in Denton."
Severance said he and his wife weren't thinking about having live music when they first opened their wine bar. They moved the electric piano into the Hickory Street location, and soon enough, UNT faculty were coming in to play: Neil Slater, the former bandleader of the One O'clock Lab Band, piano professor emeritus Dan Haerle and Meder. Other jazz musicians joined in, too.
"When live music became part of the bar, we wanted to do jazz," Severance said. "I still play my horn, but I'm a big band guy. You put sheet music in front of me and I'm good. I'm not the kind of guy you can say, 'We're going to do this piece and make it in E flat.' I can't do that."
Severance said his job is now to keep the temperature in the bar consistent — the baby grand is near the front door — and to make sure the piano is tuned regularly.
The bar will host the "Baby Grand Premiere," featuring an all-star roster of jazz pianists and musicians, at 7 p.m. Saturday at the bar, 111 Industrial St. Cover costs $5 per person.
"We want people to come, but with a full pocketbook so that they can make donations," Meder said. "We want people to feel like they're investing in our scene."