A busy Denton muralist is getting a second crack at a project that honored some of the city's most influential Black women.
Dan Black — whose bright, kinetic murals dot downtown Denton — painted a mural last year on the side of the building where Denton activist Willie Hudspeth ran his business. The mural depicted lifelong Denton residents Betty Kimble, Ruby Cole, Alice Alexander, Alma Clark and Dorothy Minter, with text reading "Foundation of Our History."
Minter worked as a special education administrator for the Denton school district, and Alexander was among the teachers who made the transition from segregated to desegregated schools in Denton. Cole retired as a successful businesswoman. Clark and Kimble were both community activists who ushered real change over the decades.
Black created the mural when Margaret Neale, a Denton teacher living nearby, approached Hudspeth about using the exterior of his leased building for art. But when the owner sold the building, Hudspeth had to vacate.
"This is the first mural of mine that's been moved," Black said. "It's not moved or preserved because of anything about me. When you do a project like this, you're just providing a service. It's about these women."
Hudspeth said he hoped to take the mural and store it when another location was available. Black said he painted the original mural on "a frame of strips of plastic paneling." When it was removed, Hudspeth saw that the Texas elements — long hours of intense sun, heat, hail, rains and wind — had joined in making the whole thing fragile.
"I wanted to preserve the mural," Hudspeth said. "But it was so old — the material it was painted on was so old — that it just fell apart."
Hudspeth said his son Gerard, who is a City Council member, approached the city about preserving the mural, but when it proved impossible, the city's public art committee and Keep Denton Beautiful joined forces to have it repainted.
The spot they chose couldn't be better.
"One of the major reasons I'm ecstatic about it is because the mural is going to go at the entrance to Southeast Denton," Willie Hudspeth said, referring to the Union Pacific railroad bridge over Robinson Street at Bell Avenue. The sign that welcomes people to the neighborhood is nearby.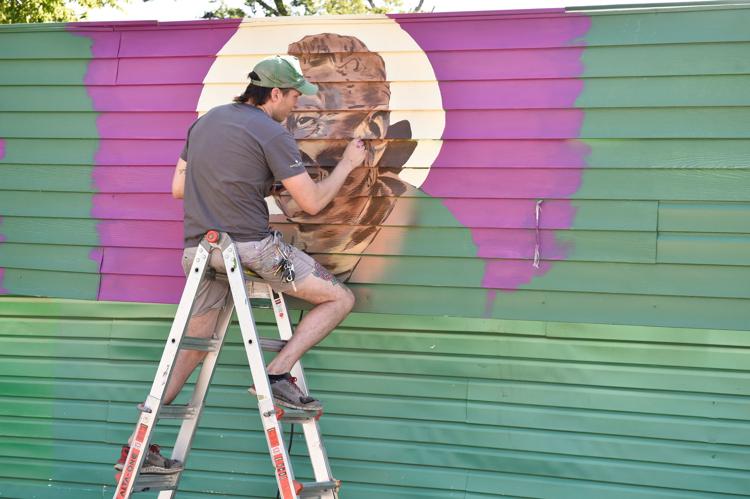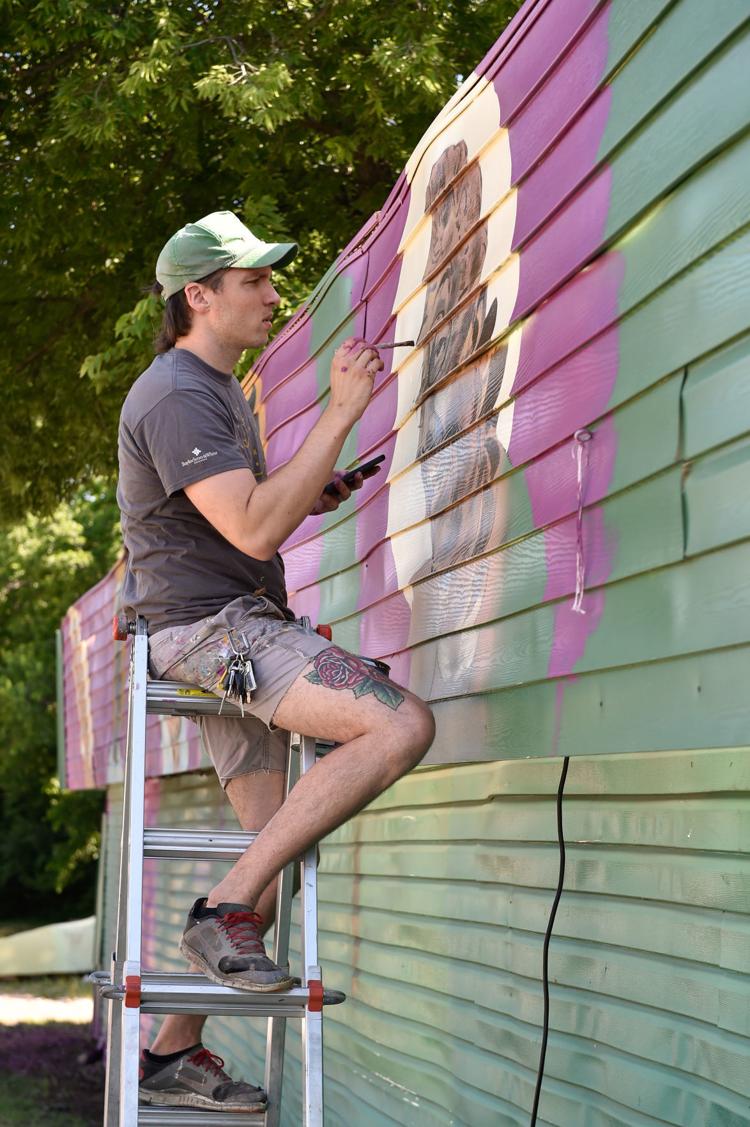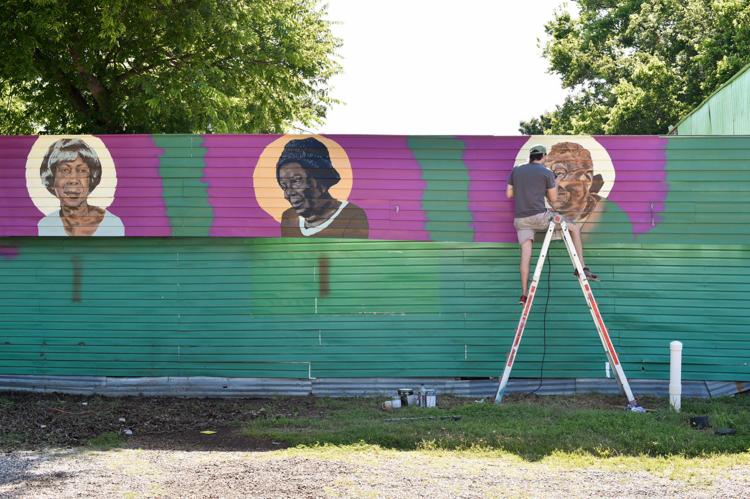 "That's the entrance of the neighborhood, and those ladies worked hard to make sure people knew Southeast Denton existed, and they worked hard to improve the community," Hudspeth said. "What happened over at Bonnie Brae [where his shop used to be, in west Denton] was exactly what I hoped would happen. People drove by and were like, 'What is that? Who are those people?' Which is exactly what I hoped for.
"Now that it's going to be at the entrance to the community, the same thing will happen. People will see the mural and wonder who those women are. They're the unsung heroes. We all knew over here in Southeast Denton about the kind of people they were and are, and that they hadn't been recognized."
Black said he plans to use the same color palette on the repainted mural: gold, pink and purple.
"We wanted it to have feelings of royalty and importance to it," Black said. "These are people who wouldn't be noticed or honored even though they made such big contributions to the city. As I started researching, Margaret was great to help me get information and answer my questions."
Black said he plans to replicate the mural on the railroad bridge, using materials that can take all the weather Texas can throw at it. He's also planning around the rain and condensation runoff at the bridge. He uses paint made for exteriors, which generally lasts 30 years.
Black credits Hudspeth for the mural — and its subjects — getting another shot at a public space.
"If you talk to Willie for three seconds, you get the feeling that he's going to take care of what's important," Black said. "I was happy to be part of it when it was up. It definitely had an impact on me. I think if it was any other person, it could drift off and just kind of disappear, but because it was Willie, the mural got done and is going to be redone."
Hudspeth said he was bowled over by Black's talent.
"This guy took a picture of a picture of these women with his phone, and don't ask me how, but he painted their likeness as they are in the moment," he said. "When it was done, and we brought the women, the three who are still alive, to see it, they just stood there, tears in their eyes."
Black doesn't know when he'll get the green light to start the new mural, but is prepared to get started on it and five or six other murals he's in talks or commissioned to complete.
Hudspeth recently saw 21 years of activism to relocate the Denton County Confederate Veterans Memorial come to fruition when county leaders agreed to remove the controversial monument from the lawn of the Courthouse on the Square. Regularly, over two decades, Hudspeth would stage protests — often a one-man demonstration — in front of the Confederate statue downtown.
He's looking forward to being at the unveiling of the repainted mural.
"I'm moving from the Square to the entrance of the neighborhood," he said.