It's time for the purple, green and gold sugar.
Mardi Gras ushers in the Lenten season on Tuesday, which means king cake is on the menu.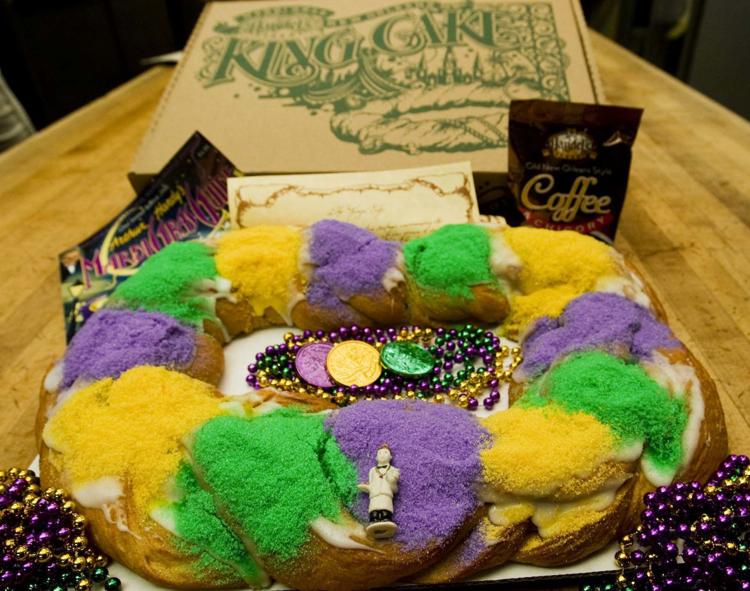 This sweet seasonal delicacy is ubiquitous in Louisiana, where Mardi Gras is a season and parades start in January. As we draw nearer to Ash Wednesday, the season favors food and revelry. And if you're in New Orleans, debauchery is encouraged — but just on Feb. 25, when Fat Tuesday marches in with style.
But Denton isn't that far away from the Big Easy, and plenty of people want that concoction of eggs, butter, flour, sugar, cinnamon and other flavorings.
A good Southern king cake dusts a toothsome, sweet brioche with colored sugar and a tiny plastic baby tucked inside. (What's with that plastic baby? It's said to represent the baby Jesus, according to tour guides at Mardi Gras World in New Orleans. And if it's in your piece of cake, you're king for the day. It's considered good luck.) Some cakes have filling, others don't.
Melissa Sims, a Denton resident who moved to Louisiana at age 10 and went to Louisiana State University, picks up Gambino's king cakes at Kroger throughout the season. Sometimes, though, she orders a cake from Haydel's Bakery in New Orleans — especially when her birthday falls near Mardi Gras. She orders over the phone just to hear the New Orleans drawl. And when she orders them, she tries to make sure it's been baked within 24 hours of its arrival in Denton.
"I prefer them with the cream cheese filling," Sims said.
She's not sure what makes a king cake especially authentic, but she can taste the difference.
"It's hard to say," she said. "It's like asking if it's better to eat Tex-Mex in Houston or Amarillo. They're both Tex-Mex, but it's those little touches that make it taste authentic. I remember inviting some friends over, and I told them, 'We're going to have a big Louisiana meal, with jambalaya and king cake,' and everyone was like, 'OK.' Then they tasted it and it was like, 'Oh.' They got it."
In Louisiana offices and schools, getting the baby in your piece of cake means you'll have to bring the next king cake, Sims said.
"Some companies won't put the baby in the cake. They parcel it up and you have to stick in the cake somewhere. I won't buy those cakes, because that's not the tradition," she said.
Where to get your crown on
Here are just a few spots where you can get King Cake for Mardi Gras. You can pick up a king cake at your nearest Walmart and some Kroger locations, which often carry king cake from Gambino's in New Orleans. But if your tastes are more custom, try one of these bakeries:
Spiral Diner & Bakery, 608 E. Hickory St. 940-514-0101. Get a vegan king cake at the downtown vegan diner. For $8.99, you can dine in or take out some of this Louisiana delicacy.
Candy Haven, 301 N Interstate 35. 940-565-1474. The king cakes are made on the Kolache Haven side of this local business, but get your orders in by Sunday. $19.50 for a traditional king cake, $24 for one with a specialty filling.
Mike's Bakery, 4251 FM2181 Suite 216 in Corinth. You can order a traditional king cake at this local spot for $17.95, but get your orders in by Friday.