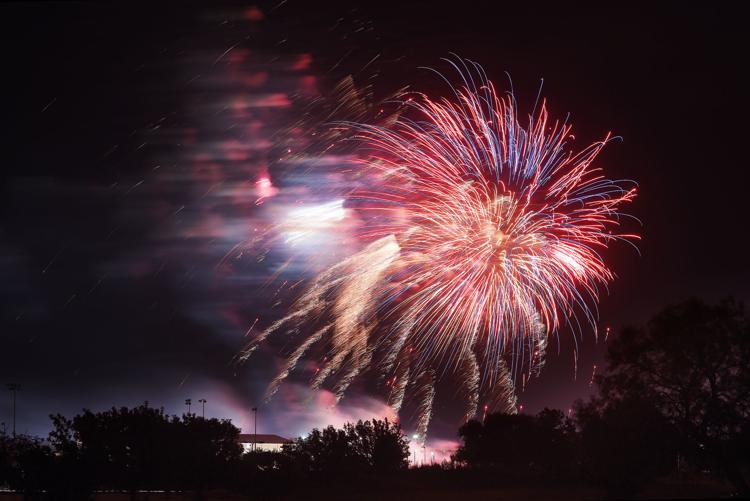 There will be no whipped cream eating contest, and the gutter boat races will have to wait for next year. The coronavirus put the kibosh on the Fourth of July Jubilee in Denton and the Denton Noon Kiwanis Club's fireworks show, too.
That doesn't mean you won't be able to celebrate Independence Day, though. Here are some ways to get your patriotic pride stirred up again.
Virtual Yankee Doodle Parade
Denton invited locals to register for the parade, then shoot a video (30 seconds or less) or send a photo to the virtual parade. While the parade streams online, the organizers will announce winners of Most Patriotic Baby, Most Patriotic Family, Most Patriotic Vehicle, Most Patriotic House/Yard, Most Patriotic Pet and Best Unit With Theme.
Addison Kaboom Town Fireworks
The 2020 fireworks show will go on as planned in the suburb north of Dallas, but due to COVID-19 social distancing guidelines, the party in Addison Circle Park has been canceled. The park and area office parking garages will be closed to the public. The accompanying air show has been canceled, too. The fireworks are presented in partnership with KDGE-FM (102.1) and Spectrum Reach, and can be seen citywide multiple ways: Book a room in an Addison hotel (make sure to ask for a room with a view); from the patio of an Addison restaurant; from a computer or TV screen through a social media livestream or from your car. Listen to the simulcast on 102.1 FM.
9:30 p.m. Friday in Addison.
Copper Canyon Fourth of July Parade
***This event has been canceled***'
Lineup starts at 9:30 a.m. at Copper Canyon Town Hall, 400 Woodland Drive. Residents are invited to come in their cars, golf carts, on bicycles, lawn mowers or on foot. No hot dog lunch will follow.
Frisco Freedom Fest Fireworks Show
Attendees are asked to watch from their cars or stand 6 feet apart. All other festivities have been canceled. Fireworks start at 9:30 p.m.