Four women.
A pack of regal, standard poodles.
A rainbow of dye, clippers, glue, hairspray and clippers.
All of these are the ingredients for a championship title in creative dog grooming — the focus of the opening film of Thin Line, a five-day documentary film, music and photography festival in Denton. The film, Well Groomed, screens at 6:30 p.m. Wednesday at the Campus Theatre, 214 W. Hickory St.
Filmmaker Rebecca Stern said everyone expected her to be a lawyer. She understands why. At the University of California, Berkley, Stern studied rhetoric. She didn't take a single film course. But after graduation, Stern pulled up stakes and left the Golden Coast for the other side of the country.
These days she's living in Brooklyn, and working for a documentary filmmaker who tends to train his lens on all things intense — such as the blood-soaked drug cartels of Mexico.
So how did a fledgling filmmaker end up wrapping a crackerjack movie about women who turn pooches (and the breed already associated with fussiness and wealth) into the kind of art you might see in a Pixar movie?
"I graduated with nothing and no plans," Stern said. (Upon hearing "that's brave" from the press, she counters with "Yeah — or stupid!")
"I always wanted to live in Manhattan," Stern said. "So I left UC-Berkley and came to New York. I've been here ever since."
When she got her first job for the documentary filmmaker she works for now, Stern said certain things about the form appealed to her.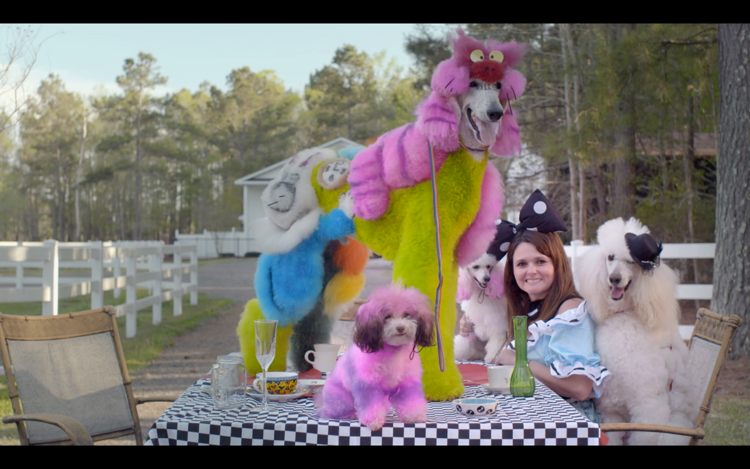 "I really like the entrepreneurial aspect of it," she said. "I like that you have to figure out how you're going to get this done, and the artistic part of it — I liked that, too."
The filmmaker she works for likes to tell stories that unfold in intense situations. Stern said she needed to decompress from some of that sharp, high-pressure work when quitting time came.
"I wanted to focus my free time on the thing that makes me happy — which is spending time with my pets, and that's something I haven't been able to do since I moved to New York," Stern said. "I wanted to see if there was something I could do, something I could turn into a short film project."
Research led her to the rarified world of creative dog grooming. There's traditional dog grooming competition, which really separates the emerging groomers from the experts in a form that is all about highlighting breed standards and tradition in the canine world — the "continental clip" made famous by show poodles has an aesthetic purpose and roots in the breed's history as a retriever who leaped into lakes and ponds to retrieve for its master.
Creative grooming is a different thing altogether. In creative grooming, the dog — which is most often a standard poodle — is a canvas for the groomer's fantasies. In Well Groomed, the dogs are transformed into buffalo, or their coat becomes the beasts of Jurassic World.
"When I found this, I couldn't believe it. I mean, how did I not know about this?" Stern said. "Especially in the age of the internet — it's so meme-able. Why have I never seen this?"
Stern followed her curiosity, and started asking questions. Two women (women predominantly take up creative grooming) answered her initial questions: Angela Kumpe, the reigning champion of creative grooming, and Adriane Pope, a North Carolina groomer who has been chasing the top prize at Groom Expo in Hershey, Pennsylvania for more than a decade. Stern created a short film featuring Kumpe & Pope, and the short film was picked up on the festival circuit.
But the women and their dogs stayed in Stern's head.
"The short film wasn't enough for me," Stern said. "I wanted to create something that would be effervescent on film, and as I followed Angela and Adriane, I saw there was still more to it."
Stern met Cat Opsen, a California groomer who had started nabbing top prizes in the creative grooming circuit.
"In addition to being a completely awesome person, Cat is perpetually with those dogs," Stern said.
Then she found Nicole Beckman, a newbie to both the competition and to owning a business. In Well Groomed, the audience sees Beckman buy her boss' pet grooming business while she figures out how to turn her standard poodle into a chicken with dye, clever clippering and expert scissor work.
As a full-length film, Well Groomed follows its subjects as they chase the brass ring — the top spots at Groom Expo — and highlights all the things they have in common. All of them are small business owners who do everything from grooming dogs (and the occasional grouchy Persian cat) to marketing their businesses and paying the bills. None of the women have anything like a professional team. Instead, they have loving, supportive partners and children and boundless energy for the hours they spend ferrying poodles from the tub to the grooming table.
"One of the things I'm really interested in — as well as being something that is important to me — is mentorship. Watching Adriane and Angela talk together and teach each other really shows how important mentorship is."
Pope remarks that early in her pursuit of creative grooming, secretiveness about materials and techniques were the norm. Kumpe changed that, and teaches workshops on the craft for a growing number of women.
"I wanted to broaden the scope of the world," Stern said. "I wanted to show their experience of the competition world. But as I followed them around, I just kept asking them questions. Things like, 'How did you get started?' And, 'When did you decide to go the direction you've gone?' And all of them are businesswomen. Nicole is really lovely in general, and I saw that she could really embody what it is like to be become a business owner. It's really changed the way I see the shops on the street. You walk down the street and you see a dog grooming place and you realize, 'That's a small business.' As companies like Starbucks start moving into these shops, you don't necessarily have a small business in every storefront."
Stern gives a few minutes to the critics of creative groomers — people who don't think dogs should be treated like canvas or sculpting material. But Stern is careful to document the bond the groomers have with their four-legged partners. She follows Pope to a devastating veterinary appointment with a retired competitor. She shows Opsen's crew buddy-lifting a horse-sized client into the grooming tub. And then there's Gucci, Pope's constant companion and feisty toy poodle.
Why are poodles the choice breed for competitive creative groomers?
"Poodles need to be groomed, point blank," Stern said. "I wish I could have included a package in the film about this. Purebred poodles don't shed a lot, and the hair is — I want to say — like human hair. But it's more like sheep's wool. You need to remove the hair that isn't shed. They need to be groomed every six to eight weeks."
The groomers' poodles are accustomed to the marathon grooming sessions, which can take up to eight hours with dying, rinsing, blow drying and then clipping. Most of the competition poodles sport white or blond natural coats.
"As long as the dog has hair lighter than the dye you're, using you're good," Stern said.
While filming animals is never simple, Stern said she didn't need the poodles to perform. She and her crew used special zoom lenses and equipment that could hold the camera below the animal or above it.
"When they get into the competition, the women have a no-touch rule," Stern said. "It's common, because the groomers and the animals are in the zone."
Well Groomed has a lot of heart, loads of charm and even more color. Stern manages to capture disappointments and triumphs. In the process, she captures the reason Well Groomed hits its mark.
"It's a tight-knit community," she said. "The women have a lot of knowledge of the animals, of grooming. They have a lot of technical knowledge about the field and the business. And they have knowledge of what it takes to own a poodle. They're a community, and you get that from these women."
An encore screening of Well Groomed is scheduled for 5:30 p.m. April 11 at Alamo Drafthouse Denton.