In 2019, Denton's creative and cultural scene saw some growth and grafting in a number of areas — festivals, the local theater scene and scrappy middle school band programs.
One of the biggest and most anticipated developments of 2019 was the reopening of Rubber Gloves Rehearsal Studios. After it was closed and then sold, the local institution had its grand reopening in August. The beloved local venue got a makeover, and teased the big weekend throughout the summer. In the run-up to the grand opening, the venue booked Justice Yeldham, an artist who makes music using sheets of broken glass — by blowing on the glass as if he were playing the trumpet.
Since its reopening, Rubber Gloves has earned praise from folks for retaining its reputation for booking fascinating touring acts, and for the new outdoor stage and revamped spaces.
Denton Community Theatre made a major decision in 2019. In 2010, the company opened a new black box theater in a downtown space it leased in the Denton Record-Chronicle building and then transformed into a flexible venue with black walls, ceiling and curtains. For almost 10 seasons, the company kept the black box bustling with rehearsals, DCTedu classes, shows and some mixers and events.
Then the DRC's former building was sold, then renovated to become North Central Texas College's new Denton campus. The college's theater department would eventually move into the black box space, and the original plan was for Denton Community Theatre and NCTC to share the space.
In July, the community theater announced it would move its black box to Golden Triangle Mall, where casts for upcoming shows and its children's theater program (DCTedu) were already rehearsing. Mall officials found a suitable space on the end of the shopping center where there isn't a lot of retail, near a chiropractor's office and a dental office.
One noteworthy development: Denton Community Theatre officials said NCTC had been an ideal partner, and that scheduling conflicts were the only conflicts that arose. The split was amicable.
Denton Community Theatre and Music Theatre of Denton voted in late 2018 to merge their companies into a single nonprofit performing arts company in 2020.
In March, both companies will vote on recommendations from subcommittees that have been working on a road map to a merger that satisfies the volunteers who govern the two groups as well as their audiences.
"This conversation has been going on for years," said Mike Barrow, the managing director of Denton Community Theatre. "It's been probably the last couple of years that we've had incidents where craziness has come up with MTD and DCT vying for properties we've both wanted to do, but this isn't a new discussion in the least."
Denton Community Theatre also would be rolling its children's theater — known as DCTedu — and its black box series — small, contemporary and experimental shows performed in the Black Box Theatre — into the merger.
After the membership of both companies voted in favor of the merger, the companies formed four subcommittees to recommend policies regarding merging legal issues and bylaws, marketing, governing and production leadership and business production. The governing boards of both companies voted on the recommendations in March.
Through 2019, both companies continued with their planned performance seasons independently.
What will change with the merger? Fewer shows with longer runs, and season ticket holders and other patrons who don't have to choose between which company to support.
As the merger approaches, Denton Community Theatre celebrates its 50th anniversary with the Gold Series, additional programming (some of it free) that relates to theater and the company's season. Check out the series here: http://bit.ly/2ETdfxb.
Thin Line Fest, a Denton film, music and photography festival, got another crack at the screen in 2019. The second chance was on the small screen.
"Best of Thin Line" aired on KERA-TV (Channel 13) in the Dallas-Fort Worth market in November. It was part of the Frame of Mind series.
Frame of Mind celebrates independent film in Texas. The 2019 season explored a range of subjects — post-traumatic stress disorder, Texas journalism, popular baked goods and the #MeToo movement.
Susan Carol Davis, the director of the film portion of the Denton festival, said the producer of Frame of Mind invited her to be an associate producer for the series.
"Bart Weiss, the co-founder of the Dallas VideoFest, has been a Thin Line juror for several years," Davis said. "I think he looks this direction because he knows we have quality programing. He asked me to curate this episode. It has to fill an hour."
The local film festival broadcast six films from the festival on KERA.
Alamo Drafthouse Cinema Denton had been open for roughly seven months before it formed its first film festival partnership.
Denton Black Film Festival is young yet, but organizers didn't pump the brakes on getting the fest's films on screen at the local multiplex in addition to showing films in the festival's anchor venue, the Campus Theatre.
"They've just been open to this kind of relationship ever since they were a thing," Linda Eaddy, DBFF's director of film programming, said of Alamo. "We reached out, and they were interested in getting involved."
James Wallace, the creative director of Alamo Drafthouse DFW, said the cinema looks for ways to get involved in communities.
"Just in general, we as a brand try to be very community-based, and of course, that really centers and focuses around film first and foremost," Wallace said. "We try to work with a lot of community groups. While we're a national chain, we really want to feel like your neighborhood theater."
Alamo Drafthouse devoted three screens to the Denton Black Film Festival last January. Select films were screened in the Big Show theater, which features state-of-the-art large-format technology and a Dolby Atmos sound system.
The Tiger Jazz Band played the Texas Music Educators Association Convention last February. McMath Middle School's top-tier band has steadily gained accolades. The jazz band is under the baton of director Travis Harris and associate director Kelsey Gaskill.
Bands and choirs perform by invitation on the main stage at the music educators convention. That invitation has come to a number of choir and band students in Denton ISD.
"The program has every type of big-band jazz you can imagine," said Harris, who insisted that credit also go to the principal and band program parents. "It'll show what a diverse and talented group we have. It shows off every student in the band."
Katy Portillo's business is built on treats crafted specifically for man's best friend. She started with a booth at the Denton Community Market, selling an assortment of crunchy treats, grass-fed beef bones and a hundred pounds of smoked chicken feet each week.
Last year, Portillo opened her brick-and-mortar shop — Susie's Snack Shop. These days, Portillo is doing more than baking gourmet dog treats and smoking chicken feet (a favorite of her canine clients). In the spring, she sold her first 6-pound bags of her own brand of dog food.
Portillo devised the recipes — salmon, chicken and salmon — and partnered with Muenster Milling to manufacture and package the dog food locally. You can find the dog food online at www.susiessnacks.com or at her brick-and-mortar shop at 507 S. Locust St.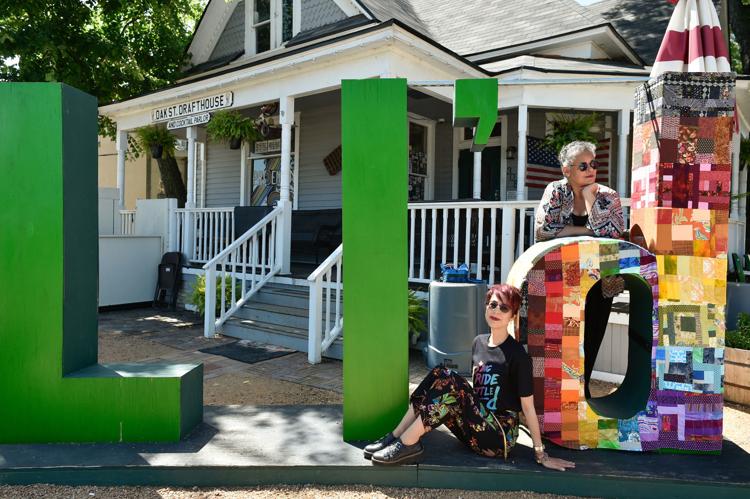 The quilt cozily fitted to the giant letter "d" on Oak Street was a quieter part of Denton's gay pride celebrations in June. This year was the 50th anniversary of the Stonewall riots in New York City, which is considered the start of the fight for equal rights for LGBT Americans.
But to Denton fiber artists Karen Bravo and Marie Butler, the rainbow quilt said plenty.
"I'm the kind of artist who really loves the theory," said Bravo, who is a graduate student studying gender and women's studies at Texas Woman's University. "I love the ideas behind art. I'm into the academic part of it. That's why I love to use art to express all these theories."
The rainbow quilt — tailored to fit perfectly over the "d" in the "Lil' d" sign in the front yard of Oak Street Drafthouse & Cocktail Parlor — is a lot of history and painstaking stitchwork that celebrates 50 years of progress toward equal rights for gay, lesbian, bisexual and transgender Americans.
Members of the Denton Fiber Collective pieced together the quilt in the traditional rainbow colors of the pride flag.
"We added the black and brown stripes to include the black and brown voices of the movement," Bravo said.
Bravo and Butler, also a graduate student of gender and women's studies at TWU, said they liked the idea of taking a longstanding art form — quilting — and making it a form of contemporary political expression.
The Denton Fiber Collective, established by Bravo, Butler and TWU art, design and technology professor Julie Libersat, is an egalitarian circle of makers who knit, quilt, stitch and crochet.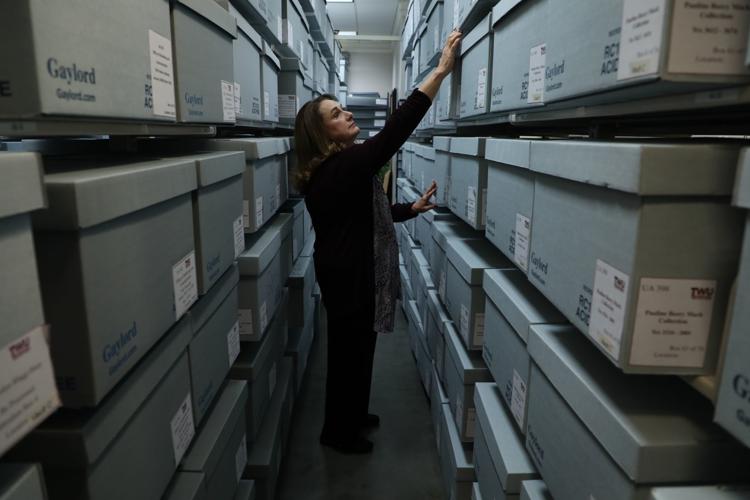 Pauline Beery Mack could command her own biopic. She's got all the right stuff, after all — she walked the halls of TWU wearing a mink stole and tennis shoes, and she didn't trouble herself with work-life balance.
Mack belongs with the characters of the 2016 film Hidden Figures. Like the women celebrated in the blockbuster movie, Mack is a woman whose contributions to NASA have stayed largely in the shadows. A group of Denton women changed that with a locally produced short documentary "Mack Minded: Humanly Possible."
The team included research producer Mellina Stucky; Susan Carol Davis, CEO of Curious Dog Creative (the production company that made the film); Deanna Titzler, associate producer; Linda S. Anderson, associate producer, and Claire DeJarnett, editor and cinematographer. TWU is also an executive producer.
Mack wasn't in the shadows in the 1960s — her heyday as a chemistry professor at TWU. Her work on bone density studies helped NASA send people to space, and her work proved to be foundational for the space program.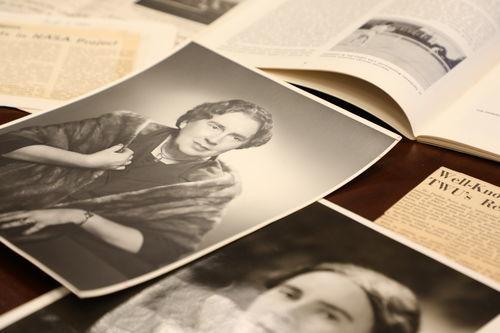 Denton musicians Cassandra Berry and Mark Graham met when Berry was putting a project together for Denton County Friends of the Family.
Berry, an alto who grew up in the black church singing a sprawling musical catalog, was building a project for healing through the arts that culminated in a choir called Lorrie's Joy. Graham, who directs the music program at First Christian Church of Denton, was tapped as the group's music director.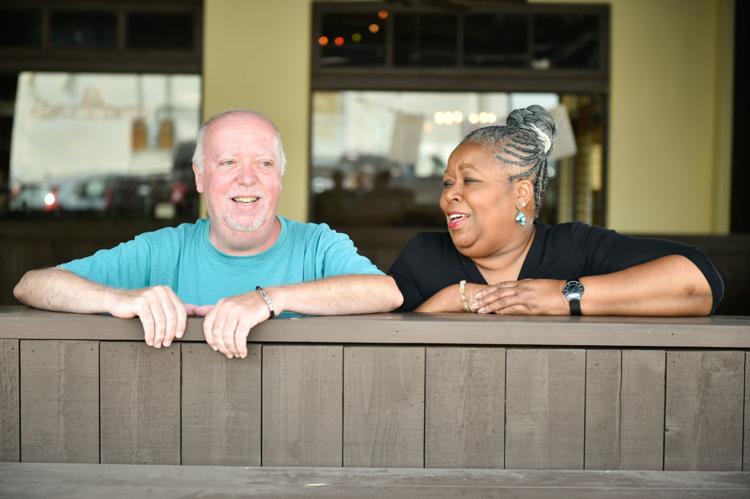 Soon after that, he was dialing Berry's number to perform solos at special worship services at First Christian Church,It didn't take long before the singer and the pianist were talking about a side project. They launched their "Gospel Hour" concert series at Sweetwater Grill & Tavern over the summer. They perform roughly twice a month at 1 p.m. on a Sunday. Keep track of the series on Sweetwater's Facebook page at www.facebook.com/SWGrillandTavern.
Berry, a member of Morse Street Baptist Church in Denton, said she and Graham wrote two songs during that first rehearsal. The duo forged a friendship around their common love of music.
"We talked about doing a show together, and decided, 'Let's focus on our two main areas,'" Berry said. "For me, the main thing is gospel. I'm not formally trained, and Mark is. So it's nice to work with someone for whom that's not a barrier."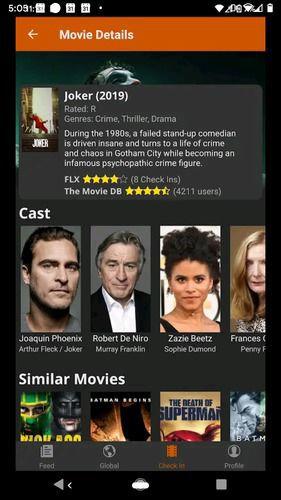 The new app by Flipped Bit Studios started out with a few University of North Texas graduates bonding over beer.
"Me and my friends like craft beer," said Brad Slayter, co-owner of Flipped Bit. "I remember back when they launched Untappd, the craft beer app. It was a pretty simple app. It lets you share what beer you're drinking, where you're getting it and what you think of it. Untappd has grown a lot since then, but I always liked how you could drink a beer and share your thoughts about it."
A series of frosty mugs, pilsner glasses and bottles led to an app that is all about movies and television: FLX. Flipped Bit took a page out of Untappd's book and built an app where movie and TV fans can review, rate and talk about the latest Marvel superhero movie or the latest episode of your favorite series. Or pick apart that police procedural that's been on your Netflix or Hulu watch list. It's available in Apple's app store and on Google Play.