Eddie Grant looks around the 17,000 square feet of his brand-new Denton business, and he sizes it up with a simple goal.
Grant wants to make children smile — and build the type of memories that make Christmas a cocktail of joy and anticipation. With the sprawling Santa Adventure Land, which opened Nov. 16 at Golden Triangle Mall, Grant has some winning tricks up his sleeve.
The snow room is sure to please, with a sandbox-style feature full of real snow (made of nontoxic grains that freeze and then act like the real thing). And the two Norwegian reindeer — Comet and Blitzen Jr. — will nestle into little imaginations forever by pressing their velvety muzzles into their hands hoping for raisins.
Slideshow: Santa Adventure Land builds 17,000 square feet of Christmas
But there's more to Santa Adventure Land than the snow and honest-to-goodness reindeer. A lot more. Grant and his daughters spent the last four years conceptualizing the seasonal business.
"We looked around the nation for something like this," said Grant, who built and ran child care centers in Oklahoma while creating an exotic animal facility at home. "Being in child care for all these years, I started asking kids what they thought would be cool. I asked my daughters what they thought would be cool. I asked kids what a Santa village would look like."
Grant, an Oklahoma resident who's spent years visiting Texas, bears a passing resemblance to Santa (he's got the beard and happy eyes). The single dad said his family often came to Texas, and tours of "Ice!," the holiday exhibit at the Gaylord Texan that takes 2 million pounds of ice and sculpts it into a winter wonderland, have been a family tradition.
"I always said I wanted to have a business in Texas," Grant said. "There was already something like this in Oklahoma City. I'm not the kind of guy who wants to come in and undercut you. So we started looking for a place in Texas. We were about to sign a lease in Irving. I decided to hold off. We were driving back and we passed Golden Triangle Mall. I'd never seen it. But something told me to check it out."
In July, Grant signed a lease for the space next to Barnes & Noble. Then he spent the next months preparing and hauling loads of Christmas trees, tables and chairs, toys, animatronic reindeer and an animatronic snowman to Denton on flatbed trailers.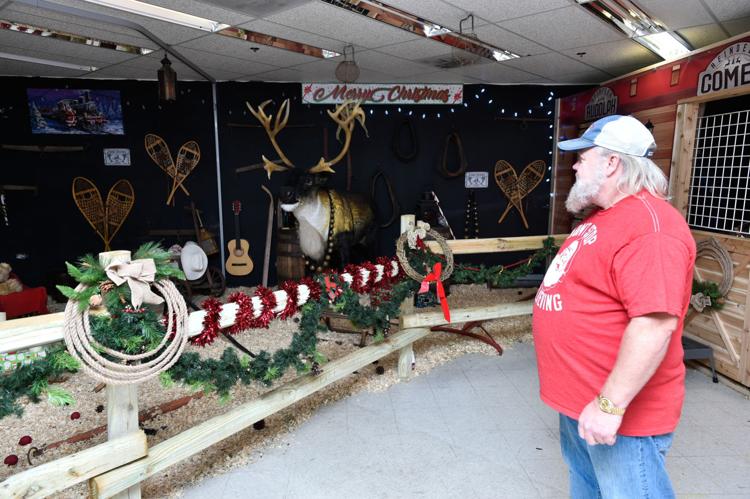 Santa Adventure Land is a smorgasbord of Christmas cheer. There's the North Pole Post Office, where children can address a letter to Santa and drop it in a special mailbox. They can get their wiggles out in the holiday disco and karaoke room before heading off to the elves' workshop to make a toy.
They can attend a class to learn about elves, decorate Christmas cookies in a themed kitchen, visit a special gift shop and peer into a log cabin to see how an elf spends his evenings.
Then, children and their families (in addition to parents, Grant is seeing a lot of grandparents, aunts and uncles) can watch How the Grinch Stole Christmas in a theater before hitting the snow room and feeding treats to the reindeer. A gumdrop forest is stocked with twinkling lights, trees and a reindeer who will tell "'Twas the Night Before Christmas."
There are other features, too. Children can participate in a scavenger hunt, and certain admission packages include a train ride. Creatures from the Island of Misfit Toys await riders. Elves staff the different areas to help families make their way through the features. On Fridays, Saturdays and Sundays, the Grinch visits to crack wise and give a good-natured grimace at the holiday cheer. (An actor spends hours in makeup —under the hand of a professional makeup artist — getting ready to stride into the Adventure Land in all his green glory.)
"I've always been big on Christmas," Grant said. "People would tell me it looks like Christmas threw up on my house. My dad loved Christmas, and he passed away last Christmas. It's bittersweet."
There's no time limit for patrons in the attraction, although Santa Adventure Land recommends planning for an hour to an hour and a half.
"We have people who spend four or five hours," Grant said. "We let everyone take their time."
During peak hours, Santa Adventure Land will require patrons to wait for others to leave to keep attendance at or under 250.
"We don't want people to feel like they're on the sidewalk in New York," he said. "We want people to be able to move around and enjoy everything."
Since the opening in November, Grant said Santa Adventure Land has had about 1,000 guests.
"If we can make someone smile, that's what we want. If we can have a kid come in here and make a memory, that's all we need," Grant said.