And it's not as if the country's military is idle. Troops are deployed all over the world and in war zones — Somalia, Afghanistan, Iraq, Syria.
Protests seem to be constant and ubiquitous — except in music.
With a nation this politically divided and wars still scorching the earth, where have all the protest songs gone? Local music professors and musicians say protest songs are still being written and recorded.
But they aren't on the airwaves.
Mike Steinel, a retired professor, taught trumpet in the University of North Texas College of Music's jazz studies program. But his long-running tribute act, Tex Zimmerman, is all about Bob Dylan.
Dylan's catalog is enormous, and the music he wrote that is associated with the anti-war movement only spans from 1963-64.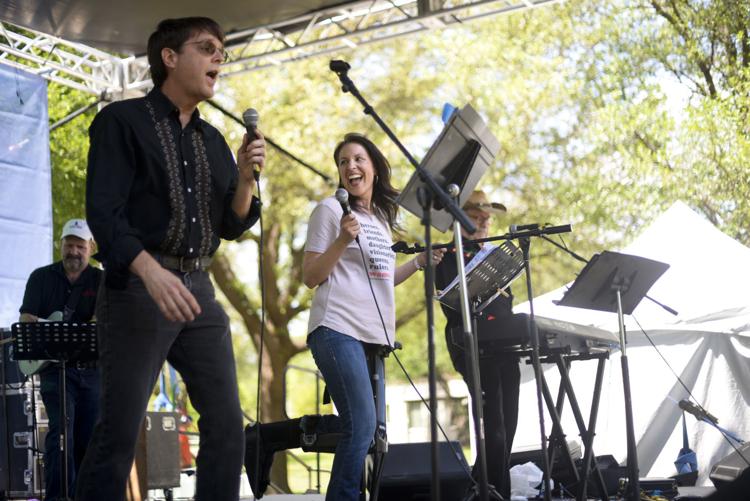 "I'm looking at my CDs for the song. The first [album] was Bob Dylan — it's really got more traditional folk feel to it," Steinel said. "The next one, I think, is the record that really brought him into the era of protest music. On The Freewheelin' Bob Dylan, he recorded 'Blowin' in the Wind.' That's the record where he did 'Masters of War,' too. But 'Blowin' in the Wind' was already a huge hit by Peter, Paul and Mary."
Steinel said the protest music of the 1960s happened in a specific cultural moment, when Beat Generation poets and writers such as Lawrence Ferlinghetti, Jack Kerouac and William S. Burroughs were challenging where challenging conventions and typical respectability.
Dylan looked up to songwriter Woody Guthrie, who was political enough to slap a sticker on his guitar that read "This machine kills fascists."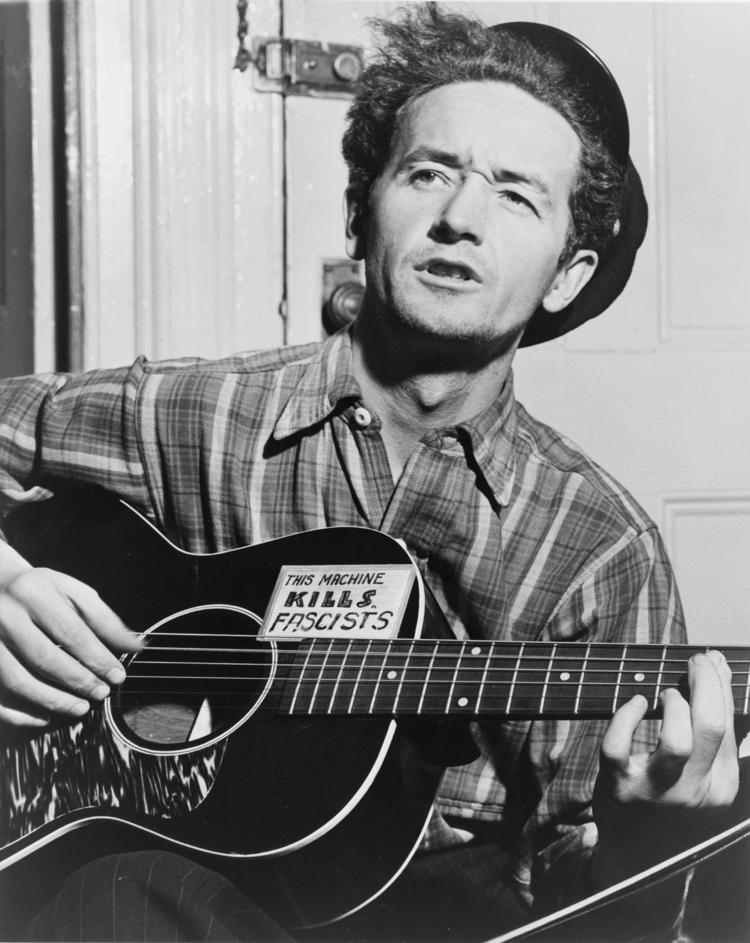 "I think the single most important voice in protest, going back into the 1930s, is probably Woody Guthrie," Steinel said. "In his recording of 'This Land Is Your Land,' if you listen to the last verse, it's anti-establishment. It's like, no, it's not — the way it's working out, this land is not for everybody. Dylan was deeply affected by Woody Guthrie and Pete Seeger. Both Guthrie and Seeger were blacklisted in the McCarthy hearings."
Steinel said taste-makers have made room for protest music in the past. Hullabaloo, an NBC music show that aired from 1965-66, invited Barry Maguire to perform "Eve of Destruction," a song that challenged war, racial segregation and the cynicism of American Christian piety. Today, Steinel said, music shows don't get political. And neither do most popular musicians.
"I think that the difference is that music is so different anymore," Steinel said. "Some of it is super corporate and some it is very much indie. There's Beyonce with Jay-Z, who are super corporate. I have a feeling if you're looking for it now, it's probably in rap. ... I think it's just a completely different music climate."
Jonathan "Capital" Patterson, who teaches commercial music production and performance at UNT, said both the music business and audiences discourage political songwriting.
"I agree there is not very much protest music at all, but even music with kind of political lyrics seems to be absent right now," Patterson said. "I haven't researched this area, but being someone who produces and creates pop music, I have theories as to what's going on."
Patterson points to the consolidation of radio formats under Clear Channel as a source of conservatism. The media giant flooded the airwaves with music that was meant mostly to move money. Pop music became an assembly line of feel-good songs, the never-out-of-style love song and polished, produced rock that's long on profitability and largely inoffensive.
In 2003, Patterson said, the Dixie Chicks got a high-profile dose of corporate censorship. When lead singer Natalie Maines told a British audience the band was embarrassed that George W. Bush was from Texas, radio stations bumped the band from their playlists and fans revolted.
"When the Dixie Chicks spoke out against [the Iraq War], between the corporate consolidation of the airwaves and the censorship, there wasn't a market for that kind of music," Patterson said.
Patterson came of age musically in a time when musicians were discouraging one another from writing political music, and audiences weren't begging for it, either.
"Our culture is more meta, ironic and self-referential," he said. "People are sort of embarrassed to talk sincerely about politics. It's like they are afraid someone will make fun of them. ... If you write a song about falling in love with someone, no one is going to make fun of you. If you write a song about your anxiety and depression, no one will make fun of you."
He said he has some personal experience with this. During George W. Bush's presidency, he wrote an album, Rain or Shine, that was critical of the administration. Now, he said, he cringes when he hears some of his lyrics.
"During the time, I wrote political songs; I talked to people about it," he said. "For the most part, people were like, 'Well, I don't like it, I don't want to hear about someone's politics.' And the problem is it gets outdated. I wrote these songs. I thought they were cool, but when I listen to them, I feel like some of them are kind of outdated."
Patterson said social media adds another layer of risk to making political music. Even if an artist releases music without a label, all it needs is to get a few well-placed knees jerking to stimulate a tsunami of ire. Social media — and the way it connects consumers directly to brands in real time — might muzzle musicians, too, he said.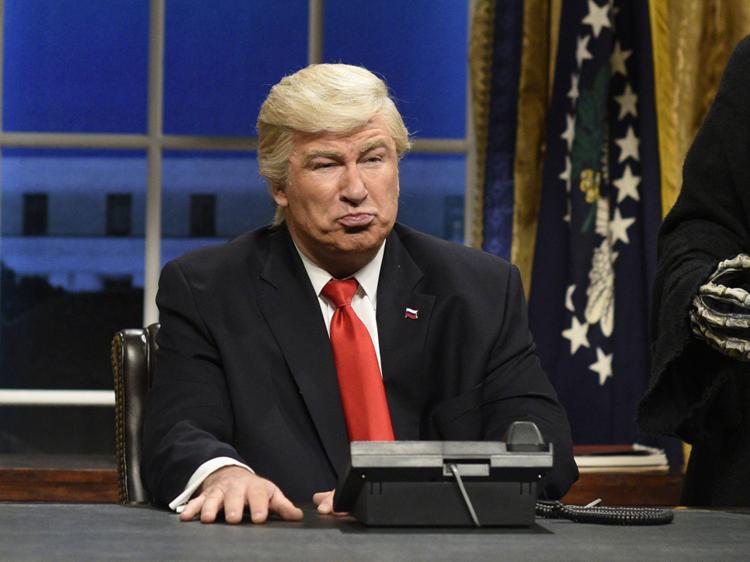 While the protest songs still seem tucked into the annals of music history, political protest seems to be at a boil around us. Saturday Night Live has committed to ridiculing the Trump administration, hiring Alec Baldwin to impersonate the president as alternately simple and craven and putting actresses Aidy Bryant and Kate McKinnon in the caricatured skin of former press secretary Sarah Huckabee Sanders and Attorney General Jeff Sessions.
Comedians have challenged powerful people to their faces. Comic Michelle Wolfe skewered Huckabee Sanders at the 2016 White House Correspondents' Dinner while the former press secretary sat a few feet away. And it isn't just the lefties taking shots at sacred cows, either. A cast of conservative comedians launched a tour called the Deplorables, and the tour website promises new dates.
Will protest music see another moment of popular embrace? Patterson can't tell.
"I do think there are trends that would go against it, especially the corporate consolidation of music. But that doesn't even matter anymore," he said. "There are so many really good musicians who don't need [a label] that a song like that could actually reach a huge audience. But it might be totally counterbalanced by the Twitter mob. I think the conditions are in some ways getting better for political music, and in other ways they are getting worse."