We're in a bit of a pickle when it comes to celebrating or disowning the art of individuals whose careers have been stained. Entertainers such as Bill Cosby, Michael Jackson and R. Kelly have inspired many with their work, and they've each etched their way into pop culture. However, the numerous accusations, investigative facts and arrests of such cultural icons have been a hard pill to swallow.
How does one ignore the memories accumulated over the years while listening to and watching these talents express themselves?
This is a question that comedian Aziz Ansari explores in his new stand-up special, Aziz Ansari: Right Now, available today on Netflix.
Some may immediately (and rightfully so) flash disgusted faces at the fact that Ansari is speaking about such things when he himself was met with sexual misconduct allegations in January 2018.
In an article published last year on Babe.net, a 23-year-old woman known only as "Grace" revealed alarming details about her brief relationship with the comedian and his behavior. The woman came forward with her story after seeing Ansari win Best Actor in a Television Comedy at the Golden Globes last year. She was especially compelled to share her truth when she saw that Ansari was wearing a pin at the awards show that supported the anti-sexual harassment organization Time's Up.
Now, I'm not going to defend Ansari's actions or question the accuser's statement, but I do feel Ansari is handling the situation as any sensible human being should. In Right Now, he displays humility and opens his life up to a vulnerable degree. This may send up a red flag to some who believe Ansari shouldn't be back doing the same profession as before. This is an endless argument. But because Ansari chose not to gloss over his actions in his special, I was willing to hit "play" on Netflix and listen to what he had to say — and I was pleased with what I heard.
Within the first few minutes of his act, Ansari addressed the allegations against him for the first time since they came to light.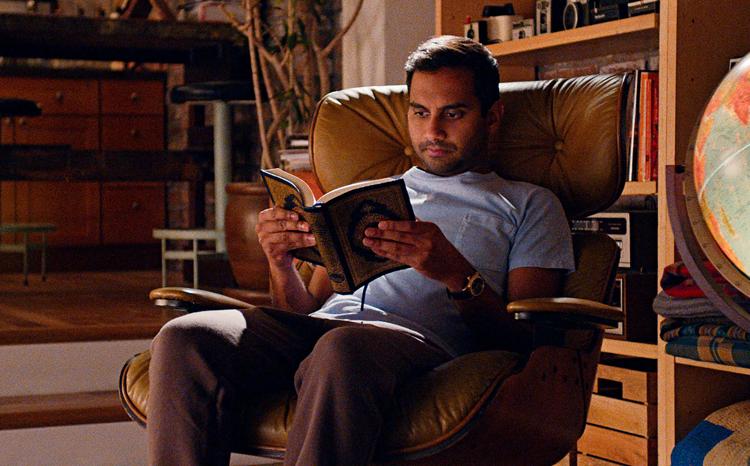 "I haven't said much about [it publicly], but I've talked about it on this tour because you're here, and it means a lot to me. I'm sure some of you are curious how I feel about that whole situation, and it's a tricky thing to answer," Ansari said to the Brooklyn attendees at the taped show. "There are times when I've felt scared, times when I've felt humiliated, and times when I've felt embarrassed. But ultimately, I just felt terrible that this person felt this way."
Ansari said he took the past year to reflect on his actions and how he can move forward. The comedian recalled a conversation he had with a friend, who told him the incident made them think about every date they had been on and how they behaved in that company.
"I heard that and thought, 'Wow. Well, that's pretty incredible. It has made not just me, but other people be more thoughtful, and that's a good thing.' And that's how I feel about it," Ansari said.
As an admirer of Ansari's work on shows like Parks and Recreation and Master of None, as well as his other stand-up specials, I recognize it takes real courage to step up as he did in this special. I wouldn't blame anyone for still wanting to disregard this special, but if you don't, I believe the results will move you. Never did I feel like Ansari was putting on an act for self-gain and doing it to collect a check by doing what he's skilled at. I think he just wanted to share his truth and share even more certainty about the world we live in and how we live in it.
For instance, Ansari brings up how he grew up listening to Michael Jackson. He says Thriller was the first album he could remember listening to and loving. From there, he asks the audience if they stopped listening to Michael Jackson after the HBO documentary Leaving Neverland disclosed more evidence against the pop star. A lot of the crowd still raised their hands in favor of Michael Jackson.
However, the same cannot be said when Ansari asked the same question about R. Kelly, to which less than a fifth of the audience clapped to signal that they still listen to the R&B singer's music.
Ansari then asked the crowd how many victims it would take for them to ignore their music. Is it a question of the artist's quality and overall contributions to the cultural zeitgeist to determine whether or not it's an appropriate time to move on?
Ansari doesn't stop there, but analyzes moments from his career, including previous stand-up shows and episodes from Parks and Recreation. He even invites the crowd to weigh in on subjects. The most memorable moment comes when Ansari spends a few minutes retelling a story he read about an act of anti-Semitism. He asks the attendees how many people have read the story before drawing attention to one person who speaks up in the crowd. Ansari asks where they read the story, and the person responds with The Washington Post.
However, we soon learn the story was completely made up by Ansari. The person, of course, is embarrassed about lying, but it's not a mean-spirited callout. It merely shows how people today so often jump on board with statements and opinions before doing their own investigation.
Just as Ansari's actions caused me to look inward, Right Now has the same effect. It doesn't ring hollow like one might suspect. Ansari wants people to do what the title of his special suggests: Look at who you are right now and how you live right now.
If you decide to take the plunge, you'll be rewarded with a hilarious analysis of humanity and you'll be incredibly touched by Ansari's sincerity.