Do you like beer? And are you looking forward to a cold one and the canned cranberry sauce this Thursday? Well, Armadillo Ale Works has brewed up Jellied Cranberry Sawce with the tagline "the beer you can eat." The local brewery describes the brew as "a thick, gelatinous goopy mess that chewing may or may not be necessary with ... 4.5% ABV, slightly tart, and flavors of cranberry and super hard to chug." We don't know how we feel about the words "beer" and "gelatinous goopy mess" in the same description, but let us know how you liked it if you sample it. 
University of North Texas College of Music professor Fabiana Claure, a Bolivian-American concert pianist who launched the university's music business classes, spent last weekend digging deeply into the history of women in the  business.
Claure presented the worldwide virtual premiere of a multimedia lecture and recital, "Women as Musician-Entrepreneurs: An Exploration of Fanny Mendelssohn, Clara Schumann, and Teres Carreño's Works and Career Ventures." It's a title meant for the pointy-headed crowd, but was also a look at how the women who made music in the 19th and early 20th centuries. Schumann had a 61-year career, and Carreño had a 54-year career. 
Claure's lecture and recital explored how the women overcame obstacles using their entrepreneurial acumen and skills.
Robson Ranch residents lent some elbow grease to some woodworking and craft projects by the LifeWorks Community, a nonprofit day program that helps people with intellectual disabilities learn skills. The projects — birdhouses and other crafts — will be sold at LifeWorks' fourth annual Christmas Market, which will be 10 a.m. to 3 p.m. Dec. 5 at 1804 Cornell Lane. The sale is outdoors, and social distancing and masks will be required.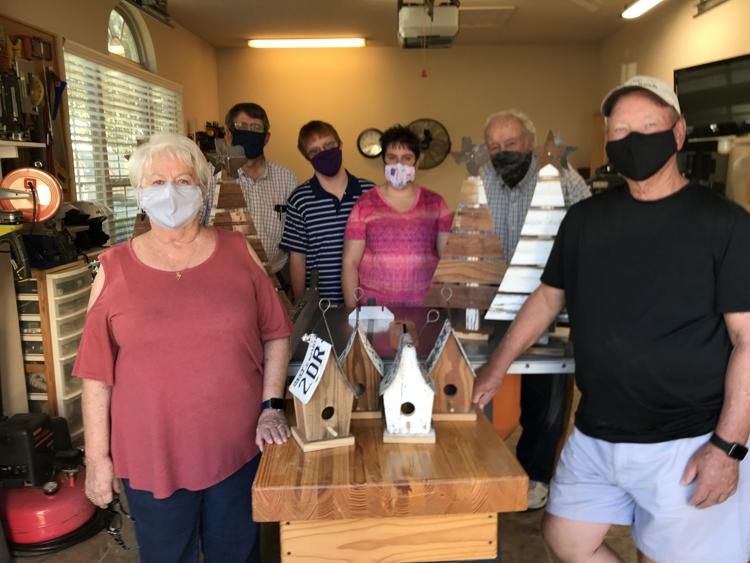 As Denton County cases of COVID-19 rise, Denton parents have fewer options for child care — something that could affect families for years. Denton Parks & Recreation announced Thursday that it is canceling its Afterschool Action Site program for the rest of the school year. The program had been planning for a January return to in-person child care.
"As sad as this makes Jodi [McClaren] and I — and all the counselors — the kids know that safety is our first priority," said Sara J. Farris, recreation care supervisor, in an email to families enrolled in the program. "We miss everyone so much. We look forward to the day we can reunite safely."
The department is considering a modified spring break camp March 8-12, Farris said in the message. 
But here's some news to lift your spirits: the Women Veterans of America-Denton will distribute 135 Thanksgiving baskets to veterans between 9 a.m. and noon Sunday at the VA Community Based Outpatient Clinic here in Denton. Commander Camilla Zimbal said the women are "giving a hand up to our veterans in need for the holidays."
We know parents are hanging by a thread, especially the parents who are trying to work from home while supervising children and their school. And we know that teachers (many of whom are parents themselves) are exhausted. We're running low on ideas, but cutting each other some slack and maybe hauling out the board games and Play-Doh could keep hands and brains busy.
State Sen. Jane Nelson, R-Flower Mound, introduced Senate Bill 197, which would exempt nonprofit animal rescue groups from paying sales tax on adoption fees. 
"The spirit of this law is to exempt rescue organizations as they work to find forever homes for stray animals. This is the right thing to do and will help connect more animals to people who will love and care for them," Nelson said.
The Lone Star Wind Orchestra — a Dallas-Fort Worth ensemble led by UNT Regents Professor of Music Eugene Migliaro Corporon — got a resiliency grant from The Arts Community Alliance. The grant will help the orchestra continue its programming in 2021.
Parting Shot
"Number one, I thought that it was a great idea when we left [the World Health Organization], because … we've done more for them than they do for us, and then when you learn that really in fact, they were there to help the Chinese Communists who weren't informing us of the fact the virus was around in the first place. Yeah, that seemed like a logical reason to depart that organization." 
— U.S. Rep Michael Burgess, R-Pilot Point, to Fox & Friends earlier this month