The Adkins Elementary School PTA honored the school's namesake recently. The PTA gave Dorothy Adkins a Lifetime Achievement Award — the highest honor given by the National PTA to leaders across the country. The award was given during a virtual meeting, and coincided with Adkins' 101st birthday. The school's PTA has previously honored Adkins with the Texas PTA Honorary Lifetime Membership Award and the Texas PTA Extended Service Award. Well done, Dorothy, you're one of Denton's treasures.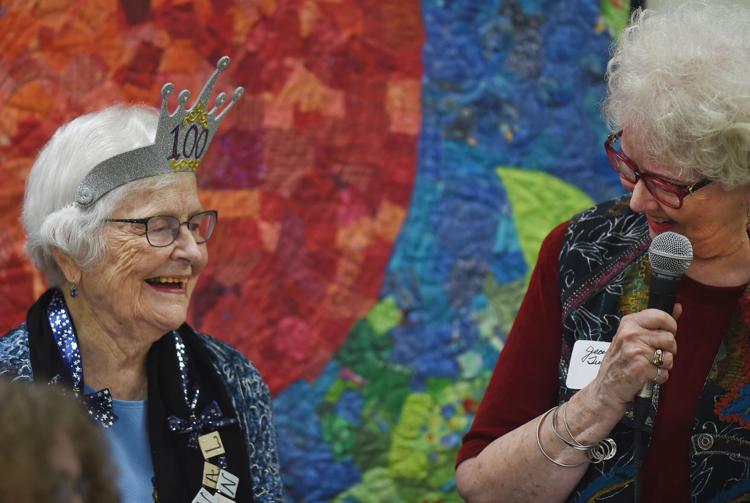 You might have caught a glimpse of a Denton resident at the 2020 National Dog Show on Thanksgiving. Denton resident Jeanie Troyan McAdams showed her jaunty miniature American shepherd named Jimmy in the herding group. His full name is I Love That Jimmy Fallon "because of his high energy and goofy personality." Jimmy Fallon gave McAdams and Denton a shoutout. Jimmy won the herding group. 
We were surprised recently when we were reading New York Times book columnist Tina Jordan make mention of Emily Fowler Central Library. In her October column about Agatha Christie, Jordan recalled hours spent in the local library, devouring books. Now she's recommending books to readers around the world. We reached out to her on Twitter for confirmation, and Jordan delivered. "I haven't been back to Denton in more than 30 years but I still remember everything about the inside of that library!" she said. 
The Rev. Tommy Nelson, senior pastor of Denton Bible Church, was among the ministers and thinkers in the Christian Leaders Fellowship conference "Empowerment Talk" earlier this month. The fellowship is a cross-denominational gathering of 400,000 pastors from 90 countries. This year, the gathering was held online. The fellowship is an initiative that helps pastors develop their ministries for the 21st century. 
We've given former Denton City Council member Kevin Roden a hard time before, but we found ourselves agreeing with Roden in a recent Facebook post bemoaning the way national politics has bled into local politics — with locals angrily decrying the robust voting habits of Robson Ranch, a retirement community that skews conservative, and other residents insisting that "a far-left takeover" is afoot in Denton. Roden wasn't griping. He was recalling the historical differences between national and local elections. Municipal elections tend to be about the vision and future of a city (and what city totally belongs to a political party?) rather than a turf war between Republicans and Democrats.
We're with Roden. It would be refreshing to see the local electorate leavened with some kind of cooling agent. 
We were mostly unsurprised about the results of local elections. We predicted that Gerard Hudspeth could beat his peer on City Council, Keely Briggs, for the mayor's seat. We didn't know Hudspeth had a friend in Ray Luzier, the drummer of the metal band Korn. Luzier shot a quick video in support of Hudspeth, calling him "an all-around great guy."
We were surprised, however, that incumbent Paul Meltzer kept his spot representing one of the at-large seats with Place 6. We saw so many yard signs for his opponent, the Rev. Jim Mann, senior pastor of New Life Church. And when Mann got such vigorous applause at the Vote by Faith Forum at Denton Bible Church, which attracted hundreds, it seemed like he would handily take the council seat.  
Speaking of Paul Meltzer — he knows a lot about Denton. But he learned something new after election day. The bronze sculpture of a pair of herons in South Lakes Park, made by former Denton sculptor George Cadell, were made to move. They turn slowly and silently when the wind catches them just right. The piece, Harmony, is a kinetic sculpture and a graceful feature of the public park. (We once peeked inside the piece and found baby birds nesting there. It seemed appropriate.) Meltzer was surprised to see the birds turning, and took to his Facebook page to ask if others knew it was a moving artwork. 
This year has been so fraught that it has been easy to miss quiet glimpses of beauty and grace. One of those instances (or several) has been the Denton Community Market's partnership with artists and musicians. The market, which closed for the season on Saturday, has had fiber art (a tapestry by Myranda Newman-Noah that declared "We Miss You"), a sounding sculpture by Denton artist Will Frenkel, photography by Amani Sodiq-Odunaiya and a "talking mural" by Lacy Almeida and Lake Dallas High School art students.
The pandemic has hit so many industries really hard. But one particular Lone Star State business is thriving: Christmas trees. Greg Grant, a Texas A&M AgriLife Extension agent in Smith County, said Christmas tree farms and nurseries in the state have done well. 
"It was an odd year horticulturally speaking with a normal spring, decent summer and an atypically dry fall, so it's good that the trees — the Leyland cypress and Virginian pines that are grown locally — fared relatively well," he said. Then, Grant said, Texans decided they wanted real trees over artificial ones.  

Parting Shot
"The Nazis were impressed by the American custom of lynching its subordinate caste of African-Americans, having become aware of the ritual torture and mutilations that typically accompanied them. Hitler especially marveled at the American 'knack for maintaining an air of robust innocence in the wake of mass death.'"
― Isabel Wilkerson, Caste: The Origins of Our Discontents