There's often a feeling out there in the Denton community that the elite administrators at the University of North Texas live in a different world.
Sometimes it seems like Hannah's Off the Square replaces Taco Tuesday for the rest of us. Occasionally, though, the bigwigs are stuck doing Denton things with the rest of us. That was the case Monday morning for Neal Smatresk. UNT's president was sequestered in the jury assembly room at the Denton County Courts Building with more than 250 other residents. All but 30 escaped unscathed.
Smatresk was not among them. His name was called about halfway through the cattle call. Smatresk didn't look pleased as he shuffled off to see if he would be among six people selected to hear a misdemeanor case. No one seemed to notice a celebrity in their midst, except for one inconspicuous Denton Record-Chronicle writer in the same boat. Fortunately for said writer, he avoided being selected.
■
University of North Texas College of Music junior Besnik Abrashi has earned first prize in the International Clarinet Association Young Artist Competition.
Each year, the association hosts a select group of clarinetists from around the world to perform live in the finals at its ClarinetFest. Abrashi and his fellow UNT classmate Nathan Kock earned two of five finalists spots in the 2019 competition, held in Knoxville, Tennessee, this year.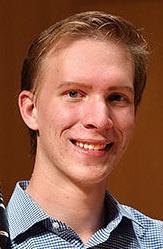 Abrashi's first prize included $2,500 and a professional Henri Selmer Paris clarinet. The contest is the only annual international competition of its caliber for clarinetists. The UNT College of Music has sent many students to the finals.
■
It looks like we're saying goodbye to a talented local actor. Aaron Martin, who has appeared in Glengarry Glen Ross and Fool for Love for Denton Community Theatre, is on his way back to Tennessee. His wife, Ellen, is getting ready to start a new gig at Vanderbilt University. We'll miss Martin's deft work on the Denton stage, but he's sure to make a contribution in Nashville.
■
United States Cold Storage dedicated a bench at its site to the late Denton Economic Development Director Caroline Booth, who died earlier this year. The gesture was both a kind one, and one that acknowledges how carefully Booth went about her work.
■
It's a quiet honor, but Denton resident and musician Joe Brown saw his daughter Juniper earn the technical post in the Briarhill Middle School Thespian Society in Lewisville. Brown was a busy theater student when he was growing up in Lake Dallas, and now his daughter is learning the ropes, too.
■
We can't tell if the photo was real, but a picture of a scale — the kind you find at the gym or the doctor's office — on Goatman's Bridge (formally known as Old Alton Bridge) made the rounds on social media last Friday. That said, we find scales to be fearful things no matter where they are.
■
The McMath Middle School Tiger Jazz Band just keeps trucking and picking up honors. This time, the band won the national category in the 2019 Mark of Excellence National Jazz Honor. Directed by the indefatigable Travis Harris, the middle school ensemble just keeps zooming for that pocket. The Denton High School Lab Band I, under the direction of Jesse Woolery, was among the commended winners. Well played, musicians.
Parting Shot
"I could never be a country person, sitting around trees trying to write a song. I would rather be in the middle of society, whether it's growing or crumbling."
— Ric Ocasek, singer, guitarist and songwriter for the Cars and a music producer, who died Sunday