We knew she wouldn't be happy just napping and traveling, and we were right. Former Denton Downtown Economic Development director Julie Glover has a new consulting gig with Buxton, a company that specializes in analytics (think data). It's a part-time gig as a "professional in residence" in Buxton's public sector division. Buxton, you've added an energetic, smart and forward-thinking person to your staff.
Denton craftswoman Azita Gonzalez appeared on a recent Buzzfeed video. She owns a business, Cosmic Encounters Nursery, that makes "reborns," which are hyper-realistic baby dolls. Gonzalez specializes in crafting alien and fantasy baby dolls. Her work is impressive, and intensely artistic. Watch the video here: http://bit.ly/36kTpX7.
Who knows how it happened, but an SUV ended up on some ill-fated landscaping at the Arby's on University Drive. The vehicle's front tires were on the parking lot pavement. The rear tires were on top of a rock formation and what look like some impatiens on a peninsula dividing rows of parking spots.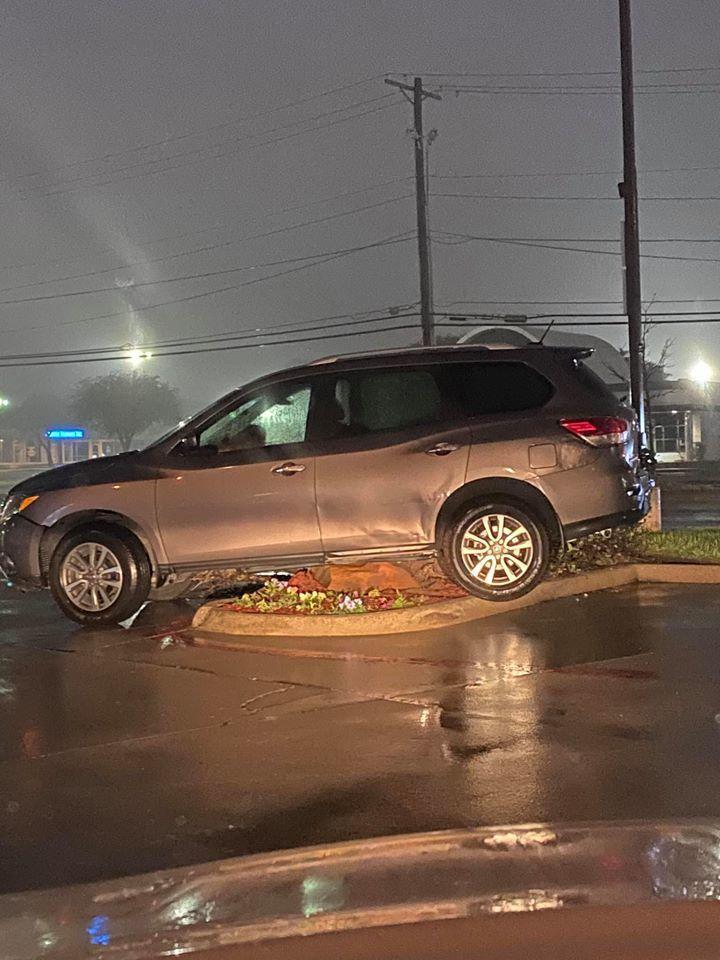 Denton loves Idiot's Hill, a neighborhood of charming midcentury modern homes north of University Drive and east of Bell Avenue. How much does Denton love this neighborhood? So much so that Armadillo Ale Works, a homegrown craft beer company, named its brand-new American strong ale for it. Bobby Mullins, the company's brew master, described the beer as "big malty and dangerously smooth." Mullins said the brew will be available in the taproom the end of this week.
Local chocolatier Kay Thibodeaux is making Valentine's Day chocolate boxes for Argyle Fire Department firefighters. She's looking for locals who will sponsor each of the 20 staffers. It costs $20 a box, and orders have to be in by Jan. 30. For more information or to sponsor an Argyle firefighter, email Thibodeaux at kay@thecocoaexpert.com.
Features Editor Lucinda Breeding interviewed the founder of the Equal Justice Initiative, lawyer Bryan Stevenson, who's profiled in the Denton Black Film Festival selection True Justice: Bryan Stevenson's Fight for Equality. Stevenson recalled that when the initiative opened the National Memorial of Peace and Justice (which includes two sculpted beams representing lynchings in Denton County), the Montgomery Advertiser published an apology for its complicity in publishing false narratives that stood in for community defenses of lynchings. Stevenson said he was delighted to see the newspaper apologize for its part in white supremacy.
"I thought it was the start of other newspapers publishing apologies for their own wrongdoing in that era of our country's history," he said. "I was wrong."
The Denton Record-Chronicle newsroom has read Stevenson's memoir, Just Mercy (now a major motion picture starring Michael B. Jordan). We recommend this book to Denton readers. It's a powerful meditation on how money, class and race shape our imperfect criminal justice system.
Parting Shot
"You are the only judge of whether a piece of art is a piece of art! It's the average man who is the judge. It's not the effete academic who will determine whether a piece of art is a piece of art anymore than an academic can tell you whether a baseball player is really a great baseball player. It's the fan in the stadium that will tell you whether he's a great baseball player."
― Michael Savage, Train Tracks: Family Stories for the Holidays