After looking for a new executive director for a while now, SCRAP Denton announced its new leader: Rachel Weaver. She's already really active in Denton. She's a volunteer and board member for the local low-power FM radio station KUZU (92.9), and she lends time and energy to the local arts scene. Weaver is a mixed-media artist, a musician and writer. In her new position, Weaver will build on the established relationships SCRAP already has, and we expect she'll create new partnerships with Denton creatives who look to SCRAP for ideas, affordable materials and classes.
Goliad Media Group, a Denton-based indie publisher, record label and arts producer, announced it will publish the official biography of Denton icon Dan Mojica, the owner of Dan's Bar and Dan's Silverleaf. Local journalist and writer Harlin Anderson will write the book. We expect some great stories in this one.
Marjorie Hayes, an acting and directing professor at the University of North Texas, appears in the film Uncorked, directed by Louise de Nexon. There's no word yet on when the movie will screen (or where it will screen).
We sometimes see some good puns when we're out and about in Denton. On Wednesday, the Chestnut Tree had a message on its sidewalk sign: "I've Benedict-ed to you." Good one, though it also made us crave Hollandaise sauce.
If you love and miss the late Denton bluesman Pops Carter, Harvest House has just the thing for you. The downtown Denton bar is hosting Pops' 100th Birthday Celebration from 8 to 11 p.m. Thursday at 331 E. Hickory St. Local artists will honor Pops with performances, including Greggae, Dave Shaw, the Funkmonsters, the Incredible Texas Slim, Clarence Pitts, Bill Cornish and others.
A Denton County girl just won first place in the Texas Parks & Wildlife Department's Texas State Fish Art Contest. Julia Jarmulak, of Roanoke, took the top prize in the art category for grades 7-9. This year, judges at the Texas Freshwater Fisheries Center chose the top 12 out of 444 total entries from Texas students.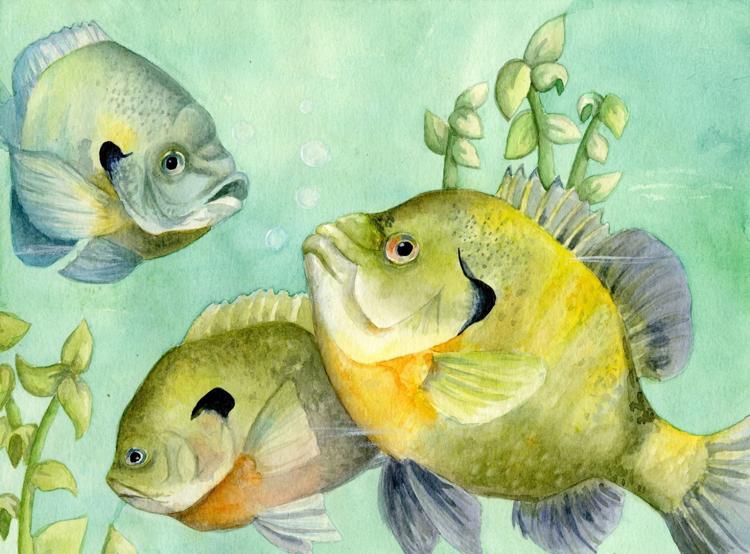 Rubber Gloves Rehearsal Studio will have its grand reopening on Aug. 23-24, but the beloved local venue will be teasing the big weekend throughout the summer. Coming up at 8 p.m. Wednesday, Rubber Gloves will have a showcase featuring Justice Yeldham, aka Lucas Abela, an Australian musician who — are you ready for this? — makes music using sheets of broken glass. Yeldham creates music by blowing on the glass, as if he were playing the trumpet. There's a full bill with lots of local support for the evening, and tickets are $10 at the door.
Parting Shot
"If there is a God, atheism must seem to him as less of an insult than religion."
— Edmond de Goncourt, 19th century French writer