Denton Community Theatre recently closed an ambitious production: Andrew Lloyd Webber's Cats. The cast and crew clearly pulled together for a strong performance, but we have to mention some standouts: Layla Brent-Tompkins brought her training and experience from the Texas Ballet Theatre to the role of Mr. Mistoffelees. Dayle Pinero and Tyler Halbrooks were a show-stopping pair as Rumpleteazer and Mungojerrie. Bryan Patrick pretty much always delivers, and in this production, his turn as the old Gus the theater cat was colorful and charming.
Cyrus Carrillo, though, nearly brought down the house as the glam-rock tomcat Rum Tum Tugger. We haven't seen that much style or verve on the local stage in years.
We'd be remiss, though, if we didn't mention choreographer Nicole Probst. It's never easy to build dance for a show that includes nondancers and professional dancers in the same cast. All of the dance was smart and animated, but her work on the catfight between Mr. Macavity and a gaggle of tomcats was just more than we expected. It's something to see four or five men throw each other through the air, clash and roll, and Probst exceeded our already lofty expectations.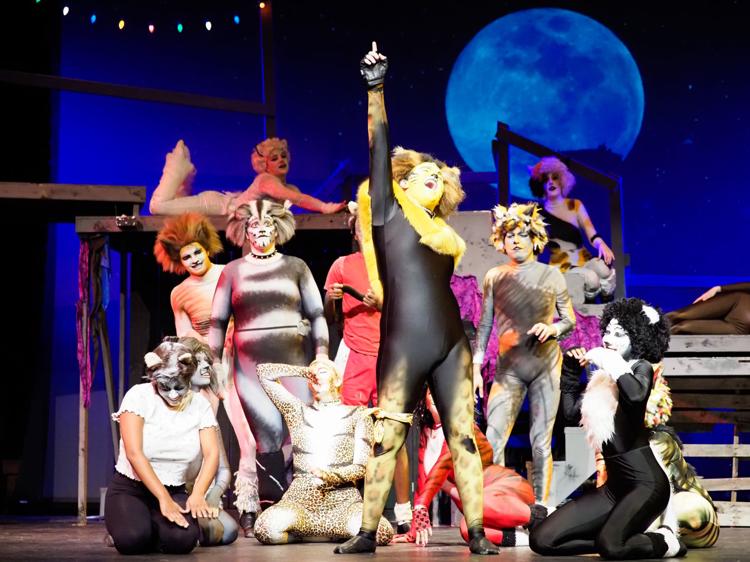 Speaking of Denton Community Theatre, the company is moving some of its last equipment and shelving from the NCTC Black Box Theatre this week to complete its move to Golden Triangle Mall.
Last week, we noticed a certain Denton high school student who got a shoutout from Christopher Reid, the "Kid" from Kid 'n Play of House Party fame. Unfortunately, we didn't get the local teen's name right. It was Jalen Butler, a freshman at Denton High School, whose high-top fade got a "fresh to death" sign of approval from Reid. And if you recall House Party, Kid's fade was so tall that his movie dad grumbled it was "like a tree trunk walking around here."
The Department of Energy and the Environmental Protection Agency recently released a report recommending optimal settings for your thermostat during the summer months. The recommendations were that you set the thermostat at 78 degrees when you're home, 85 degrees when you're away and 82 while you sleep.There must be something to this, because our new smart thermostats were installed with these settings for a typical house.
The report was linked in a tweet, and Southern Twitter went nuts. We do use the recommended 78 degrees at the house, but we also grouse about the flop sweat and generally avoid wearing pants. At any rate, we agree with Twitter user Jonathan Baker, who replied to the recommendations thusly: "Eighty-two degrees while sleeping? In Texas? During the summer? OH NAW SON!" Also, we have to wonder if Texas veterinarians would recommend leaving pets in a house that hot.
Jenna Howard, a barista at Aura Coffee, made a friendly instructional video on how to get to Aura Coffee, which is sort of covered with construction fencing, for Sundown Collaborative Theatre's Java Scripts: Short Works Festival 2019, which continues through this weekend. (Tickets are $12 for adults, $10 students and seniors. For reservations, visit http://bit.ly/2zd2zXo.)
The coffeehouse is at 1306 W. Hickory St., and Howard even walks the viewer from the coffee shop to the Voertman's parking lot, where Sundown patrons can park. Howard, who is performing in Java Scripts, references Fry Street on the trip to Voertman's: "Sometimes, people get drunk there. I do." Watch the video here: http://bit.ly/2PnmJJx.
It's been a long time coming, but Rubber Gloves Rehearsal Studios is celebrating its grand reopening this weekend after closing its doors in 2016. The reopening offers a hefty marquee of music. At 9 p.m. Friday, the weekend starts with Abbreviations, Eat Avery's Bones, Mind Spiders, Hoaries and finally headliners the Riverboat Gamblers.
On Saturday, two bands with significant history with the venue take the stage. At 8 p.m., Uniform plays, followed by Boris, a favorite band of former Rubber Gloves owner Josh Baish, who famously lost a chunk of his ear when the experimental Japanese group played Marfa.
Parting Shot
"We permit citizens to say whatever they'd like however repugnant."
— City Council member Paul Meltzer, following "open mic" citizen comments at Tuesday's council meeting