Denton lost a quiet institution on Aug. 28. Clarence "Woody" Wood died at age 94. Reared in a sort of golden age of gentility and civic duty, Wood served the country in the Navy at Pearl Harbor. He came home, married his wife, Mary Ellen, and had two children — Denton artist Christie Wood and her sister, Candis Kimball. Wood's son Standley preceded him in death in 2005.
Woody Wood built a career in music, mostly as a craftsman who repaired instruments. But he was no slouch as a musician and played saxophone in the inaugural One O'clock Lab Band at what was then North Texas State Teachers College (now UNT) in 1947. But perhaps the best example of the spirit and enterprise of the man we knew as "Mr. Woody" was his diligent work to build a flute for an ambitious girl who played the instrument with one hand.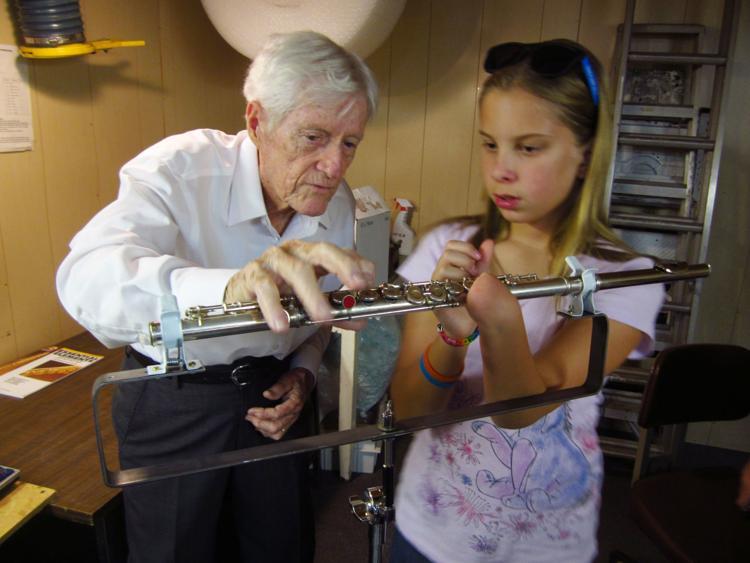 We admit to scoffing occasionally when someone says "They don't make 'em like they used to," but Mr. Woody was truly unique in his love of music and his dedication to making music just a little more accessible to people. To his wife, daughters, their families and Mr. Woody's friends, we feel this loss, too.
The Denton city staff recently tallied votes by Denton area senators and representatives on 10 new laws affecting Texas cities, primarily budget and development matters. Voting records showed that state Sen. Jane Nelson, R-Flower Mound, and state Reps. Tan Parker, R-Flower Mound, and Lynn Stucky, R-Denton, sided at least once with city concerns and voted against bills that Texas cities opposed. That was enough, for example, to defeat a bill designed to block cities from joining the Texas Municipal League, a 116-year-old organization that serves collective needs. Newbie legislator Michelle Beckley, D-Carrollton, sided with cities the most. On the flip side, state Sen. Pat Fallon, R-Prosper, and state Rep. Jared Patterson, R-Frisco, did not side with Texas cities even once, including voting to bar cities from joining the league.
Every now and then, we like to recognize the service of educators in Denton. James D. Laney retired from UNT last Friday. He worked as a Denton ISD elementary school teacher for three years before pursuing a doctorate at UCLA. He worked as a professor at UNT for 34 years, with the last 5 1/2 years as the department chairman of teacher education and administration.
We're glad to see that, included in his announcement of his retirement, Laney said he plans to stay involved in Denton's theater circle. Laney and his partner, Philip Lamb, are among the Denton volunteers who have donated more hours, creativity and effort to enliven the local stage. We look forward to seeing what Laney does in the theater in the future. Oh, and thank you for your service, Mr. Laney.
We followed UNT scientist Alexandra Ponette-Gonzalez last summer as she measured the dust collected by the region's post oaks and live oaks (http://bit.ly/2ZLFaLI). She and graduate student Jenna Rindy have since crunched the numbers and got published in a recent issue of Environmental Science and Technology. They found that both types of trees are really good at removing the dangerous black carbon soot that leaves our tailpipes and floats around the atmosphere, particularly post oaks with their waving branches and sticky leaves.
The UNT Student Government Association is hosting a Denton Climate Strike at 11 a.m. Sept. 20 on the mall outside Willis Library on campus. A Facebook event includes the Texas Woman's University Student Government in joining the strike, and both intend to show solidarity with youths and young adults driving a response to climate change internationally. The invitation says: "The Climate Strike is a demonstration of youth activism celebrating the strides the Denton community has taken, and an acknowledgement of the next steps regarding the imminent threats of the global climate crisis."
Parting Shot
"About 26% of Americans 65 and older identify as white evangelical Protestants. Among those ages 18 to 29, the figure is 8%. Why this demographic abyss does not cause greater panic — panic concerning the existence of evangelicalism as a major force in the United States — is a mystery and a scandal. With their focus on repeal of the Johnson Amendment and the right to say 'Merry Christmas,' some evangelical leaders are tidying up the kitchen while the house burns down around them."
— Michael Gerson, a columnist for The Washington Post