Yes, the Texas and Denton flags are flying at half-staff at Denton City Hall. The special configuration, which sets aside the national flag as a matter of etiquette, continues until Friday in honor of the late Caroline Booth, because local government has its patriots, too.
The North Texas Book Festival got a taste for creative festival prep this year. Organizers served "subpoenas" to local pizzerias. But instead of coming to court, the pizzerias will compete for the Most Literary Pizza at the 2019 North Texas Book Festival on April 6.
The pizza artists will be challenged to create a pizza inspired by an author, story, book or anything related to the love of reading. Then they'll bring their creations to the festival at 11 a.m. April 6 at the Patterson-Apple Arts Center, 400 E. Hickory St. No word on whether we can eat their work, but here's who will bring their flavorful books: J&J's Pizza, Pi Squared, Roman's Pizza, Mellow Mushroom and Pizza Snob.
Everyone has probably heard this term, but SCRAP Denton recently announced that the creative reuse nonprofit is seeking an education specialist, referring to the position as a "green collar job." We'll allow it. We've used donated office and craft supplies from the nonprofit shop, and it fits.
Jerry Jones, the owner of the Dallas Cowboys, was the featured guest at UNT's recent spring Kuehne Speaker Series. Jones talked about the partnership between the University of North Texas and the Cowboys. Also in attendance: Jordan Case, president of Park Place Dealerships, who's a 1980 UNT graduate and former quarterback (1978-79).
At least one Denton resident is using Facebook the way God intended. Olivia Norine, who is familiar to Denton theater buffs from her performances on the local stage, has used the social media platform to document the progress of her Bob Ross Chia Pet. On Day 6, Norine posted the most recent photo of his growth: "His lower sprouts are really starting to stretch out, with green leaves ready to pop!" she wrote. "I joked with a student this morning that he might look like he has male pattern baldness until his top sprouts catch up."
UNT student Clay Daugherty had a terrible, no good, very bad day last week when his car caught on fire (Daugherty said on Twitter that his car "blew up"). Daugherty's tweet got almost 800 retweets, and lots of jokes at Ford Motor Co.'s expense.
Dr. Daniel McDonald, a local obstetrician and gynecologist who is anti-abortion, reserved a movie theater Thursday for a screening of the film Unplanned.
The film is based on the real-life religious conversion of Abby Johnson, who was the youngest clinic director of Planned Parenthood when she watched an abortion on ultrasound. Johnson became an anti-abortion activist. Dr. McDonald's wife, Michelle McDonald, said the couple reserved a screening theater (which is sold out) because they wanted to create excitement about the movie, which opens on Friday.
How's this for a good idea? Sculpture students in the UNT College of Visual Arts and Design are making art that is meant to be interactive for pets, but aesthetically pleasing for pet owners (we can't bring ourselves to accept the label of "pet parent," especially when we feel more like a butler to a racket of paws and hair).
Students are making the sculptures as part of their class. Once the projects are critiqued by faculty, the students will bring the art to the Linda McNatt Animal Care & Adoption Center for a reception and sale at noon April 6. The community is invited to attend the event, meet the artists and shop the sculptures. All proceeds from the sale will be donated to the animal shelter.
The students are also collecting pet supplies for the center prior to the event. You can drop off pet supplies from 8 to 9 a.m. April 6 in Room 158C at the College of Visual Arts and Design, 1201 W. Mulberry St. Donations will also be accepted at the center during the event. Supplies needed include: Pedigree puppy and adult dog food, Purina cat and kitten food, Clorox wipes, bacon-flavored treats, kitty litter, dog and cat toys, Dawn dish soap, washable pet bedding, HE laundry detergent and small fleece blankets.
You've heard of squirrels raiding bird feeders. But have you heard of a cat enthralled by a squirrel parked in a window-mounted feeder? Denton resident Monique Guylas' cat, Ladybug of Dentonia (known affectionately as "Bugs," when her feline majesty allows), was transfixed this week when a squirrel settled down in the bird feeder.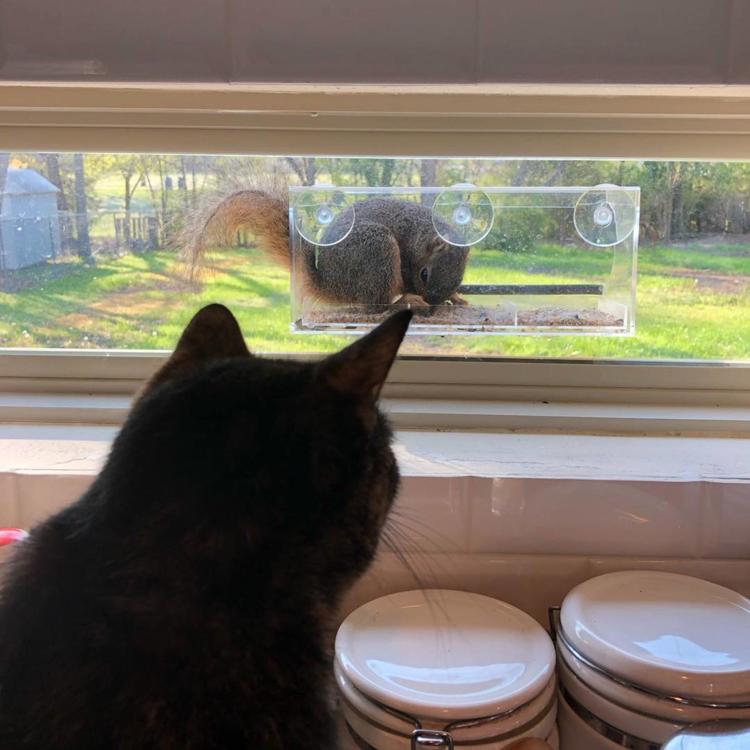 Parting Shot
"I like to write when I feel spiteful. It is like having a good sneeze."
— D.H. Lawrence, English writer (1885-1930)