Denton resident Casey Cavalier will have a Father's Day essay published in the print edition of The Washington Post. The essay is expected to appear in the online edition of the newspaper's parenting section on Thursday, then in print this weekend. Cavalier and his husband, Tod M. King, were among the first gay couples in Denton to wed after the Supreme Court legalized same-sex marriage in 2015, and they're raising an adopted son, Eddie.
June is LGBT Pride month, and University of North Texas College of Music graduate Patrick Miller recently got some ink in the Coppell Gazette for his efforts to establish a scholarship for LGBTQ students at Coppell High School or New Tech High @ Coppell who have shown positive leadership within the community. Miller plans to award $2,500 to the winning student.
"I just feel like they [LGBTQ students] don't … really have a strong voice in the community," said Miller, who is gay. "I think the scholarship would say, 'Hey, we see you and not only do we see you in our community, we also see you doing good in the community.' I think that would be very empowering for youth."
Denton author Kelsey Macke joined New Leaf Literary and Media Inc. The company will represent Macke as she completes her latest project. Spencer Hill Contemporary published her 2014 young adult novel, Damsel Distressed.
Denton photographer Ed Steele continues his series of locally inspired 3D-printed miniatures. The latest miniature is none other than Carl Finch, the frontman and founder of Denton's two-time Grammy winning polka band Brave Combo. The miniature is a little more than an inch tall. Finch is wearing his trademark top hat, and appears to be playing his accordion for an audience of cats. (He's an animal lover and feral cat rescuer.) The miniature is available at the Bearded Monk and online at www.etsy.com/shop/DNDLoot.
Denton resident Theresa Flowers was more than a little disappointed when she spotted a misspelled traffic sign on Teasley Lane at Dallas Drive near I-35E. The sign read "Murge Left," a mistake other motorists said they spied, too. Soon after, the electronic sign displayed the proper spelling.
You might have seen Joshua Musgrove, 28, busking near his home on Windsor Drive. If the sight of a man playing a keyboard along Windsor Drive isn't enough to catch your eye, Musgrove performs in a teddy bear costume — or is it a wolf? — that he made from old stuffed animals. His sign reads: "Music Drive Thru Humphrey Wolf."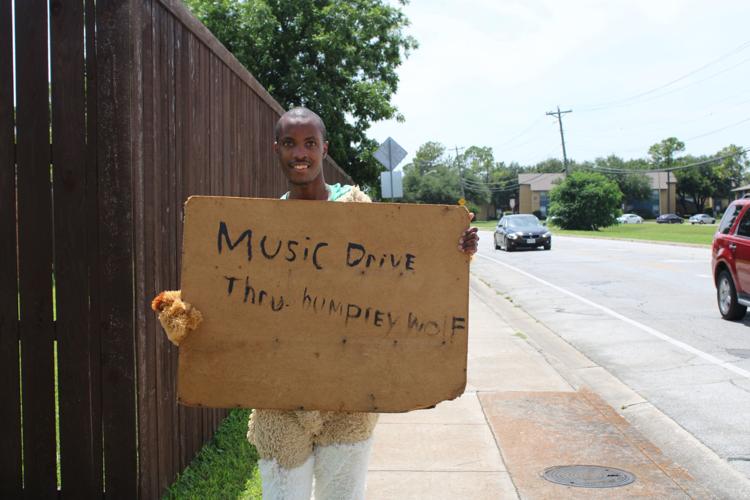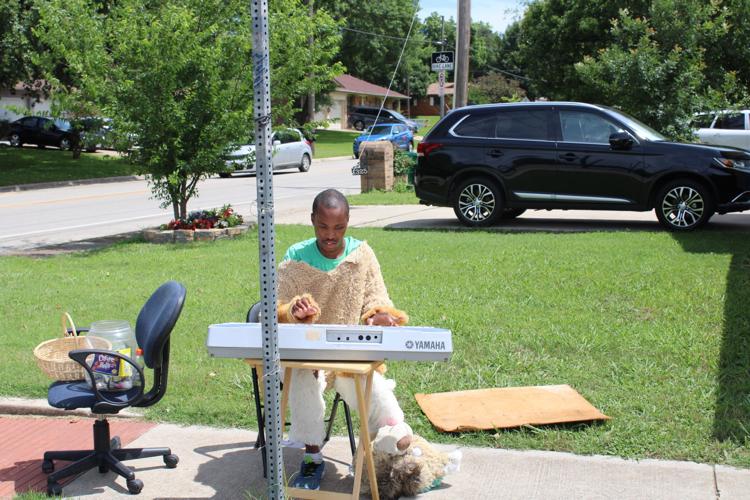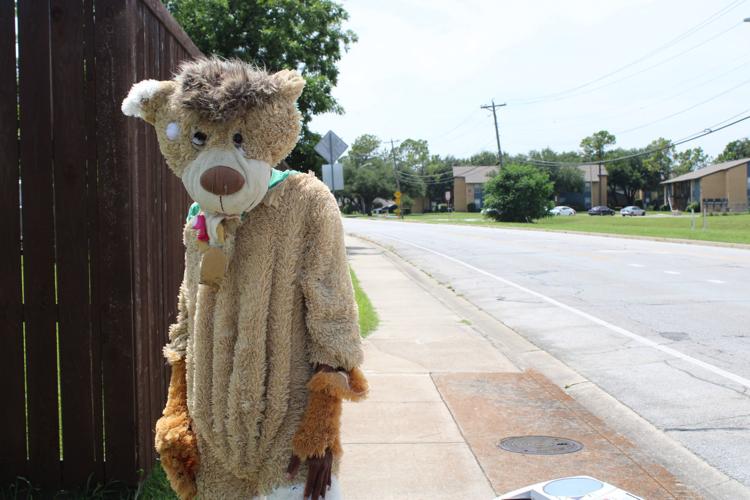 Parting Shot
"Just another day walking around the Square and almost getting hit by an inattentive driver."
— Andy Odom, Denton resident and musician