How do you know when a nonprofit has built serious goodwill in its community? When a single request for donations gets an immediate and overwhelming response. Our Daily Bread, Denton's downtown soup kitchen, posted a request for donations on its Facebook page last Friday. Since then, the post has been shared more than 300 times and has raised more than $4,000. The nonprofit had given away most of its bottled water and Gatorade as temperatures inched closer to the 100 degree mark. (Let it be known, too, that Our Daily Bread gives G2 Gatorade, a low-calorie bottled drink, to its clients with diabetes.) Sure, $4,000 is a tiny amount in the grand scheme of things, but it will buy the aid group an awful lot of water for Denton's most vulnerable residents. When the heat index hits the high 90s, homeless men, women and children are at risk for heat stroke, heat exhaustion and dehydration — all of which of are medical crises. The donation post is still live, so if you want to give, visit http://bit.ly/31XTY8v.
■
Trips to Discover, a travel website, recently published a list of the 10 best restaurants in Denton. The usual suspects made the list — Barley & Board, Boca 31, Hannah's Off the Square and Seven Mile Cafe. But a few spots were conspicuously absent from the site's best-of dining list. Keiichi wasn't mentioned, and you won't find better sushi or Asian-Italian fusion in North Texas. And it pains us that El Pariente Grocery & Mexican Deli is so often overlooked, given that the Louise Street grocery and restaurant consistently serves the best Mexican food in town. These kinds of lists are always subjective, we know. So we'd like to tack an asterisk onto the blog post and add these two. Check out the list: http://bit.ly/31R2ztm.
■
Priscilla Connors, a professor who works in the University of North Texas College of Merchandising, Hospitality and Tourism, recently traveled to Copenhagen, Denmark, for a meeting with officials from the Danish Royal Library. Connors met with the special collections officials for a collaboration to re-image digital lunch tray photos.
■
Marcus Watson, a local businessman who owns Little Guys Movers, can laugh at himself. He let us all guffaw at him when he posted a side-by-side photo of himself — with untamed hair and loud Hawaiian shirt — next to the famous mugshot of Nick Nolte. The similarities are more than humorous.
■
Les Deal can do just about anything to light up the stage at the Campus Theatre — hang and design the lights, queue up the sound and build sets for Denton Community Theatre, where he's the technical director. But he's also got some of that special Snow White charisma, given how he convinced a cute little squirrel to give his hand a curious sniff. We can't tell if Deal was able to feed the squirrel from his hands, but he got close enough.
■
Photographer and professor Daniel Rodrigue spotted something when he was out and about on the downtown Square last week. At the Confederate veterans memorial, a veteran who served with the United States Marines had scrawled a message — "Happy Juneteenth" — on a piece of cardboard and placed it on one of the water fountain spaces on the memorial. The vet had also labeled another cardboard sign that he leaned against the memorial.
A Denton musician saw a 2017 collaboration get picked up by the Dallas Mavericks. Daniel Markham teamed up with Tony Ferraro to create the underrated Smoke Paint II. The two musicians penned a seductive song, "Cinch" with Steven Tyler Phillips. The Mavericks used the track to underscore its Rookie of the Year video showcasing the plays and finesses of winner Luka Doncic. We tend to think "Cinch" is somehow creepier and sexier than footage of a basketball player sailing toward the hoop, but some of the lyrics could be co-opted to the physical tussles of the game. At any rate, we could use the reminder that Markham is so very fluent in cross-genre pollination — from grinding guitars to plastic-y synthesizer — and Ferraro has yet to exhaust his talent, even with as much music as he makes.
■
Last month, the Rockport Center for the Arts announced that Lighthouse Fountain, a public monument by the late Jesús Bautista Moroles, a granite sculptor and UNT graduate who died in a car accident in 2015, will be dismantled and put into temporary storage due to structural issues. The red granite tower was commissioned in 2002. Officials had the piece taken down after a slew of natural disasters, most recently Hurricane Harvey. The sculpture will be in storage until a new armature is built and is ready to be moved to its new location at the Art Center's downtown campus.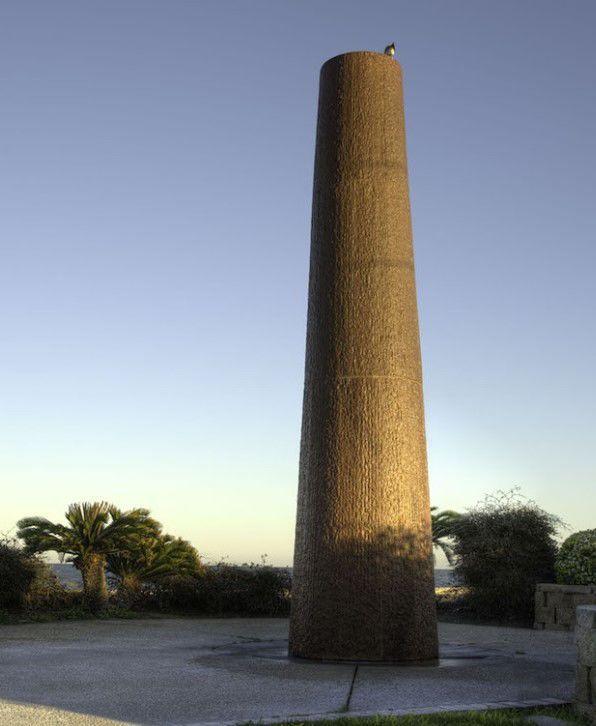 Parting Shot
"They need a murder and some loose rats. That is apparently the secret to a successful grocery in Denton."
— Denton resident John Lee, with some tips on how Brookshire's Food & Pharmacy might stay open.