Call it luck or divine intervention, but when Joe Akers of Akers Towing happened to see a boat sinking on Ray Roberts Lake on Friday, he acted fast. Akers and an employee lowered a cable down to the floating, stranded boaters until water rescue could arrive. They got some photos — though the action is a little hard to see as the sinking boat drifted under the bridge. What's the saying these days? Not all heroes wear capes.
Akers wasn't the only person to leap into action to help someone. Firefighters from Denton's No. 2 Station helped a stranded driver move his pickup this week.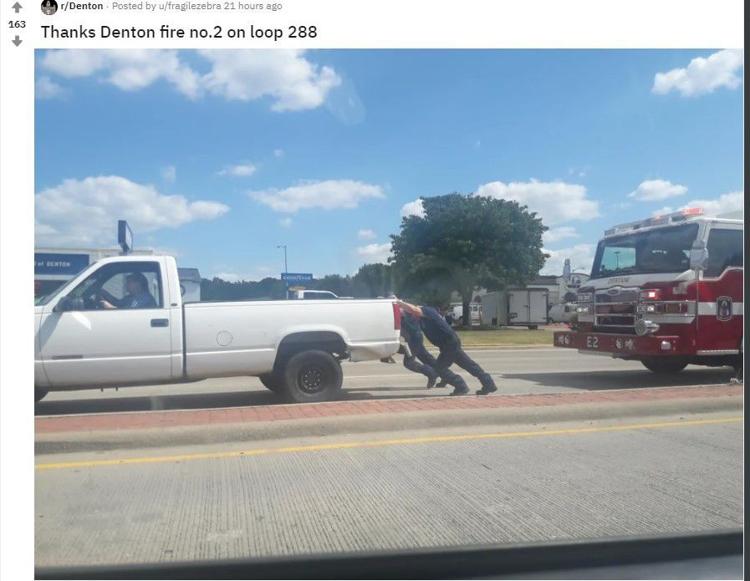 A University of North Texas College of Music graduate nabbed a sweet job here recently. Peter Jutras, who earned his doctorate at UNT in 2003, has been named director of the Hugh Hodgson School of Music at the University of Georgia. His doctorate is in music education with a piano pedagogy emphasis.
Paul Slavens can often be found behind the piano, creating righteous riffs out of thin air. On Monday, though, the local musician got to accompany dancers attending the Joffrey Summer Intensive. We're not sure if he was accompanying dancers on the keyboard, because the photo he shared of the students was taken behind the drum kit. (We had no idea drummers accompany ballet classes.) The seasonal intensives are training camps for young dancers, and the camps are administered by the prestigious Joffrey Ballet School.
Who knew there was a birthday card drive at Cumberland Presbyterian Children's Home? Pastor Kate Klein gathered the big batch of cards and distributed them to the recipients. Klein said the cards were given to girls living at the residential therapeutic center. "These created the biggest smiles," the children's home announced on its Facebook page, "and the girls read them aloud to everyone at their dinner tables because they were so touched and proud to receive each one of them."
If you feel like dashing off a birthday card for one of the young residents, Klein listed the upcoming birthday, the age of the recipient, favorite colors and themes. A boy who loves basketball and the colors red and black will turn 12 on Aug. 5. A girl who loves Barbie and the colors pink and purple will turn 8 on Aug. 8. A boy who loves superheroes and the colors dark blue and teal turns 4 on Aug. 8. Identities of the young residents are withheld for security reasons. You can send a card to Pastor Katie c/o Boy/Girl, 909 Greenlee St., Denton, TX 76201.
Cat-sitting is usually the lowest maintenance of pet-sitting gigs. But a local family found themselves in a state of real suspense when their family member, a cat-sitter, had a medical emergency that left her unable to communicate about the pets she was sitting for in Argyle. Neighbors and readers on Nextdoor.com and elsewhere on social media rallied their resources to make sure the pet owners were located and the cats got a substitute sitter. Social media can be a real grind, but it can also help people connect in important ways, too.
A downtown Denton shop window — we're not sure which one — gave a few locals pause earlier this week. Probably because the mannequins used are assuming a friendly posture in very formal clothing — flirtatious, even. But their unfeeling faces make you fall into the old uncanny valley.
Parting Shot
"People died in this country for voting rights. Why would they do that? Because they deserve representation."
— Denton City Council member Paul Meltzer