The third season of Netflix's hit series Stranger Things was locked before the second season dropped to widespread enthusiasm in October 2017. The streaming company made it official later that year. And while it's taken a lot longer to get this latest installment made compared to previous entries, the hype is cooking like the Texas heat.
Now the wait is over.
Today is the Fourth of July, but it's also the premiere date of Stranger Things 3. It's 1985 in Hawkins, Indiana, and school is out. It's summertime. There have been new developments, such as a brand-new mall in town and the teen crew (including Millie Bobby Brown, Finn Wolfhard, Gaten Matarazzo, Caleb McLaughlin, Noah Schnapp and Sadie Sink) approaching adulthood. Romances have blossomed, and characters are beginning to grow apart and in new directions, but danger still looms, and the characters are far from safe.
You can watch all eight episodes of the third season right now. But in case you didn't stay awake past midnight last night to binge it, my conversation with actor David Harbour should tide you over until you make the time. If you're off for the holiday, you might want to jump on it quick, because the internet doesn't have a filter.
Harbour, who plays Chief Jim Hopper in the series, stopped in Dallas recently to promote Season 3. Sporting a magnificent beard and drinking a hot cup of coffee at the Joule hotel's lobby bar in Dallas, Harbour and I explored character growth, his creative process and Hopper's new look.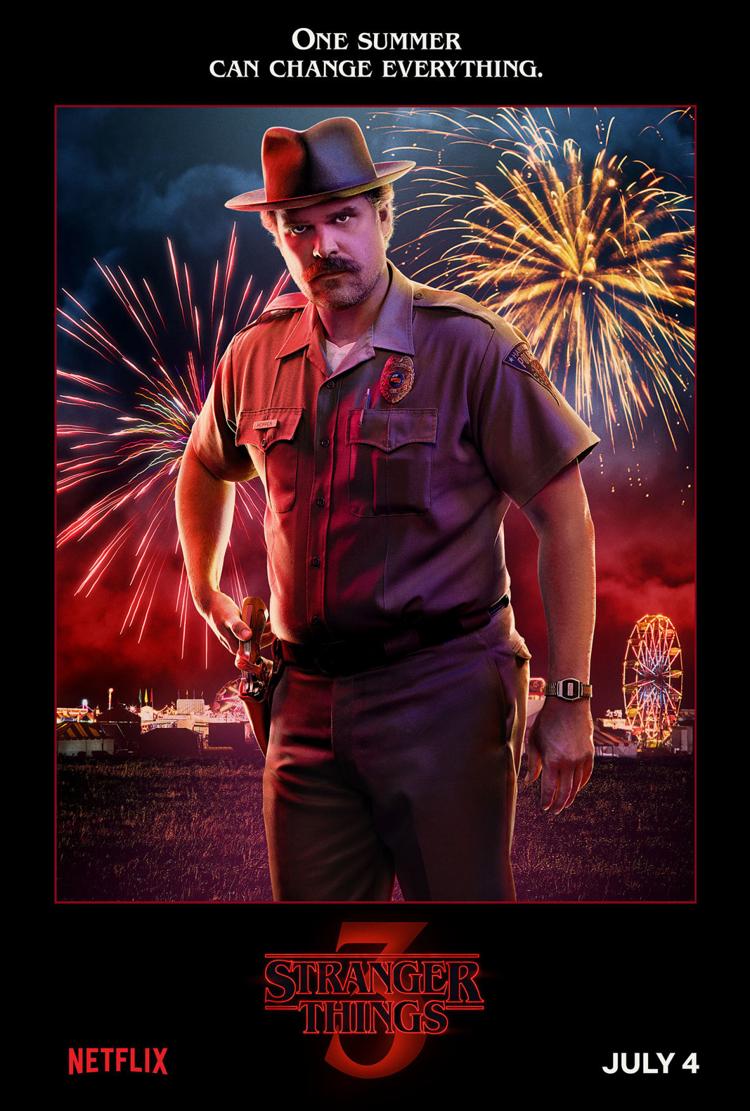 "We narrowed them down to a couple. My girlfriend was on set one day, and she pointed at one of them and said, 'That one!' The fact that she chose it and found it more attractive than this other one(and Hopper might know that), I was like, 'That's smart.' It worked out! It's a great shirt. It's so rich. Sometimes I think we write around what Funko Pops will come out next year. Hopper's mustache, Miami Vice — it's great!"
Stranger Things 3 is now streaming on Netflix.
Preston Barta: On the Off Camera With Sam Jones podcast, you spoke so openly about your experience as an actor and how you recontextualize lines from the script (whether it's built in fantasy or not) with moments from your own life. I wonder how bringing elements from your own life and filtering it through a story of fiction — Stranger Things, in particular — has impacted your life. Has it caused you to look at yourself differently?
David Harbour: Absolutely. It's funny. Of course, I am drawing things from my life and crafting things in a character, but I do find that, often, I can mirror my own experience or what I need to learn through the experience of a character. I can come to some real-time conclusion when we're shooting. Those are the moments when art becomes resonant. If I actually have an experience, it'll resonate more deeply. The best thing is when all this crafting leads to an unexpected moment or an unexpected realization.
That happened a couple of times in Season 1. I remember filming these scenes when [Hopper] is happy that Joyce's [Winona Ryder's character] son is missing. There are moments of joy because his daughter is dead, and he wants people to endure that same pain. Then, of course, there's that moment of embarrassment that follows when he realizes how awful he is for having those feelings. It was a surprise that came to me. When you can allow those sorts of things to happen, you can realize things about yourself and areas of yourself where you need to grow. That's when it's at its best and you're truly surfing.
Speaking more about growth, this season focuses a lot on character growth. The characters are growing up and the kids are no longer those kids playing D&D in the basement anymore. Same goes for the adults. They have things they are questioning and realizing themselves. At this point, being three seasons in, do you have more creative involvement with the development of Hopper, because you've been in that character's head space for so long?
Yes. It's funny to answer this question because I do not want to take anything away from the genius of [Matt and Ross Duffer, the series' creators, writers and directors]. But I will say that we are very close. It's not a collaboration like I've had in the past where they are the creators and I am saying the lines as it's written. We're all buddies.Because the show is such a sandbox and we have the same aesthetic, we'll talk about old movies and what would be amazing to explore on the show. There are all sorts of fantasy worlds where it'll just become Hopper's life in New York as a cop or maybe knowing Frank Serpico in the '70s. There's so much carpet tapestry that we can pull from, but in general, I think the gestation of a lot of these ideas come from those conversations.
Even for this season, I remember presenting some ideas — and I've had some stupid ideas where they said that's terrible, like: "Wouldn't it be fun to do a summer season where we wear T-shirts and the kids are out of school and are maybe in camp?" I saw their eyes light up. I mean, there's an ending to this story, but it's how we get there is up for grabs. So, in that way, [the Duffer brothers] know me very well as an actor and a human being, and they are writing for the things they see me becoming and the things that they know about me very intimately.
At a certain level, there's some very funny stuff this season where they humiliate Hopper. In this season, a couple of guys kind of read Hopper in a certain way. They are reading Hopper, but they're also reading me.A lot of it has to deal with the Duffers knowing me. And there's a part of you that has pride in your character: "How could you let these guys say this about me?" However, because it's written so well and is so accurate about these things that are insecurities and are liabilities about me as a human being(and Hopper as a human being), it's almost liberating.
When you're coloring in those gray areas of your character, all those aspects of Hopper that aren't necessarily clear on the page, Have you had moments where your own ideas of where Hopper has come from and where he is going have aligned with what the Duffers came up with for the next installments?
I know there were certain things in Season 1 that I explored, and it became a reality. I came on when they had the first two episodes written. We had the pill-popping, drinking and Hopper being hungover, and he clearly had this history with Joyce where they dated in high school and hated each other. And he lost his child and divorced his wife. So, my thought was he should date young women and sleep around. So, they wrote that scene with the librarian. So, things like that where they do it unexpectedly, it's fun and interesting. We are aligned in that way.
In this season, there are things that are truly stunning and beautiful. To me, it's stunning what happens with all the characters, especially with Hopper. It's more than I could ever dream of for him. There's one episode, in particular, where all these things that I have wished for Hopper happen. You read the script and you can't help but say, "Yes!"
I wanted to draw attention to a particular line in season three, and it's also in the trailer. It's when Hopper tells Joyce, "It's important to me that you feel safe. I want you to feel like [Hawkins] can still be your home." Given the chaos of the entertainment business, how do you keep your sense of home?
"That's a good question. I was just thinking about that the other day. I think there are various versions of home. There's certainly the literal version, but there's also a relationship version and even an artistic version, or a career version. And I do think that I've struggled with that because I am nomadic. I've been a theater guy for a long time, and now I am being embraced by television and film, and there's an excitement to that because it's bigger and fancier. And there's a piece of me that feels a little lost in it as well where I miss my home. It's not so much literal home but getting back to why I'm in it and trying not to get lost in narcissism and self-importance that so often is a part of this business and cultural perception of the business. I didn't understand people and how to live in the world, and this gave me a way to feel like I have some understanding and power."
So, you feel most comfortable when you're working as opposed to the in-between moments?
"I do, yeah. But that work, too, is changing. Like I started to —"
Write a book, right?
"Yes. I'm writing a book. That's another thing: The work always has to explore people in some way. When it just becomes doing stuff because it's cool and you're doing it for fame, money or popularity, or whatever, I can get lost. I'm privy to that as well like I can get lost. It's not like I'm saying, 'I always know so I don't do those things.' I do, do those things and I get lost, and then I have to go back home."I could go deeper into this all day, but I wanted to talk about Hopper's look this season. How did you find that with your costume designer?
Oh, man. That was fun! It was a whole process. The idea comes out of something that happens in the show. The costume itself, we knew it was going to be based on Hopper trying to update himself in a certain way. At one point it had been leaning into more of an Indiana Jones aesthetic, or this or that, but ultimately, we settled with what's in the show. Magnum P.I. and all those '80s mustache detectives were such a product of the time. Television has such a power subliminally on how we dress and how we are. So, the great thing about that is I don't think Hopper even knows he looks like Magnum P.I. I think he just subconsciously thinks cool, and at the shop, he just picks something out like Miami Vice or Magnum P.I.
In the discussions of the costume design, we got down to that concept and — the line in the script is just, "Hopper is wearing blah blah blah." So, then, it's up to the Duffers, me and this great costume designer, Amy Parris. We came up with eight shirts ... and then there was the total hibiscus Magnum P.I. look. There were all these different versions.