Our language is full of axioms about boundaries and borders.
Good fences make good neighbors.
Keep it between the lines.
In her solo show at the UNT CoLab, Denton artist Tesa Morin sees the world — land, oceans, atmosphere and space — in pieces.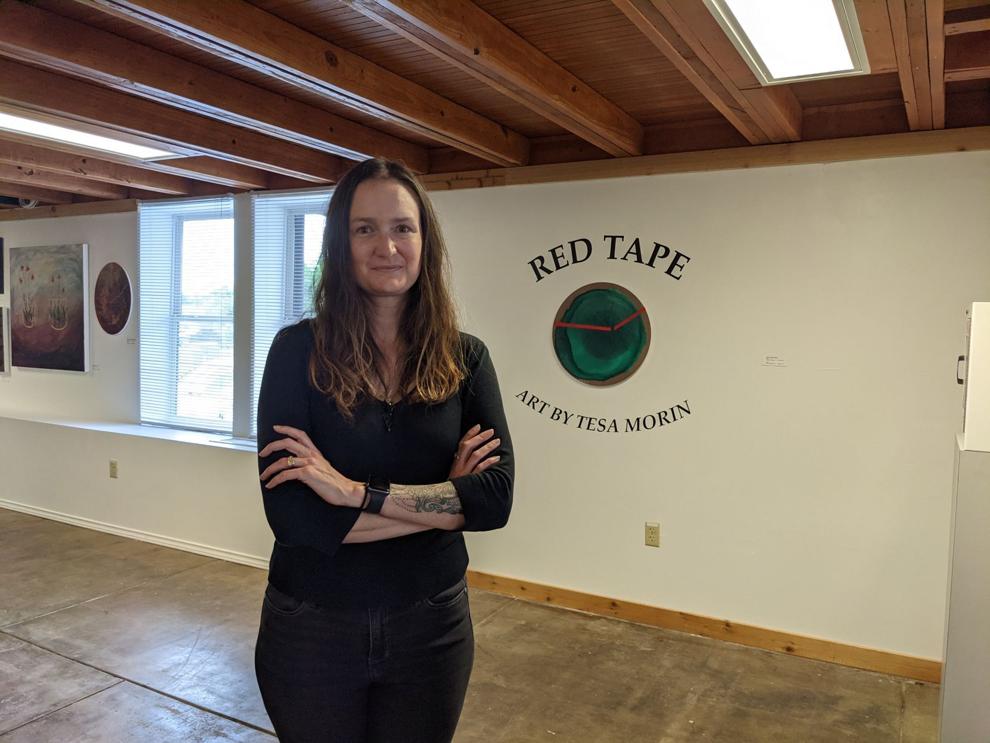 The series of acrylic paintings on canvas (and a half dozen photo prints) considers the world through the territorial eyes of humankind: as matter that can be divided up, protected and conserved, owned and blocked off and, somehow, managed on human terms.
Except, of course, when Mother Nature gets up from her corner and reminds people that power isn't always policy. Sometimes, it's fire and water.
"I like to get people thinking about their relationships to each other and the world," Morin said. "I never want to tell people what they need to be thinking or feeling. I'm a good [Unitarian Universalist]."
Morin is a member of the Denton Unitarian Universalist Fellowship, a liberal religious movement that doesn't prescribe a theology to its members, but asks them to respect the dignity of their neighbors as they seek truth and live ethically. In fact, she's comfortable with having her feet planted in disparate. She's a vegan Texan, a religious liberal and the daughter of an attorney who grew up to be an artist and a professor.
Morin started the series of paintings, prints and some fiber pieces in 2018, when the ongoing political struggle over the U.S.-Mexico border grew inflamed again.
Mending fences, breaking barriers: Artist muses consequences of lines in the sand
"The issues with the border started many administrations ago, it's not new, but it's something I've always been interested in," she said.
The art is a mix of the abstract and the real. In "Restricted Water," three black birds rest on a power line and another is aloft. What looks like a utility pole is actually the vapor trail of a missile throttling from the water. A piece of fabric bearing the pattern of a chain-link fence divides the painting. In "Padre," Morin lifts the black "tape" or boxes used to cover faces and nudity and imposes it over what looks like a breaking wave and a stormy sky. In the most overtly political piece, "Gerrymandering," a hand holding a blue cloth is stamped with red political districting lines.
Some pieces are especially metaphorical. In "Pearly Gates," a deep black background is broken up with a padlocked fence.
"This is just a Texas cattle fence," Morin said. "You see these everywhere in Texas. It's not that hard to get around these fences, but they're powerful, too. And we do this with heaven, too. We decide who's OK to come in and who's not. There's this ambiguous darkness. You don't know what's on the other side."
"Red Tape" also considers the absurdity of some of our barriers. One painting depicts a simple pole thrust into the sand on a Galveston beach.
"I wasn't sure what it was for, but I think it was to keep cars from a certain part of the beach," Morin said.
Ultimately, the exhibit is an exploration of boundaries in relationships as well, Morin said.
"Boundaries are supposed to be good for you, healthy," she said. "But they get crossed, and pushed and redrawn. Look at the #MeToo movement. People started talking about what is acceptable, and things that were once OK, well, now we know they aren't."