Opens Wednesday in theaters, followed by a Premium Video-On-Demand release on Dec. 25.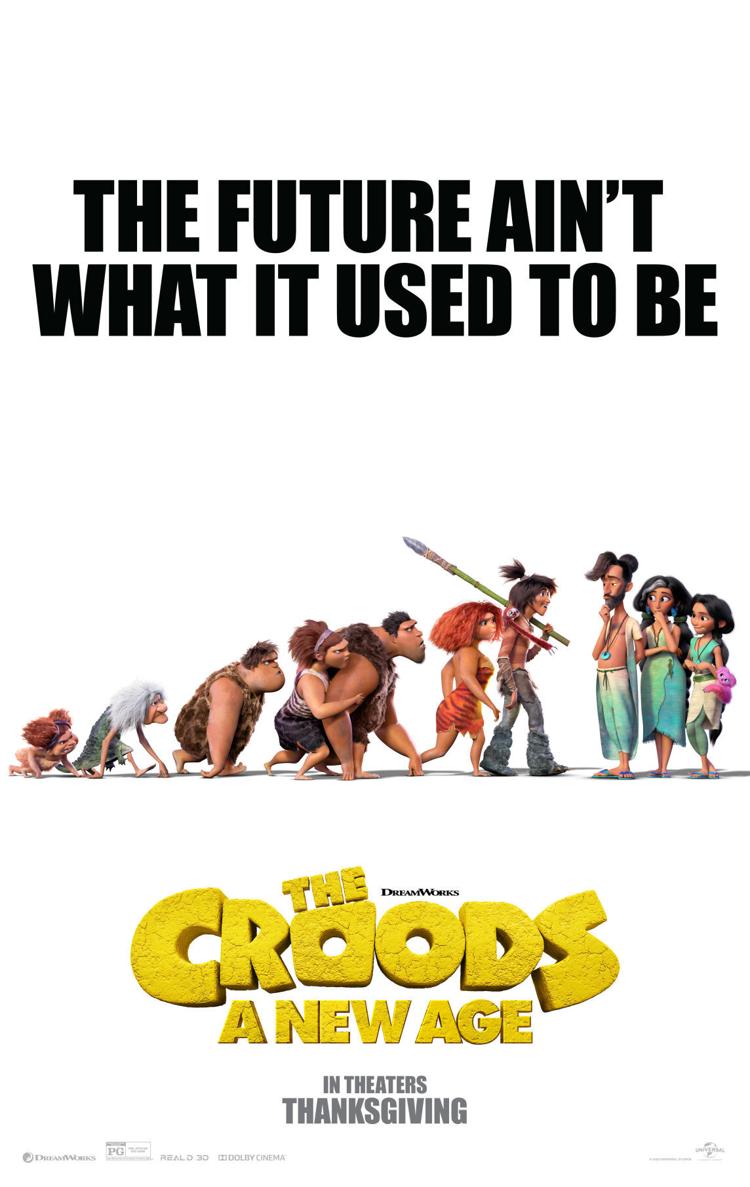 When Universal dropped the trailer for The Croods: A New Age — just days after announcing that the animated sequel would not open on December 23, but the day before Thanksgiving — it looked like a fine enough time. Some rough edges here and there called back to the overwhelming energy of Trolls: World Tour. However, I'd be lying if I didn't admit the trailer's humor wasn't also setting off my dad-joke radar.
Toss in some rich colors and an absolutely game vocal cast (including Emma Stone, Ryan Reynolds, Catherine Keener, and Nicolas Cage), and you're primed for an amusement park ride for families of all ages.
A New Age is a significant improvement upon the 2013 original and a strong contender for the funniest movie of the year. It manages to tell a heartwarming family tale about growth while expanding its colorful world and focusing on characters and relationships.
Directed with pizzazz by Joel Crawford, who makes his feature directing debut after years working as a story artist on various animation projects, the film grabs you as early as the action-packed opening sequence. Audiences are quickly reintroduced to the Croods, the last known family of cavemen (due to all their neighbors getting killed by illnesses, environmental hazards and predators).
They're in search of a safer place to call home and are continually dodging wacky-looking prehistoric creatures that could only spill from someone's imagination. The koala bat with red coconuts for a bum is a sight gag that made me laugh for a solid five minutes. The sheer absurdity of these animals is comedic brilliance at its finest, especially considering Crawford serenades these moments with tunes from The Partridge Family and Spandau Ballet.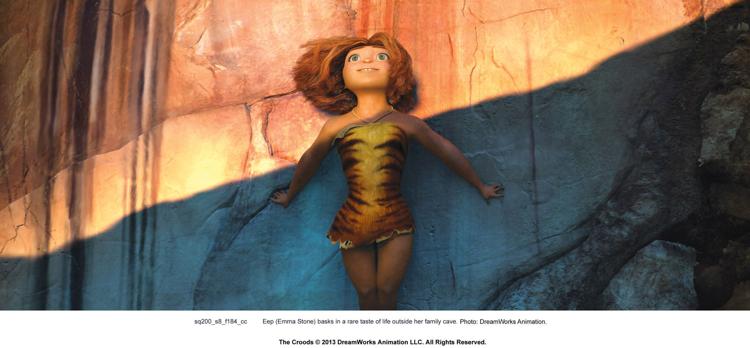 The central love story between characters Epp (Stone) and Guy (Reynolds) is nothing new from its view on paper. Dad, a.k.a. Grug (an exceptional Cage - although his character look doesn't match his energy), wants to keep his family together forever. He doesn't quite understand the meaning of privacy, which causes Guy to dream of a future that involves him and Epp having their own space in Tomorrow, a place in the world equivalent to The Land Before Time's Great Valley. The clashes between Guy and Grug carry over from the first film, but it's challenged even further when the Croods meet the Bettermans (emphasis on the "better") on the other side of a walled-in paradise. The wonderland is covered in fresh fruits, waterfalls, and scenic images fit for your desktop's wallpaper.
The Bettermans (voiced perfectly by Peter Dinklage, Leslie Mann and Kelly Marie Tran) run this secret garden of sorts with astonishing inventions — such as toilets, showers and an irrigation system. They are a few steps above the Croods on the evolutionary ladder, living in an elaborate treehouse that feels borrowed from the Ewoks on the Forest Moon of Endor. The Crood family are the first house guests that the Bettermans have ever had, so it's not long before they clash like classic neighbors.
All throughout, there are clever gags about how much in common our world has with this one. Instead of flat-screen television sets, the Bettermans introduce the caveman family to windows. The Crood family's son, Thunk (Clark Duke), becomes immediately addicted and wastes no time looking out of it to see surrounding animals as opposed to stepping outside the house to see them face to face. And the bits only get funnier as the movie moves along.
A New Age thrives on its ridiculousness. It doesn't hold back like its predecessor. Many of these great scenes involve the Crood's Gran (Cloris Leachman). If she's not giving Guy the most nightmare-inducing stares, she's sending her flying wig on adventures like it's a hawk sending messages. Someone thought of this stuff, and it's just 100 percent joy from start to finish.
The film borders on genius in the way it reworks the original characters, relationships, and themes as well as from a purely visual standpoint. The lighting and skin tones alone are gorgeous and lifelike. You'll especially get a kick out of how it pokes fun at parenting and the modern world at large. Those needle drops will give you something to snap your finger about, too.