If you've ever wanted to write a boxing movie, all you really need to do is open your film with a washed-up or down-and-out fighter who needs an apparent metaphor to show us how much they're willing to fight for in life. But make sure you end that first act with them taking a beating.
In the following segment, throw in a grizzled trainer to smooth and smear their lacerations and bruised ego with sage advice and motivating anecdotes. After that, add an extended montage with a blood-pumping song playing over it, and you're well on your way to vaulting the ropes for a big showdown.
All right. So, the boxing movie formula hasn't changed. So what? The concept of stepping into the ring to duke it out with an opponent is relatable, because we've all traded blows with life somehow and have been knocked down. Boxing movies motivate you and are inspiring. How they separate themselves from the pack is by making the fight outside the ring just as powerful as the fight inside it, and Creed II goes the distance in that regard.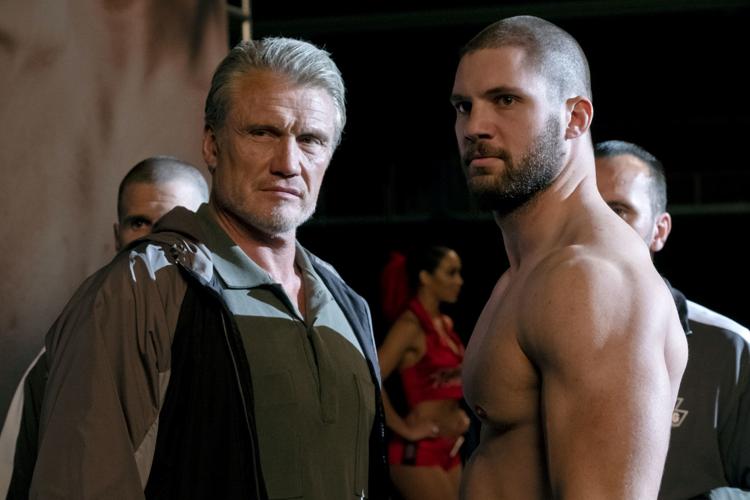 Creed II opens with a father and son training in the early morning. There's no dialogue, just ominous sounds as the camera slowly reveals the father to be Ivan Drago (a never-better Dolph Lundgren), the former boxer who mercilessly beat Rocky's friend Apollo Creed in 1985's Rocky IV. Rocky (Sylvester Stallone), of course, got his revenge and beat Ivan, but the pain still stings like a bee.
In Creed II, we're dealing with the aftermath of that situation over 30 years later: Apollo's son, Adonis Creed (Michael B. Jordan) is the reigning heavyweight champion of the world, and is preparing to propose to Bianca (Tessa Thompson), the beautiful singer with progressive hearing loss.
Still haunted by the absence of his father, Adonis accepts a grudge match by Ivan Drago's son, Viktor (Florian Munteanu), causing much turmoil from the characters.
Written by Stallone and Juel Taylor (known for his work on Date Night and The Back-Up Plan), Creed II improves upon the drama from the first Creed film and the Rocky movies. While it may adhere to the story structure of Rocky IV (and elements from other Rocky films), its true strength comes from the gut punches it delivers with its smaller-scale stories, such as the self-discovery journey of the characters and the fragile bond between fathers and sons.
In most boxing movies, the characters' intentions are pretty clear. You know who the hero is and who the villain is. The hero in this story is obviously Adonis, but the film surprisingly develops the other side as well. Taking a page out of the book of Warrior, you understand what's on the line for both the Creed and Drago families. For Ivan, he's been dealing with the shame of losing for his country (Russia) for the past three decades. His son, Viktor, was born, as Rocky says, in hate. You can feel Viktor so desperately wants to impress his father but also wants to fight his own battles.
On Creed's side, Adonis is entering a new stage of life when Bianca becomes pregnant with their first child. He questions, like any father, his ability to provide for his family. To add another layer of complexity, Adonis is fighting the family who killed his father. This brings up many emotions for him, emotions he doesn't know how to fully control. This complicates the relationship between Adonis and Bianca, his mother (Phylicia Rashad) and Rocky.
All this drama is more genuine than it's ever felt in the Rocky/Creed franchise. Try holding back the tears in some of the film's scenes, most notably one involving Adonis' newborn daughter. It's hard. They hurt. It surfaced a lot of my own inner struggles that I have dealt with as a father and human being.
Creed II has thunderous heart. It may dip into Hallmark card territory from time to time (principally in the middle), but the performances are electric and words of wisdom it passes along are applicable to anyone's life. Let the film knock you out and pick you back up.