If you grew up in the '90s, there's a pretty good chance filmmaker Brenda Chapman is responsible for many of your cinematic babysitters. She directed The Prince of Egypt and had a hand in creating the original Beauty and the Beast, The Lion King, The Little Mermaid, The Hunchback of Notre Dame, Who Framed Roger Rabbit and many more. Chapman also won an Oscar for her 2012 animated feature Brave, which she both co-directed and co-wrote.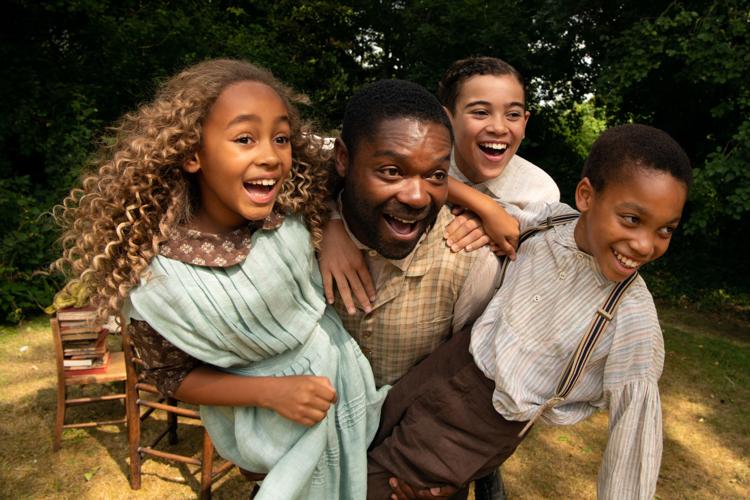 Now, Chapman is making her live-action directorial debut with Come Away, a dramatic adventure that serves as an escape for anyone facing any incredible obstacles in their lives. While certainly more mature in its tone, it's not too far out of the filmmaker's wheelhouse. It chronicles Peter Pan and Alice's adventures growing up as brother and sister before they experience the fairy tale worlds of Neverland and Wonderland.
Starring A-listers such as Angelina Jolie, David Oyelowo, Michael Caine, Gugu Mbatha-Raw, Anna Chancellor, and Derek Jacobi, Come Away is a family-friendly saga that also belongs to young actors Jordan A. Nash and Keira Chansa as Peter and Alice, respectively. And let's not forget young star Reece Yates, who portrays these iconic characters' older brother, David.
For those looking for a unique shake-up to the stories they love, Come Away is prepared to take you down a rabbit hole of wonder. Watch the film this weekend in select theaters or at home On Demand… Well, that is after you read through the conversation we had with director Brenda Chapman and actors Jordan A. Nash and Reece Yates.
In the below interview, the Denton Record-Chronicle discusses what keeps the talents' imaginations alive, who in their life tells them never to forget to dream, and what about this vision spoke to them.
Preston Barta: Come Away deals with some very real and mature themes about loss. This isn't new territory for you, but you have the space to dig into them more deeply. What specifically about this material spoke to you that made you want to leap into live-action for the first time as a director?
Brenda Chapman: "As you know, my career was in animation, and I'd never really thought about doing live-action. But I read [Marissa Kate Goodhill's] script, and because of the two worlds, Alice and Peter, I thought, 'Well, if I'm going to do one, this is the one to do.' But one of the things that really attracted me to it was the tragic aspect and how it affects the family. It's not something I got to explore in my animation background as deeply. The Lion King had some of that, but you had to get past it pretty quickly. To explore some of the darker sides of things, still try to maintain some joy and imagination, and tell this family story, it just all culminated into something that I was really excited to do."
'Come Away' - A fresh look at an old tale (or two)
I'm a very nostalgic person. When I was a kid, I wanted to grow up so badly. And now that I'm older, I think so much about my youth and how I wish I didn't take so many things for granted. Jordan and Reece, what are you most excited about, in terms of growing up, and what are you least excited about?
Reece Yates: "I'm excited about being responsible for everything I do, because there's a lot out there, and I just want to explore the world. Least excited? I wish to be young forever. It's so much easier. You don't have to do any of the washings. I don't have to pay taxes. I can just chill, really. All I've got to worry about is school, and I don't really have to worry about that much."
Jordan A. Nash: "For me, it's definitely driving. I've been carted for a good seven years. I've had a good experience. I'm excited to get on the road and start driving real cars. Maybe a Lamborghini or a Ferrari. And I'm least excited about being responsible. I'm not very responsible. My parents keep on telling me this and how I need to be responsible for my time management. You're this, and you're that. Because I'm young, I kind of get away with a lot."
Brenda, are you somebody who keeps in touch with your younger self? Does this relationship help inform a lot of the decisions that you make as a storyteller, either writing it down or visually?
Chapman: "Oh, definitely. I mean, I call upon my childhood imagination muscle all the time. That's what sort of drives my creativity, trying to stay in touch with that. It's been harder this last year, I have to say, but it is very much a part of who I am, a part of my career, and how I've managed to stay in touch with that aspect of the storytelling that I try to share with the world."
We're often told never to forget to dream. We need those reminders in life, especially as you get older, and you're experiencing more things. You can dismiss the simple things. Who in your life reminds you most never to stop dreaming?
Yates: "I'm a very, very creative person. I'm very artsy and stuff like that. It helps me to be a better person, to recognize what I'm doing and what I could improve on. All I want to do is help people, and I think my creativity helps that."
Nash: "I'd have to say my dad. We always have these visions and cool dreams of things that will happen in the future."
Chapman: "For me, it was my mother. She's passed on now, but she was a very creative person, and we played a lot of imagination games as I grew up. But now I'd have to say it's my husband, Kevin Lima. He's a filmmaker as well. When I start to go to that dark place, he always pulls me back out with a lot of fun. I've kept good, imaginative people in my life."
Was there an aspect beyond never forgetting to dream that you latched onto and carry with you now?
Chapman: "It was just watching how these kids related. I didn't give them a ton of direction. I would just let them go and let them use their imagination, taking into these characters what they did. And for me, that just underscored what I believed about the power of imagination, and how important it is for all of our lives to cope with the real world."
Yates: "Mine's probably to make sure everyone's OK. Because everyone has things going on in their life that they may not want to tell you about. Just checking up on someone can make someone feel so much better. And I think that's really important to keep in mind."
Nash: "It's an interesting question. I guess I've taken the experience away with me. I take all my experiences into new adventures."
As we wrap up, outside of the people in your life, what keeps your imagination most alive? Is there a particular work?
Yates: "Probably music. I'm really into music. The things people say can spark something inside you and have you wonder, 'Oh, what if this happened? I could do this and stuff like that, and I think it just makes me feel like I'm five again."
Did you listen to a lot of music on set?
Yates: "Yeah. I listen to music every time, before takes and after takes."
Chapman: "I think other storytellers, other creative people inspire me. The collaboration, but just reading a book that makes me get lost in it. That keeps me going, because I know, 'OK. There are more stories out there to tell, even though everybody says they're the same—they're not.' You have an individual's take on those stories, and I love that."
Nash: "For me, I think seeing people do the things they love motivates me."
Watch these imaginations run wild this weekend by catching Come Away, which is now playing in select theaters and available at home On Demand.