As tired as the world may be of superhero movies dominating Hollywood, I have to admit, a good chunk of them are pretty good. DC was in trouble there for a minute with Zack Snyder's staggered launch with Superman and Batman movies, but it's the B-squad of heroes who've put the DC name back in the spotlight.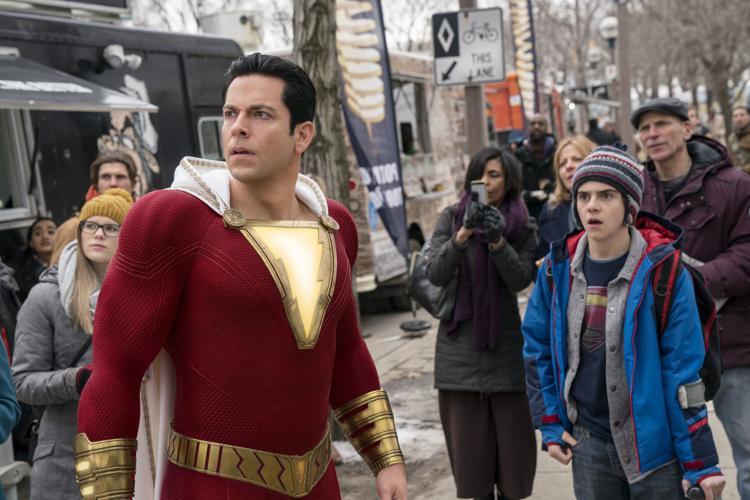 Shazam! is the latest thrill-and-laugh-a-minute superhero entry from Warner Bros. Pictures that manages to freshen the comic book adaptation pool and make you give a damn. As Aquaman also proved last year, if you take a little weirdness and smash it together with lovable characters and good laughs, you have a winning recipe. Shazam! is a delightful surprise.
Right out the gate, Shazam! gets goofy. There's Djimon Hounsou's white-bearded wizard character, and there are these CGI gargoyles that'll throw you for a loop at first. But then the narrative settles into more exciting and familiar territory. After an opening exposition dump, we jump into the world of 14-year-old Billy Batson (Asher Angel). He's an orphan who catches the eye of Hounsou's wizard character after an act of courage. The wizard grants Billy magical powers and tasks him with defending the Rock of Eternity, an enchanted region at nexus of space and time. Whenever Billy says the word "Shazam!," he transforms into Zachary Levi's beefy superhero character with abilities that are a marriage between the powers of the Flash and Superman.
There are friends (most notably Jack Dylan Grazer's Freddy Freeman, a wisecracking and clever boy who has a disability with his foot and spine), and there are foes (Mark Strong's Dr. Sivana, who's essentially an evil version of Shazam! but with a bald head, a crystal-clear eye and a coat that looks like he stole it from Michael Keaton in Spider-Man: Homecoming). It's all about maintaining the relationships that matter and defeating the bad guys who don't.
On 4K, Shazam! looks spectacular. The ultra HD picture quality punches up the colorful special effects and swooping camera tricks. Aside from a select few VFX moments (one scene involving smoke and gargoyles), this is one of the sharpest 4K movies of the year. The audio turns it up to 11 and stings with clarity. The 4K Ultra HD disc is the way to go.
Shazam! is a quirky and soulfully enchanting superhero tale of self-discovery. Elevated by Levi's spirited performance (who matches the energy of Tom Hanks' character in Big), the film has a quality that most superheroes don't: It doesn't take itself too seriously and just has fun.
Extras: The 4K Ultra HD and Blu-ray combo release includes more than 90 minutes of special features. Among the loaded extras are an exclusive motion comic ("Superhero Hooky"), alternate opening and ending, deleted scenes, a gag reel, audition footage, on set with Zachary Levi, and Shazam's backstory.
■
Fast Color (★★★★1/2) Speculative sci-fi doesn't always require exploding spaceships or superheroes duking it out with some six-eyed alien overlord. Some films use creative storytelling and complex characters to build immersive alternate realities. And although the new sci-fi drama Fast Color involves beautifully rendered visuals and supernatural elements akin to an X-Men movie, it's an intimate portrait of three generations of gifted women reconnecting and discovering truths about each other's abilities.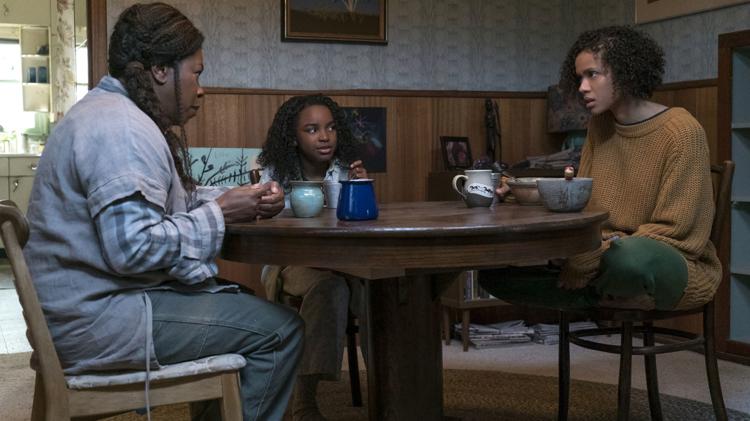 Co-written and directed by Julia Hart (Miss Stevens), Fast Color takes place in a parched America, wilted from eight years of drought. It follows a young woman named Ruth (Gugu Mbatha-Raw) who's on the run when mysterious forces discover her superhuman, elemental abilities. With nowhere else to flee, she returns to her family (Lorraine Toussaint and Saniyya Sidney), whom she abandoned long ago.
As layered as these characters are — with rich complexity, vulnerability and strength — when it comes to the supernatural moments of the film, they do not disappoint. To watch these characters have control of the elements of the world, including breaking down a glass bowl and a lighted cigarette to its elemental parts, looks like a moving work of art.
Fast Color delivers on all fronts. Hart skillfully builds a strong emotional core and draws a coherent world with convincing detail. And high praise for the knockout teamwork by the three leading performers. The film is excitingly laced with exceptional heart and touching gravity.
Rated PG-13, 100 minutes.
Extras: The Blu-ray/DVD combo release includes a making-of featurette and a beautiful audio commentary with writer-director Julia Hart and writer-producer Jordan Horowitz.
■
This Island Earth (★★★) Scream Factory will release older sci-fi movies from the 1940s and '50s every once in a while. They can be ridiculous when compared to today's standards, but if you can transport yourself back to the past and imagine what the film was like when it was released, you can find much joy in it.
1955's This Island Earth is a wonderful sci-fi treat. The story concerns a scientist (Rex Reason) who receives an unsolicited manual and some parts to build a futuristic two-way television. After creating the sophisticated machine, our central hero receives a broadcast from a fellow scientist (Jeff Morrow) who's an advanced being. What follows is a vivid exploration of alien culture and human compassion.
There's an undeniable comic book movie feel to This Island Earth. It has an atypical perspective of extraterrestrial lifeforms, which is far different from any of the other alien movies that came out in the early days of cinema. It has a lot of surprising intelligence and symbolic relevance. What makes it soar, however, is its edgy narrative and imaginative point of view and imagery.
Not rated, 86 minutes.
Extras: The Scream Factory Blu-ray release includes a beautiful 4K scan of the original film elements; a new audio commentary with author and visual effects artist Robert Skotak; a new interview with film historian David Schechter and filmmaker Luigi Cozzi; a terrific extended making-of documentary that features folks like director Joe Dante (Gremlins) chatting about the film's influence; a special called "Trailers From Hell" that features a commentary with Dante; a theatrical trailer and still galleries.
■
Also available this week on Blu-ray and DVD: The Baker's Wife (1938, a Criterion Collection release); Breakthrough; The Chill Factor (1993, an Arrow Video release); From the Earth to the Moon (1998); Hold Back the Dawn (1941, an Arrow Academy release); Moon (2009) on 4K; and Teen Spirit.