It's officially October, which means it's time to swap our face masks for that of Michael Myers (don't really do that), eat some candy, and watch some scary movies!
Whether you're braving theaters or enjoying the content on digital platforms, this week's releases have all the tricks and treats.
Save Yourselves! (★★★½) - We've seen our fair share of critters movies. You know the story: A family or couple unexpectedly confront merciless extraterrestrials that don't think, only snack. However, we have not seen one present such fleshed-out characters like this. It's as if a really solid indie romance and compelling sci-fi horror film collided and formed a giant ball of fun.
Cleverly penned and directed by real-life couple Alex Huston Fischer and Eleanor Wilson, Save Yourselves! features young couple Su and Jack (Sunita Mani and John Reynolds) as they seek a quick recess from their tech-driven lives to reconnect with one another. An opportunity arises when they run into an old friend (Ben Sinclair) who offers his upstate cabin for a week-long getaway. So, bye-bye, phones and email. Only… while they unplug, Earth falls under attack by an otherworldly species.
From the opening, it's quite apparent you're in for a laugh-a-thon as Su and Jack have a playful argument about using each other's computer and frustratingly closing out all the open tabs. Sprinkle moments of extreme relatability (including a cute love language and everyday bitterness) and mix it in with smart characters who don't insult the audience's intelligence and you've got yourself a sly wonder of a film.
Refreshing, sweet, and delightfully weird, Save Yourselves! will rescue from boredom and plant a lasting smile.
Critic's note: Maybe turn off your Google Home and Alexa devices during your viewing. They will sound off. Or, better yet, leave them on and have a good laugh like my wife and I did.
Opens Friday in select theaters in the Dallas area, including various Studio Movie Grills and the Alamo Drafthouse in Richardson and Lake Highlands. Releases October 6 on digital and physical disc.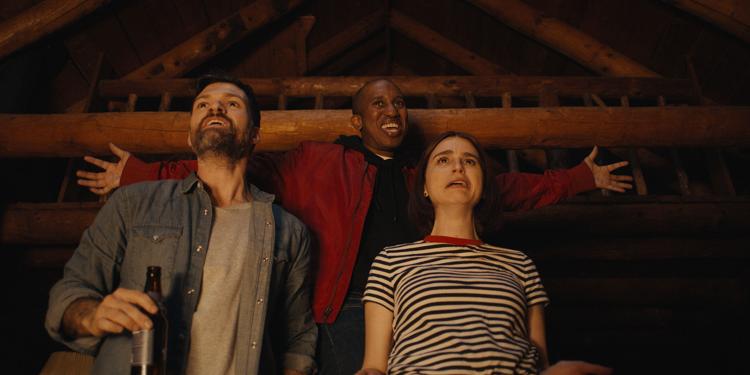 Scare Me (★★★) - Although tonally inconsistent, Shudder original film Scare Me is wonderfully zany.
The story concerns two neighboring vacationers and genre novelists (Aya Cash and writer-director Josh Ruben) who tell each other a series of scary stories. Imagine Are You Afraid of the Dark? or Goosebumps. Instead of the dramatized legs of a horror anthology, however, we get adult language and blood smeared across several amusing act-outs in a Catskills cabin. How the film experiments with sound, framing, and light is impressive and clever.
Admittedly, the first 15 minutes and conclusion fail to generate many sparks. Much comes off as forced or uninteresting. Once the characters embark on storytelling adventures, that's when Frankestein's Monster comes alive, so to speak. It's primarily the in-between moments that are dry. Fortunately, there's plenty attention paid to each character's tales and one funny stretch involving Saturday Night Live's Chris Redd as a pizza man.
Psst! Stay through some of the end credits. There's a moment that makes its ending slightly better.
Available to stream on Shudder today. 7-Day Free Trial, or plans starting at 4.75 per month. Cancel anytime. (Recommend watching The Host, too, if you're looking for something fresh, scary, and timely.)
Horror movie season has begun