Something that has always been admirable about boutique labels such as Kino Lorber and the Warner Archive Collection is how much access they give to explore a talent's filmography.
It's natural for us to watch one movie and like an actor or filmmaker's presence, wondering what else they've done. Kino Lorber dusts off old prints and restores them for a product at an affordable price. Although they may not be stacked with special features all the time, they focus on what matters, which is the film itself.
Not rated, about 551 minutes.
Available today on Blu-ray through Kino Lorber.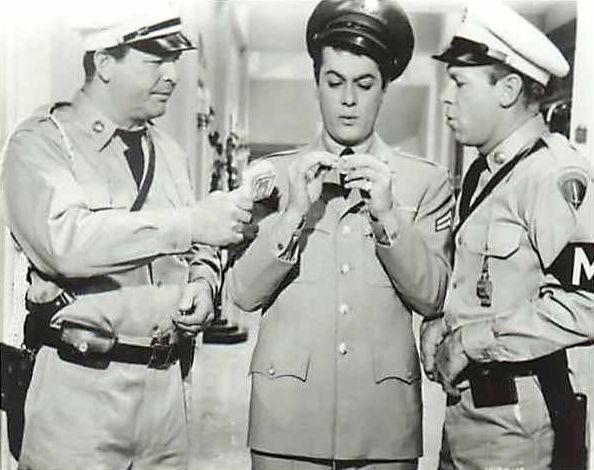 From dressing in drag to facing off against a Native American spirit within a tumor (the latter of which is genuine, and it's called The Manitou), Tony Curtis was a fearless performer. He overcame typecasting as the pretty boy and evolved into a rather serious actor, with a few splashes of ridiculous every now and then for good measure. He subdued addictions, married six times, and even painted. Curtis was a bit of an anomaly, but he produced good work that's worth celebrating. 
And Kino Lorber has packed three titles from his earlier years that showcase his strengths as an actor. Each of the titles gets its own Blu-ray case, and they are housed in a cardboard box set. The designs of the individual discs honor the original art of the films, while the slip box pays tribute to the talent with a strong image of Curtis' charm and a black background. (It looks like a Time-Life release.) 
The Perfect Furlough - The three-movie collection celebrates Curtis' career in a big, fun way with this frothy 1958 romantic comedy. There's nothing super meaty about it. It's just a cute fluff piece about a Don Juan type who schemes his way into a romantic getaway. The trip is part of a psychological experiment for military bachelors who are going stir crazy. So, one lucky guy receives a "perfect furlough," complete with exotic destinations and the company of a beautiful movie star.
The film plays like a decent sit found on the Turner Classic Movie channel. There's nothing too memorable about it, but there's a lot of charm and chemistry to soak up between the leads played by Curtis and Janet Leigh, who later married. Although there are elements that don't align with modern sensibilities, it's easy to slip into the understanding of the time and just roll with its silliness.
The Great Impostor - Next to Some Like It Hot, this 1960 comedic drama may be among Curtis' best work. It's the true story about Ferdinand Waldo DeMara Jr., a man who masqueraded as many people -- including a monk, a teacher, a surgeon, and a prison warden. It's not far from the lighthearted play of Steven Spielberg's Catch Me If You Can with Leonardo DiCaprio and Tom Hanks. The difference is that one con artist is driven by money and the other by curiosity. Robert Mulligan (director of To Kill a Mockingbird) skillfully captures the story and doesn't let it get too campy for those familiar with the true story. 
40 Pounds of Trouble - Here's another flick that may appeal to those familiar with movies released in the past 30 years. This heartfelt 1962 comedy concerns a casino manager who spends a day at Disneyland with an adorable but troublesome little girl (Claire Wilcox). Perhaps some babysitting will show this businessman the true value of life. (Think Big Daddy or Little Miss Marker.) 
It's a familiar plot that still unveils a few good lessons about what matters most in life. It also is a pleasant trip through the past, especially when it comes to seeing Disneyland circa the 1960s. It's aged reasonably well and is worth watching on a family movie night. 
Extras: The three Blu-ray collection (available for purchase through kinolorber.com) includes theatrical trailers and insightful audio commentaries by film historians on each disc.
Tender Mercies (★★★½) - For those who may not have seen Tender Mercies ahead of Crazy Heart or Country Strong, the 1983 drama may feel like tired territory. Just looking at it (trailer or cover image), you know what to expect. However, that said, it's the performances and the relatability that comes from the story of a broken musician trying to patch himself up and find redemption that gives it power. There are also plenty of moments that will stop you in your tracks, especially when Robert Duvall's character says that he runs away from happiness because it's always temporary. 
It's a quiet film, a subtle film. It runs an 89-minute journey filled with emotions and themes about forgiveness, doubt, and loss of faith that speak to the heart. It says a lot about missed opportunities and lost dreams, which is ideal nuggets of truth to chew on during stressful times like these. Practice self-care. It's important. 
Extras: The Kino Lorber Blu-ray includes an audio commentary by film critic and author Simon Abrams, a documentary that features interviews with the cast and crew, and a theatrical trailer.
Old Boyfriends (★★★½) - You know a movie is going to be interesting when it's written by Paul Schrader (Taxi Driver). Old Boyfriends is a strange drama that also happens to be smart and thought-provoking. It centers on Talia Shire's psychiatrist character, who, after her marriage falls apart, seeks out former lovers who left the most significant impact on her life. 
After a breakup, our minds go to some dark places. It can be a confusing time that can drive us mad or act in a way that feels so outside of ourselves. Schrader explores that realm with stinging authenticity. His film doesn't flow like a traditional Hollywood drama, which is why Schrader is one of the more compelling writers in the business. There are sharp shifts in tone and odd happenings throughout. 
Additionally, it gives us an incredible performance from Shire. She portrays that lost at sea theme well. Acting opposite talents like Richard Jordan, John Belushi and Keith Carradine, Shire's contributions capture the genuine complexity of being alive and human. We all make mistakes and do puzzling things, and Old Boyfriends uncovers a lot by making you feel uncomfortable and disturbing you. Buckle up. 
Extras: The Kino Lorber Blu-ray includes an audio commentary with director Joan Tewkesbury and filmmaker Douglas Hosdale, an audio commentary by film historian and critic Peter Tonguette, and trailers.
The Quest (★★★) - If you need something less heavy, this 1986 family adventure (also known as "Frog Dreaming") is a decent tale that spooks and sends the imagination running. It stars a young Henry Thomas, hot off E.T., as an inquisitive orphan living in rural Australia. He does all these fun experiments and inspires his town. One day, his creative mind finds himself caught up in the magic of a local Aboriginal myth that might be real.
The Quest is like Goonies-lite, but way weirder and more challenging to follow. However, it will still hold your attention through its setting, music, and the details picked up along the way. It all adds up to an Aussie adventure steeped in childlike wonder. 
Extras: The Kino Lorber Blu-ray includes an audio commentary by the filmmakers, a look back with star Henry Thomas and director Brian Trenchard-Smith, a retrospective featurette with co-stars Rachel Friend and Tamsin West, a shooting locations revisit, and the U.S. opening title and Australian theatrical trailer.
Lorenzo's Oil (★★★½) - I saved the heaviest for last. Directed by Mad Max's George Miller, this 1992 tearjerker is honestly one of the most depressing cinematic experiences I've ever had. It could be because I am a relatively new father. But honestly, anyone could watch this film about a family discovering their child has a terminal illness and feel it in their gut, mainly because the central parents (played by Nick Nolte and Susan Sarandon) never give up. It's a story of hope and turning misfortune into miracles. It's inspiring. (Watch the end credits.) 
Rated PG-13, 129 minutes. 
Extras: The Kino Lorber Blu-ray includes a theatrical trailer and an audio commentary by film historian and critic Peter Tonguette.