This month continues a look at books centered on World War II. Sept. 2 was the 75th anniversary of the end of this terrible war.
I have selected books that cover as wide a range of settings as I could find.
Local author Katherine Sharp Landdeck is a history professor at Texas Woman's University. She has written an authoritative and engaging book on the Women Airforce Service Pilots (WASP) that has garnered praise from everyday readers and scholars.
The Women With Silver Wings (Crown, 2020, 436 pages, $28) took flight with Landdeck's chance meeting with a WASP at an air show in 1993. The stories she heard led Landdeck to advanced degrees in history, decades of interviews with the women who formed this elite group as well as research into archives.
In the 1920s and '30s, airplanes were a novelty and people flocked to air shows and barnstorming events. Many paid to take a flight and some were hooked forever. Young women were drawn to the freedom it offered, and a pilot's license was not that difficult to obtain.
When it became obvious that the United States would enter World War II, every available pilot was in demand. Nancy Love and Jackie Cochran saw an opportunity for women to serve their country and each was responsible for a different part of what became WASP. Love ran the division that ferried planes around the country, and Cochran trained the pilots for the program.
The history is fraught with tension, as many men did not think women could or should fly, but the women persevered. The book relates both the personal lives of the pilots as well as their exploits in the air. Well worth the read! You can visit the WASP archives, as they reside at TWU and are fascinating.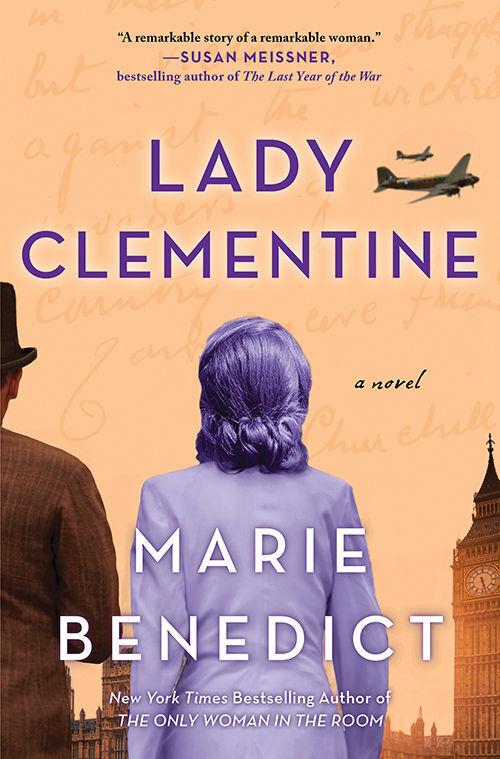 There are numerous tomes written about Winston Churchill, as one might imagine. Less is known about Lady Clementine (Marie Benedict, Sourcebooks Landmark, 2020, 322 pages, $26.99) whom he depended on for so many things, including political advice.
Author Marie Benedict is known for writing novels that shed light on lesser-known women who have had great influence on well-known men. Though this is a novel, it is based on extensive research, including the voluminous correspondence between Winston and Clemmie. They wrote each other several times a day, from the time they met until death, and their daughter, Mary, has organized the correspondence and made it available.
In Lady Clementine, written in first person, we learn about Clemmie's relationship with Winston, her views on politics and life, and her perceived failures as a mother. The early part of the book is written in the formal style of the early 20th century. Later chapters segue into more modern language structures. It is interesting to see the less heroic side of Winston Churchill, a true hero of Western society. Clementine does whinge a bit, but don't we all! I found it hard to put the book down, as it provides a window into a life I know little about.
As a child, Ariana Neumann longed to be a detective. As she matured, she discovered that the greatest mystery in her life was her father's life story. When Time Stopped (Ariana Neumann, Scribner, 2020, 321 pages, $28) is a fascinating memoir of her father and the journey over decades Ariana took to discover the answer.
Hans Neumann was a Czech entrepreneur who settled in Venezuela after World War II. His first venture was paint manufacturing, but he broadened into newspapers and was a patron of the arts. Fixated on time, he collected and restored watches as a hobby. But who was he before the war? He refused ever to discuss his past and even his second wife knew nothing about his time in Europe.
Upon his death, he left his daughter a box of documents and she spent years tracking their source. During this venture she learned she was Jewish, uncovered a family and friends she never knew existed, and learned of the horrors that befell them. She also was able to trace the events that changed her father from a rather feckless, carefree boy into a controlled and time-conscious man. The book presents rather a different take on World War II.
In a similar vein, Inge's War: A German Woman's Story of Family, Secrets, and Survival Under Hitler (Svenja O'Donnell, Viking, 2020, 303 pages, $27) is written by the subject's granddaughter, Svenja O'Donnell, an award-winning journalist and commentator from Europe.
Inge was a very reserved woman, "to whom criticism came more easily than praise." When O'Donnell was posted in Russia, she decided to visit Kaliningrad, which had been her great grandparent's home before the Russians claimed it after World War II. It was previously Konigsberg, an East Prussian city.
A call to her grandmother from there led to a decade of conversations with her grandmother, in which she hesitantly revealed bits and pieces of her history. With the tenacity of a reporter, O'Donnell uncovered much of a painful life that had been filled with love and loss, terror and hardship. It is revealing to see the hardships that native Germans underwent, but at no time does O'Donnell excuse their behavior preceding and during the war.
Toward the end of the book, she muses that perhaps her revelation of secrets should not have taken place, as they caused pain to her family. But in the true justification of a reporter, she feels it had to be done. This is an important book to read, in my estimation, because it does give us a different perspective of Europe during the war.
Though not a memoir, Ruth Behar's Letters From Cuba (Nancy Paulsen Books, 2020, 255 pages, $17.99) is a novel based on the real life of the author's grandmother. I chose this book to review because it reveals a little-known part of the history of World War II. During the 1920s and '30s, as some Jews were seeking refuge from the growing threat in Europe, Cuba initially welcomed them.
Esther's father immigrated to Cuba, but in three years there he has been able to scrape together only enough money to bring one member of his family over from Poland. Esther insists it be her, so she can help raise enough money to bring the whole family. Though only 12, she is a go-getter, and with her talent as a seamstress, she succeeds. It is obvious she loves Cuba. She makes many friends and revels in the openness and diversity.
The story is written in the form of letters to Esther's sister. She writes them in an account book so she can share them when Malka arrives. The book is both multigenerational and multicultural. It balances the fear of the growing Nazi power in Europe and its burgeoning start in Cuba with the joy of life in Cuba.
I do have a minor quibble. There is no nuance in Letters From Cuba. Everyone is wonderful, caring and generous, or an evil Nazi follower. But it is a warm story with a setting unusual for a World War II story. In a note from the author, we learn a bit about the real Esther and her life in Cuba and the United States.
The most unique book I read was On the Horizon: World War II Reflections (Lois Lowry, Houghton Mifflin Harcourt, 2020, 75 pages, $16.99). Author Lois Lowry has won the Newbery Award for two of her books and has books that range from humor to dystopia. In an interview for Time magazine she remarks on her choice of verse for this book. "When I sat down to write about the things in the book, they sort of floated up in my imagination in various images and fragments. It just happened, as if the book told me to write it that way."
Lowry lived in Hawaii just before the war and in Japan just after the war. Her reflections in the first two sections focus on individuals whose lives were lost or forever changed by the bombing of Pearl Harbor and Hiroshima. The sailors on the Arizona who lost their lives and those who survived, as well as their families, become more than just names in these poems. For Hiroshima, Lowry writes about children and their toys. The third section is more personal: her life in Japan after the war and returning as an adult.
This poignant, slim book eschews any glorification of war and personalizes the losses on both sides. We all lose in a war.
The following three books are slightly older, so I am giving mini-reviews. Voices From the Second World War: Stories of War as Told to Children of Today (Candlewick Press, 2018, 300 pages, $24.99) is a compilation of memories written for the award-winning children's newspaper First News. Some of the youngsters who interviewed the survivors are pictured with a statement about their essay. The topics range from the beginning of the war, tales of the home front, women at war, the fall of Germany and then Japan, and the Holocaust. A bit is told about each contributor and the book is rife with photos, both personal and historic.
Newbery Honor Book winner Kathryn Lasky has given us an unusual setting as she writes about Night Witches (Scholastic, 2017, 211 pages, $17.99), the women pilots who flew flimsy biplanes into the teeth of the Nazi invasion of Russia. Like a small dog snapping at the heels of a predator, they helped drive the Nazis out of their country. I had never heard of the 588th Regiment but found myself cheering for them. The feisty protagonist, Valya, moves from her bombed-out home, to an anti-aircraft battery blowing up panzers, to the skies over Russia.
Another event I had never heard of is revealed in Thirty Minutes Over Oregon: A Japanese Pilot's World War II Story (Marc Tyler Nobleman, illustrated by Melissa Iwai, Clarion Books, 2018, 40 pages, $17.99). On Sept. 9, 1942, Nobuo Fujita was catapulted from a Japanese submarine. His mission was to drop a bomb in a wooded area of Oregon to start a fire. Twenty days later he made another run, both unsuccessful because of the damp ground. In 1962 he was invited to Brookings, Oregon, to attend residents' Memorial Day Festival. The story of reconciliation is quite moving.
You will find these books and more in the Denton Public Library. Our local Barnes & Noble will have a display of many of these books. Stop by and peruse and possibly purchase.