This column focuses on the second portion of the summer reading program for Texas, "Tails and Tales." The following are tales from many cultures, mainly for adults and young adults.
I am always drawn to Arthurian legends, and Signe Pike is creating a trilogy based on recent research that leads many to believe that they can be traced to Scotland as the setting. The Forgotten Kingdom (Signe Pike, Atria Books, 2020, 475 pages, $28) is the sequel to The Lost Queen (which has been optioned by Made Up Stories for a television adaptation.)
The book is told from three viewpoints. Lailoken, otherwise known as Merlin, tries to keep the peace among the clans as he also is in search for his niece, who was captured in a battle. Languoreth, his twin sister, is a queen-in-waiting, enmeshed in the political battles of warring clans. Angharad is Languoreth's daughter, a seer in training to be a Wisdom Keeper, and a pawn in the battles.
It is a story of love, betrayal, war, and a clash of cultures. Set in AD 573, the Angles  are invading and the question is whether the many clans, including the Britons and the Picts will come together to preserve their lands and culture. The book is based in fact, as history records Queen Languoreth as a powerful queen, and that the man who became known as Merlin was her twin brother.
Mythology from around the world is presented in a unique format in Magical Creatures and Mythical Beasts (Professor Byron and Millie Mortimer, illustrated by Victo Ngai, Abrams, 2020, 40 pages, $29.99). Each double page spread gives the name of the beast and the country where it is believed to exist, along with information about the beast. The professor and his daughter visit each country and share their adventure with the reader. What makes it special is a flashlight packaged with the book. When you shine it on the pages in the dark the beast appears on the pages. What fun for readers of all ages. I loved the book, as did my daughter and granddaughters!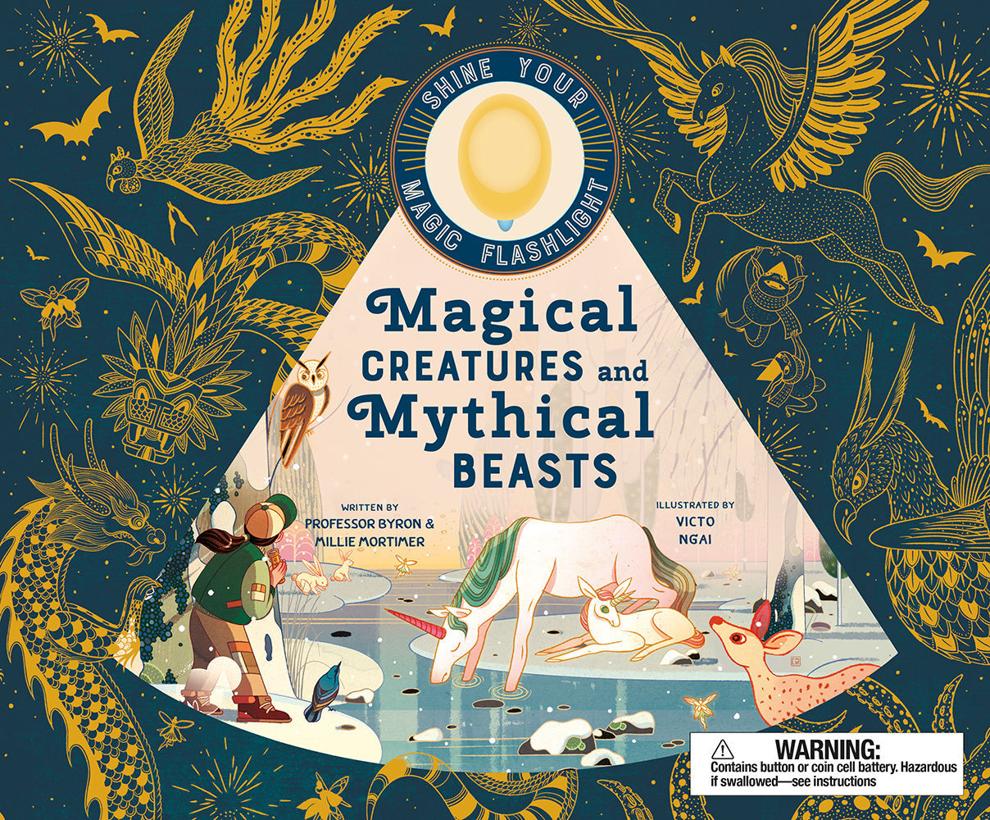 The ancient poetic and prose eddas of Norse mythology are the stuff from which The Witch's Heart (Genevieve Gornichec, Ace, 2021, 359 pages, $26) finds its characters. Gulleveig was a witch who knew "seid," a magic that allowed her to divine the future. Odin tried to force her to reveal what she knew to him, and because of her refusal, she was burned to death three times.
Returning the third time without her heart, Gulleveig flees to the Ironwood where she adopts the name Angrboda. Loki appears with her physical heart and proceeds to capture her emotional heart, resulting in marriage. Their three children are instrumental in the fight between the gods and mortals, leading to a new world. This is a powerful debut novel. It has all the elements of a drama: love and hate, family and rivalry, plenty and want, and power and subservience.
Set in ancient Greece, when worship of the gods was an everyday occurrence in the lives of the mortals, Hermes describes the two main characters as a girl as precious as amber and a boy as common as clay. Amber & Clay (Laura Amy Schlitz, illustrated by Julia Iredale, Candlewick Press, 2021, 532 pages, $22.99) reveals how fraught the world was in the time of Sokrates (yes, he is a character, too).
A constant threat of war prevailed, women were lacking any rights, and slavery was rife. Melisto is a girl of privilege, but her life is still not easy. She is destined to serve Artemis and then be given in early marriage. Rhaskos has several names throughout the book, each given to him by succeeding owners. How do they come to interact? Well, you will have to read to find out. The book is presented in both prose and poetry. Rhasko's story is told in verse, as are the comments of the gods, who act as interlocutors. The rest is presented in prose. An additional element is the clever inclusion of drawings of artifacts from the time that set the stage for the upcoming chapter. The book is engrossing and I actually read the 500-plus pages in one day.
The Greek gods were notorious for their fierce and vengeful natures and that has carried over to a tale that mixes mythology and modern-day life in New York City. Lore (Alexandra Braken, Hyperion, 2021, 466 pages, $18.99) is 17 and last of the line of the House of Perseus. She wants nothing to do with the Agon, a bloody and lethal battle that occurs for seven days every seven years. The gods become mortal for one week, and if a mortal kills him/her, they become that god — with all its power — to benefit the House.
How Lore is drawn into the battle is a complex and intriguing tale. I truly do not like violence, but I could not put this book down. Just as you think the story is going along one line, a twist occurs that leaves you gasping. I don't want to reveal much, but take my word for it, this is a page turner.
Occasionally I have to ponder about how to review a book that is truly unique. In a debut novel, Hollow Chest (Brita Sandstrom, Walden Pond Press, 2021, 337 pages, $16.99) tackles the complexities of what today is called PTSD, and how it affects whole families and those who surround them.
World War II is almost over and Theo will be coming home. His younger brother, Charlie, who has been taking care of his family, wants everything to be just as it was when Theo left. But Theo is not the same person. Charlie comes to realize that the war wolves have eaten Theo's heart, and he is determined to get it back. This stunning modern folktale is a story of love, determination, and acceptance. The characters are finely drawn and one is compelled to keep reading late into the night.
All cultures have a creation tale, and in this Navajo tale we are currently in the Fourth World. Healer of the Water Monster (Brian Young, Heartdrum, 2021, 362 pages, $16.99) introduces us to Nathan, a Navajo boy whose family has multiple problems. He feels sad and conflicted, and pretty worthless. His decision to spend the summer on the reservation with his grandmother leads to a quest to help the Navajo Holy Beings and his family.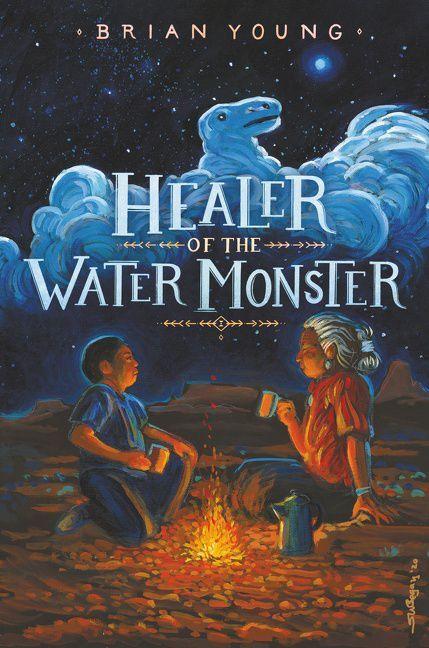 Nathan gets lost in the desert and encounters a water monster, a being from the Third World. It is sick and needs help to bring water back to the desert. How Nathan spans both worlds and manages to find himself is an engaging tale. The book includes many Navajo words and there is a glossary for the interested reader. The author also tells the reader his purpose for writing the book.
When You Trap a Tiger (Tae Keller, Random House, 2020, 297 pages, $16.99) is the winner of the Newbery Award for 2021. It is an unusual tale of two of the classic questions of youth: "Who am I? What is my place in the world?" Lily is the docile sister in a bi-racial family. When she moves with her mother and sister from sunny California to rainy Oregon to live with her Korean grandmother, she faces a challenge to self as well as place.
As they approach her grandmother's home, Lily sees a tiger in the road, which no one else sees. She shares this with her grandmother, who has always told her Korean tales of the powerful tiger. As Lily faces the tiger, and her grandmother's ill health, she undergoes a serious change in attitude and her view of life.
Native tribal members across the nation gather for an intertribal powwow. The stories and poems collected in Ancestor Approved: Intertribal Stories for Kids (Edited by Cynthia Leitch, Heartdrum, 2021, 312 pages, $16.99) are those that might be told during this event. All of the contributors are Native Americans.
Check the Denton Public Libraries for these books and more. Our local Barnes & Noble will have a display of some of these books and others related to the theme, as will our new bookstore in Denton — Patchouli Joe's.