In January, my daughter Sara Armstrong and I had the pleasure of attending the Dallas Museum of Art's Arts & Letters Live program with the author Brad Meltzer. We left reveling in how wildly talented and entertaining he is.
This entire column is given to his works, because I want to share the many aspects of his talent.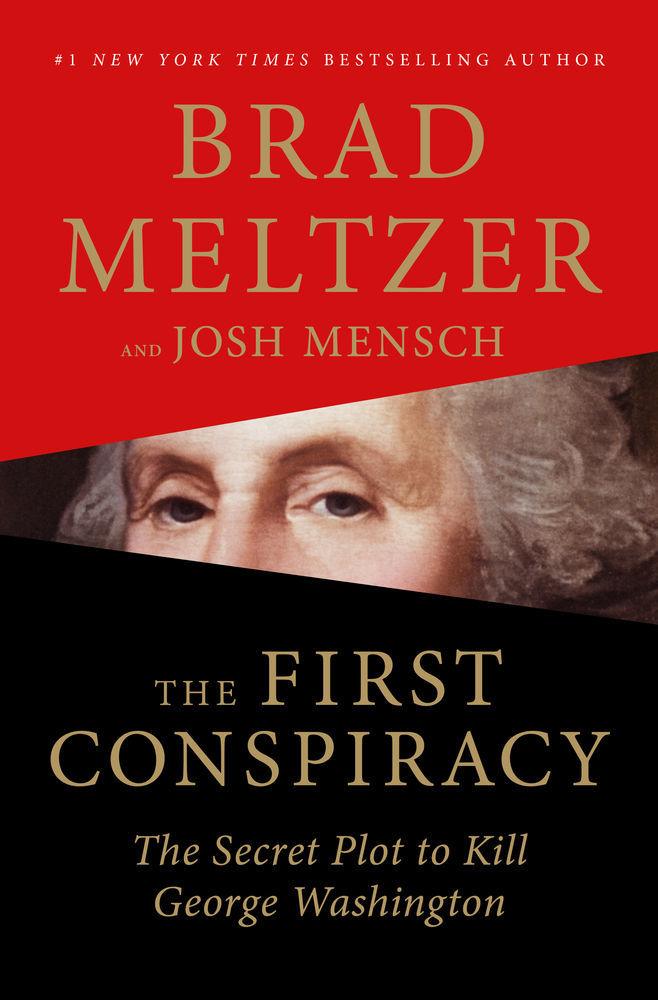 The program featured his nonfiction book The First Conspiracy: The Secret Plot to Kill George Washington (Brad Meltzer and Josh Mensch, Flatiron Books, 2019, 413 pages, $29.99). What was a footnote in history receives an in-depth, heavily researched treatment that reads like one of Meltzer's thrillers. The formation of the Continental Army, the shifting alliances, the treachery from without and within those known as Patriots, all combine for a fascinating reading experience.
One outcome of this plot to murder Washington is that the first president becomes convinced of the necessity of creating a clandestine service of spies and double agents. And Washington becomes their spymaster. The Culper Ring developed methods that are still in use by the CIA today.
Meltzer's thrillers are always complex, with memorable characters and historical references woven into a modern setting. The Escape Artist (Meltzer, Grand Central Publishing, 2018, 416 pages, $28) has a title with two references: Nola Brown, the main character, is the U.S. Army's artist-in-residence, going into battle to make art of the battle and its aftermath. She's tasked with capturing things that otherwise would be missed.
The second reference in the title is none other than Harry Houdini and his legacy as it relates to a centuries-old conspiracy. Nola is supposed to be dead, killed in a plane crash. But Zig, who works at Dover Air Force Base, preparing the bodies of our fallen service men and women, discovers otherwise. How their lives are entwined and how Nola survives those who want her dead will keep the reader turning pages late into the night.
Ah! If only my mother had not thrown out my comic book collection after I went off to college, I would be a rich woman today. But in a conversation with Tim Stoltzfus, owner of More Fun Comics & Games on the downtown Denton Square, I was assured that the reason the comics of the 1940s and '50s are so valuable is that most of them got thrown out.
His store opened on Fry Street and then moved to the Square, to attract more walk-in traffic. Tim's goal is for his store to have something for everyone at every age. Stop by, as I did, and see what reaches out to you.
I purchased Justice League of America: The Lightning Saga (Meltzer and Geoff Johns, DC Comics, 2008, 212 pages, $24.99). Yes, Meltzer also writes comic books. Rather than single comics, this book contains a story arc of the multiple heroes of the Justice League. Muscular men and buxom women, all in their iconic costumes, fight together (and sometimes each other) to see that justice is done. Tim also informed me that Meltzer's Identity Crisis, published in 2004, is still one of his best sellers.
When Meltzer had children, he decided he wanted them to have heroes who were more substantial than the ephemeral lightweights to be found on modern technology. He created Heroes for My Daughter (Meltzer, HarperCollins Publishers, 2012, 123 pages, $17.99), a compilation of two-page essays about people who range across centuries and careers. The first page of each essay is a picture of the subject, what they are best known for, and a one-sentence commentary. The second page is an essay that captures the essence of the subject and a related quote.
Some of my favorites are Helen Keller, Carol Burnett, Eleanor Roosevelt, Dolly Parton, Sally Ride, Rosa Parks and Benjamin Franklin. I also like that the last three essays are about his grandmother, mother and wife. The essays can be read in any order and as many or as few at a time as the reader desires. Meltzer also wrote Heroes for My Son.
Moving on to younger readers, many of the people found in his books about heroes have been given a more extensive treatment in his series Ordinary People Change the World. Each title begins with "I am" and then the person's name. Teaming with the artist Christopher Eliopoulos, the books use a cartoon format to present a role model for kids. Fourth graders on up will be attracted to the accessible information.
I had a conversation recently with a middle school teacher and he likes the Ordinary People books so much he is trying to get an entire collection for his classroom. He said that the cartoon format appeals to his readers of all abilities, but that the ones who have reading difficulties find them to be particularly wonderful.
The latest entrant in this series is I Am Billie Jean King (Meltzer, illustrated by Christopher Eliopoulos, Dial Books for Young Readers, 2019, 40 pages, $15.99). It is obvious that he worked closely with Billie Jean (I dare the familiar because she has been a hero of mine for decades, fighting for women's rights as I have), and we follow her life from a very early age, when she loved all sports, and through her tennis career. An emphasis is on the famous Battle of the Sexes, when she humiliated Bobby Riggs in a match he expected to win easily. She changed the world of tennis and of women's sports in general. Her philosophy is summed up in the last sentence of the book, "I am Billie Jean King, and I champion equality." Some of the other people in the series are Abraham Lincoln, Amelia Earhart, Gandhi and Sonia Sotomayor.
Now, for the very youngest, Meltzer is creating baby board books. I have not seen these yet, but they are coming out this summer with two titles: I Am Unstoppable (about Amelia Earhart) and I Am Kind (Abraham Lincoln). I look forward to seeing them.
I know my column is about books, but I must mention Meltzer's TV programs. Decoded is a history series in which Meltzer follows a team of investigators as they study secret historical symbols and codes that surround us. Lost History is an exploration of items that have been lost to us and why they are important. One outcome of this program is that the original patent for the Wright Brothers' flying machine has been located. And most recently, the flag that was raised at Ground Zero over the wreckage on 9/11 has been located and now resides in a museum.
Go to Meltzer's website at bradmeltzer.com and you can view the short speech he gave at the revealing of the flag. One comment stands out to me, and reflects most of his writing: "No one is born a hero. A need presents itself and heroes see the need and step forward."
You will find many of these books and more at the Denton Public Library. Our local Barnes & Noble store has created a display of these books, so stop by and peruse.
For those of you who are members of a book club, I would love to hear from you as to the best one or two books you have read this year. Please tell me the name of your club and provide the author and title of the books.