The Denton Benefit League had to cancel its annual charity ball, perhaps the longest-running formal event in Denton.
The fundraiser met the same fate as spring festivals: The coronavirus pandemic made mass gatherings a no-go.
But the nonprofit group, which raises money for other Denton County nonprofits through a longstanding grant program, has the green light for its new fall fundraiser called "Sip and Shop." From 5-9 p.m. Thursday, more than 30 vendors will spread out at Monroe Pearson, a downtown Denton event venue, for a one-day sale of handmade goods.
"We planned a new event for the COVID year, as it turned out," said Kimberly Crain, the eighth vice president of special events and projects. "We'll still try it. We wanted to push forward. It's more than the fundraising, though. We're human. We crave interaction. We're trying to be an outlet for people who are ready to get out and do some things, but we want to give people a chance to do that safely."
The sale is a ticketed event. Admission is $20 per person online and at the door on Thursday. Then shoppers can browse vendor booths for handmade goods.
"We figured that since The DIME Store isn't having its annual Handmade Harvest, this could sort of stand-in for that event," said Darien Orr, a member of the Sip and Shop committee.
An example of some of the vendors: Diane Barns Pottery, LJ Artesian Designs, Brigid Brammer Bags, Susie's Snack Shop pet treats, Solasta Stained Glass and a host of visual artists, including Chris Chappell.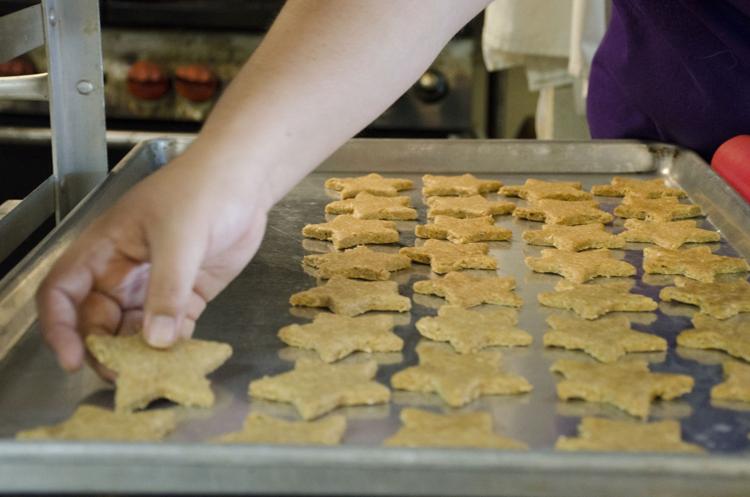 Crain said she and league president Laura Brewer had been brainstorming a new event. The league has innovated over the years, hosting teas, bourbon tasting events and even a few seasons of table setting exhibits.
"Laura and I sat down this time last year," she said. "We were just talking, getting the wheels turning, and this idea came up. We started keeping an eye out for local vendors and things like that. March hit, then we really had to start talking about 'Are we really going to do it?'"
Orr said that as restrictions on mass gatherings were lifted, she polled local makers.
"We asked vendors from the Denton Community Market, and I contacted about five of them to get a feel. Five for five said yes, they would be interested in participating," Orr said. "We decided to move forward with it.
The Denton Benefit League will raise money through ticket sales, and makers will make money from their sales.
The league shopped venues all over the city. Monroe Pearson, which is chiefly a wedding ceremony and reception venue, fit the bill. Under official orders to open at 50% capacity, Crain said, the league can give the vendors plenty of space and still safely accommodate shoppers. Guests and vendors are asked to wear masks.
Admission includes one drink ticket and one raffle ticket. There will be a red wine and a white wine to sample, and Monroe Pearson will serve a signature cocktail. Drinks will be sold for shoppers who want to sample more than one drink, and food trucks will be parked nearby for those who want to grab dinner.
"I think it's a great way for people to get out and enjoy people," Crain said.
"And the vendors have been hurt by COVID," Orr said. "We are raising money for the grants, but we are also giving vendors an opportunity to showcase their talent and support their households, too."
In addition to giving grants, the league also provides hundreds of hours of volunteer service to nonprofits.
Monroe Pearson is located at 421 E. Hickory St.