Musician James Hood said there's something about a planetarium that makes you feel like you're in a cathedral.
Maybe it's the soaring, domed screens that double as the ceiling or the way the audience sits back and looks up — way up over their heads.
"It's all about the context, really," Hood said from his home in Los Angeles. "Whenever anyone walks into a planetarium, even if there's nothing on the screens. It's got the same feeling as walking into a church or an old town hall in an old city. It's almost a sacred place. It's awe-inspiring and I've always loved planetariums."
Hood's latest creation, an immersive experience titled Mesmerica 360, is coming to Denton, at the University of North Texas Sky Theater. The show, which clocks in at about an hour, drenches the audience with vivid animations that are synchronized to music Hood wrote and recorded on a peculiar instrument called the handpan.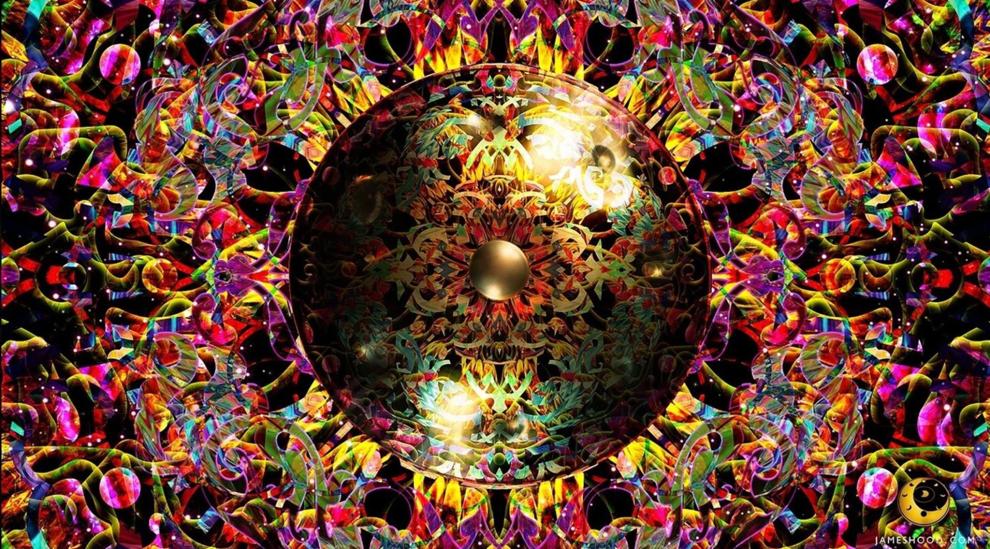 Hood, a drummer and electronic artist, came to Los Angeles from England. He was a sessions musician in London and spent time playing with rock bands — most notably the Pretenders — before moving to the States and starting his own songwriting career.
In Mesmerica 360, Hood said he wanted to make something that could make people feel like they were in the middle of something transcendent.
"My own mind is very — it darts around a lot. I think most of us wish many times that we could stop the incessant chatter and sort of shame-based thoughts running around in our heads," Hood said. "And what I noticed was that when I was in a planetarium, there was far too much to notice for the mind. And what happens is after a few minutes, the conscious mind — that is, the part that making all the incessant chatter in your head starts to switch off. What I felt was happening was that ... I was putting myself in a situation where I was meditating, and I don't know how to meditate."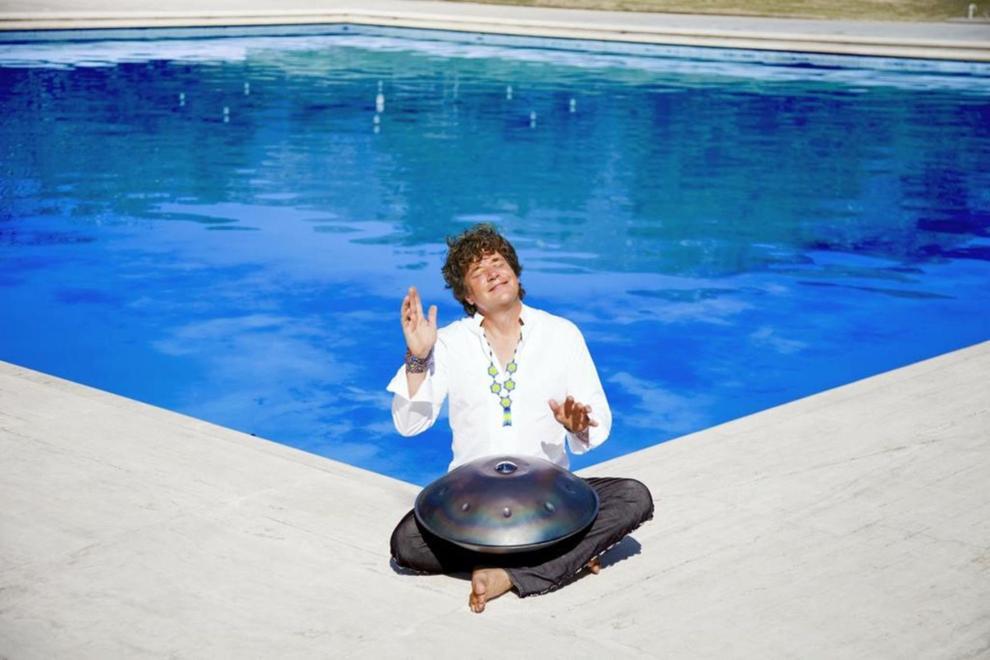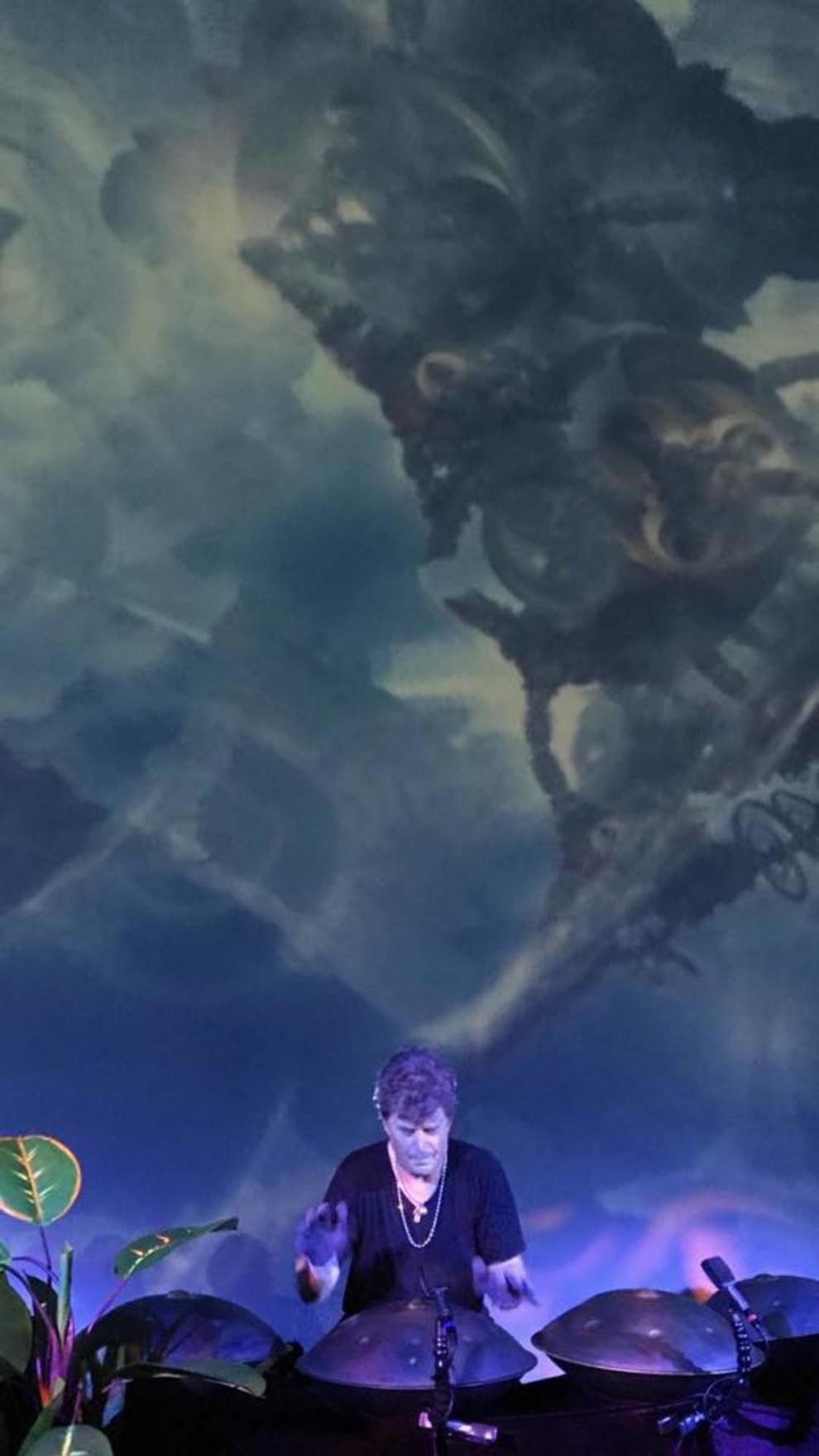 For Hood, the combination of gorgeous music and beautiful colors flood the senses and overwhelm the brain with sensation. And the instrument he came to play — the handpan — was just the instrument to deliver the sonic effects he was after in this project. The handpan is a Swiss invention — it looks like two woks welded together. Two metal shells are bonded together, and like Caribbean steel drums, the handpan drum has tone fields. Hood dons gloves to play the handpan drum, and when he strikes a tone field, he said it sounds like a piano.
When it came to the visuals, Hood was already interested in how visual experiences can overload the senses, but produce calm instead of agitation. ("When you look at a baby, you don't see judgment in their eyes. You just see awe," Hood said. "It's like a sunset. You can't criticize the sun.") He was compelled to merge the beauty of intentional, mood-altering sound and the beauty of color, shape and movement. Hood said if there were a way to add scent to the show, he would, to harness the power of smell and memory. But there's not a handy technology for that just yet.
When it comes to talking about his project, Hood stopped short of explaining the immersion. He eschews personal dogmas and prescriptions about what an audience should make of his work. Hood doesn't agonize over the meaning of transcendent experiences, he said. He figures we're supposed to muddle through mystery without having all the answers. Mesmerica 360 has no narrative. There are patterns and archetypes and colors, but Hood said the idea is to let people get out of their heads and get (as the title suggests) mesmerized.
"I'm not telling you what this means ..." he said. "One person has more processing power in their mind than anything on the entire planet. If that doesn't make you stop and say 'wow,' then I'm not sure what will. What I'm not doing is I'm not saying, 'Well, what does that mean?' Because that's not my job. I'm not a spiritual teacher. I'm a musician that's pretty good at creating a fertile environment for someone to have an inner experience of their own making and under their own control."
Hood is mum on his own beliefs, or even if he's spiritual. He doesn't want his experiences, tastes or beliefs to influence the audience. When he created Mesmerica, Hood wanted to make art that could make anyone feel awe, whether they're an atheist or a devoted adherent of any religion. The music might give some people the feeling of an Eastern aesthetic, but Hood peppers the score with vocals and rhythms that keep the show from feeling too specific.
Mesmerica was born in San Diego and Los Angeles, and Hood partnered with Vortex Immersion Media to create visuals that create the sensation of motion and energy in audiences. When animations or images are zooming out, Hood said the audience feels as if the visual are soaring upward. And when the visuals zoom in, the audience has the feeling of the visual coming down over them. The show has been so popular that Hood's company has taken it to 14 cities. He and his company will take Mesmerica to Australia and China next year.
"I go to the shows here in Los Angeles, and perform live at the shows here," Hood said. "What's sort of amazing about being there is that you look out and you see someone crying. Just crying. And then a few seats down, you see someone with a huge grin. ... People are looking for multi-dimensional experiences, but they don't want to be preached at. And that's me. I'm looking for multi-dimensional experiences, and I don't want to be preached at. I'm so tired of the seven pairs of the eight truths of the nine gods and this and that. I can be blown away by what I see with my own eyes."