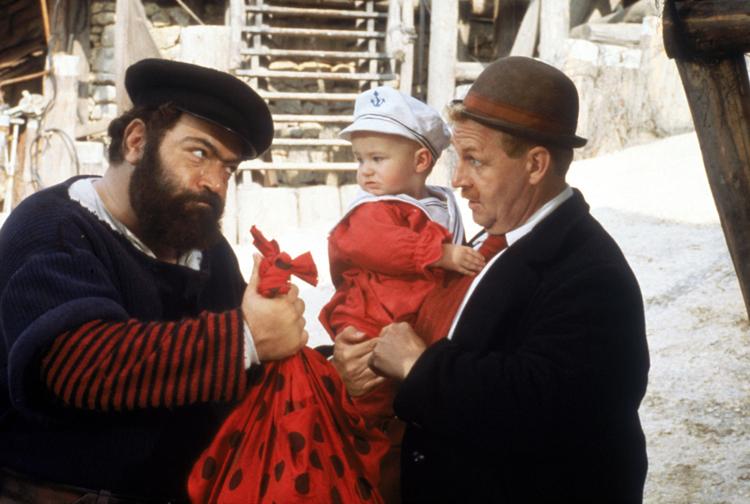 In a newly commissioned bonus feature located on Paramount Home Entertainment's 40th anniversary Blu-ray release of Popeye, director Robert Altman called his Robin Williams-starring picture "America's babysitter."
The atypical musical about the beloved anvil-armed sailor of the seven seas was widely considered a box office bomb when it was released in 1980. However, when it made its way to videocassette, Altman added, "people took their children, shoved them into a room with a television set, and put Popeye on."
While my parents didn't shove me into a room, I recall Popeye being a monumental piece of my growing up. During the VHS-era, it certainly was America's babysitter. And now, with Paramount bringing the film to Blu-ray for the very first time, in gorgeous HD, Popeye just may have a second go at accompanying children for a couple of hours.
Popeye is a very out-there movie — then and now. It took some chances as a family film that you don't see anymore. Even Altman said in a 1999 interview on the disc, "people never really got it." As much of a cinematic oddball as it is, there's no denying that Altman and Co. brought these characters to life with significant intrigue.
When you think of Robin Williams, one of his many iconic roles that'll spring to mind will likely be his rendition of "Popeye the Sailor Man." Shelley Duvall, best known as Wendy in The Shining, is Popeye's devoted sweetie, Olive Oyl.
Another standout part from Popeye is the titular character's hamburger-eating, miser of a pal named Wimpy, who was seamlessly made real by Paul Dooley. The Sixteen Candles and Grace Under Fire actor once was a keen cartoonist for a West Virginia newspaper, a Navy man, and a regular performer on stage during his youth. There's no doubt Dooley was born to play Wimpy.
The Denton Record-Chronicle had the chance to ring up Dooley ahead of Popeye's Blu-ray release this week to discuss his role from 40 years ago. We chatted about the film's incredibly elaborate sets, the art of eating hamburgers, and the greatest lesson of Popeye that still holds water today.
Preston Barta: Mr. Dooley, I have to tell you: I think Robert Altman was right calling Popeye "America's babysitter." It definitely was the case for me. And what's funny is I shared this film with my son earlier this week, and I think it has the potential to carry that torch.
Paul Dooley: "How old is your son when you saw it recently?"
"Oh, yeah. Well, there's a lot of visual stuff to be interested in. A lot of physical gags, a lot of acrobatics — very funny things going on. It's almost like an animated film in some ways."
Yes, absolutely. I know it's a musical, but there's a rhythmic quality to it even when there's just dialogue.
"There is a rhythm to that. That's sort of how [Altman and the Popeye world] world works."
How has the film changed for you over these four decades?
"It's just one of my fondest memories because it was so immersive that we were there in it. And as I was telling my wife recently, the actors began to feel that they weren't on the island of Malta [an archipelago in the central Mediterranean between Sicily and the North African coast where the film was shot], with a little community called Mellieħa where our apartments were. We felt, and still remember that we were in Sweethaven [the fictional town within Popeye]. We worked 12 hours a day, and we ate together, we'd watch dailies together. We'd have maybe 16, 17, 18 hours together before we went to bed. And it was all revolving around this wonderful, beautiful set created that seemed so real that we believed it was real. We felt it was real."
"I don't remember Malta, but I do remember Sweethaven. And it was meant to look like a whaling village a hundred years old, and they built it with new lumber, and then they distressed it to look old with the roofs caving in just a little bit. And there may be 10 or 15 buildings, and there was one big restaurant, which was huge, lots of little bridges. And it was just a fascinating place; it was like it could be in Disneyland."
It was one of the sets for me as a kid, watching the movie, that was somewhere I wanted to visit. There's an artistic quality to it. It feels artificial, but it also feels real at the same time.
"Yes, you're right. Stylized, but it's real. It has a real feel. Harry Nilsson even wrote a National Anthem for the town when we started the boxing matches. The Sweethaven National Anthem, and the crowd singing Sweethaven, 'Because God must have landed here, why else has he strand us here? Why else are we stranded here?' Then you have the big boxing match, and Wimpy was the referee."
In one of the extras on this anniversary release, Robert Altman's son, Stephen Altman, who was the film's prop master, mentioned just how lovely you were to work with and how he'd never had to worry about you. He had to keep track of all the film's property, and he called you his favorite actor. Could you talk to me a little bit about your process at the time? Was there something that was a launch point for you to get into the mindset of this character? Or was it relatively easy?
"Oh, it was pretty easy for me. Before I wanted to be an actor, I was a boy cartoonist. And I followed the Popeye comic strip along with all the other Sunday comics when I was a kid. And my first love was drawing and doing cartooning. So, to play a cartoon character in real life, years later, it was the thrill."
"I told myself I wanted to avoid looking like Oliver Hardy, the great comedian. Because I was a fat man with a small mustache and a derby, and I didn't want those comparisons. So, I tried very hard to make my part a physical performance, which is different from Hardy. I didn't have many jokes like Wimpy or many funny lines. So, I just did the lines I was given, but I made it a visual performance, with the way he moved."
"Many comedians are what I call graceful fat men, like Jackie Gleason, and, of course, Oliver Hardy was one. And they're fat but sort of graceful at the same time. So, I wanted to give him a sort of a light-footed, graceful movement. Instead of walking, I insinuated. And I always had my hamburger aloft, right in front of my face. So, you could see it well. If you hold something in front of your costume, the prop gets lost in your costume."
"I learned this from doing commercials. Hold it away from yourself, then it's focused well, and it visually can be seen. That's why people in commercials hold those cans right up off the one side and artificially next to their cheek. That's because you'd want your face and your product to be both in focus. So artificially, they hold it right up next to their cheekbone. That hamburger was always floating in the air by me."
Did you have to eat any of those hamburgers?
"I ate almost none. I made about two or 300 on-camera commercials in my career. And my first real success was being popular on commercials. And I learned many things about presenting myself. And one of the things was if you're eating cereal or any food in a commercial, and if there are several takes, you don't want to eat over and over, you'll get sick. So, it doesn't sound pleasant, but there's a spit bucket nearby. And you get rid of the food, so you won't get sick that day by eating too many samples of the product."
"I put that to use when I did Wimpy. I went to the prop man early in the first week. I said, 'I don't want to eat any of these hamburgers because if I do it all through the whole movie, I'm going to get sick and constantly be just getting rid of it out of my mouth. Make me a hamburger made of latex.' And they did. It had a bun, lettuce, tomato, meat. It looked perfect."
"I asked them to create a bite out of it already made. I began every scene by holding that hamburger near my mouth. When they said action, I took it away. But I don't have a bite in my mouth. I was chewing with my tongue. So, it looked as if I were chewing up that first bite, but I never was. Then, I think they made me one later with two bites out of it, later one with half a hamburger. So, I would use it in different ways without ever eating hamburgers."
What to you is the most important lesson that can be learned from watching Popeye?
"Well, I think it's mostly, it's not eating your vegetables. The twist of the joke was, in the movie, Popeye didn't like spinach. He had to be forced by Ray Walston, his father. What you could learn from Popeye is fun. The fun you can have with many different people who got along and who were all friends. So, you get the feeling of a friendship with the cast, meaning there's a friendship with the actual actors. It's the closeness of bonding when you work together closely. If they felt that it was a small, funny village, but with people, you could laugh at or laugh with and still like them a lot because it was whimsical and fun. That's what I think I'd like to take away from it."
The now-available 40th-anniversary edition of Popeye includes 30 minutes of new bonus content, featuring excerpts from one of Robin Williams' final interviews in 2014, a 1999 interview with Robert Altman, as well as a newly conducted interview with Stephen Altman.