Rated PG-13, 118 minutes.
Opens Friday in select theaters.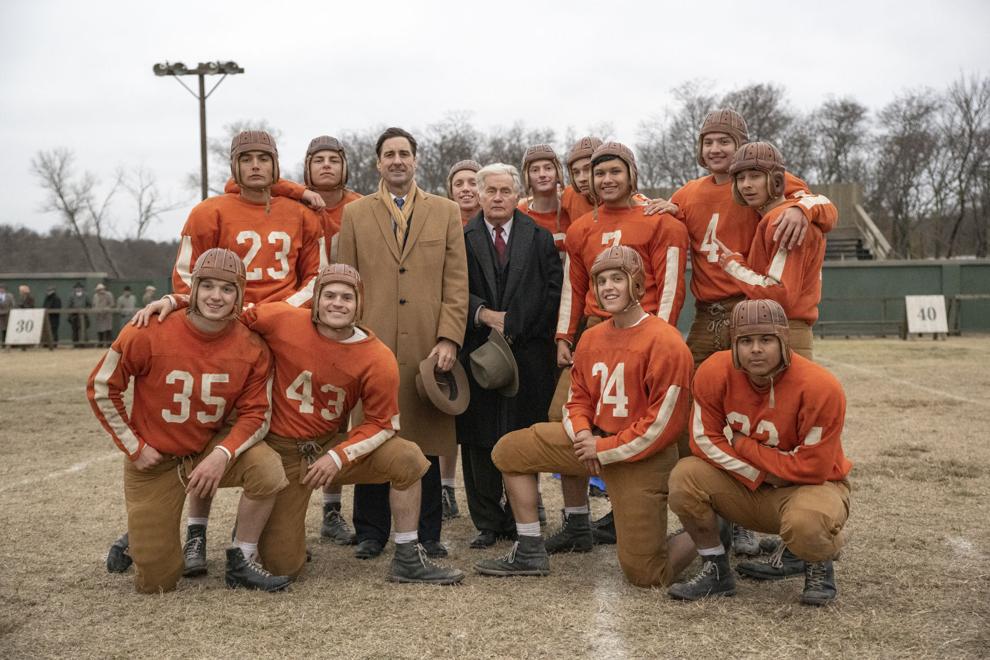 12 Mighty Orphans is like other sports movies, and different from all of them, too. It's cut from a familiar cloth in the way that it brings in a new coach with an underdog team. The coach faces resistance at first, imposes a new system, and finds that, by believing in the impossible and having hope, perspectives will shift and real change will happen. Win or lose in the end, it's how they played the game, right?
This has been the formula for years, and 12 Mighty Orphans will certainly not be the last. However, the sports drama isn't so much about the underdogs winning the big game. Instead, it's about a community coming together, overcoming adversity, and how "hard work leads to new beginnings."
The film is directed by Texas-native Ty Roberts, working from a screenplay he penned with The Iron Orchard star Lane Garrison (who co-stars here as the coach of a rival team) and Kevin Meyer (A Smile Like Yours). It is also based on sports writer Jim Dent's 2007 best-selling novel Twelve Mighty Orphans: The Inspiring True Story of the Mighty Mites Who Ruled Texas Football. Roberts' work may pull from the standard sports movie playbook, but it also contains a wonderfully endearing narrative about Texas, filmed in Texas and using Texas talent. You'll feel thunder in your heart and a strong desire to be more involved in your community.
The Depression-era story of a Fort Worth children's home – and its improbable string of high school football victories over bigger and better-equipped opponents – caught national attention. Led by legendary coach Harvey Nual "Rusty" Russell (Dallas' own Luke Wilson), the Mighty Mites of the Fort Worth Masonic Home were supported and championed by such luminaries as Fort Worth Star-Telegram creator and publisher Amon Carter (Treat Williams) and his close friend, President Franklin D. Roosevelt (Larry Pine).
Throughout their winning season, the band of ragtag orphans (including Stargirls' Jake Austin Walker, Mud's Jacob Lofland, and newcomer Slade Monroe of Argyle), and their resilient spirit, became an inspiration to their city, state, and nation. The U.S. was in desperate need of a rebound following the Dust Bowl and the Great Depression, and it unexpectedly arrived in this heartwarming, little story.
12 Mighty Orphans tells its story through the personalities on and off the field and the issues involved. It uses the football season as a backdrop to the story of how Rusty and his assistant coach, Doc Hall (a scene-stealing Martin Sheen), helped shine a light on the often-disregarded and stand up against a school that was engaging in nefarious activity. The city had plenty of its naysayers until the team started to win. Strange how that works, isn't it?
The opening scene is brief but poignant: After Sheen's character narrates over stark, heart-wrenching images from the Dust Bowl, the titular players burst into their locker room during a state championship game's half-time, spitting blood and resetting their broken noses. The feeling of defeat is on their faces as Rusty rubs his eyes, trying to erase unsettling images of his time at war. Suddenly, the parallel editing between the battlefield and football field is interrupted when a teammate shouts: "What now, Coach?"
There are times when Roberts steers away from expositional dialogue and narration to allow his visuals to tell the story, and that's when the film is working with storytelling power. A great scene follows not too long after the opening when the film flips the pages back six months when Rusty first arrives at the school and meets Doc. The film's paddle-wielding villain, Frank Wynn (Wayne Knight), who runs the day-to-day operations at the school, taps Doc's jacket to hear the clangs of a flask. Roberts didn't have to spoon-feed Doc's trouble with alcohol. He allowed life in the film to unfold as it would naturally.
Another strong element in the story is Rusty's coaching style and tactics. He subtly got his team invested in academics by applying subjects like physics to his football teachings. And whenever he was giving a lesson in the classroom, Rusty was incorporating football into them. To him, lessons were applicable on and off the field—all of which probably made a lasting impression on the players as they went on to do big things later in life (stay through the end credits).
12 Mighty Orphans is uneven with its presentation (often using stereotypes and typical plot points to fill in the gray areas), but it's an effective sports movie nonetheless. It succeeds primarily as a story of a chapter in history — one that shows how a coach and a team arrived at a conclusion and acted on it, helping change the game and its community forever. Sometimes, you can't help but get romantic about it all.